MEA Energy & Utilities: Looking back at '22, looking ahead to '23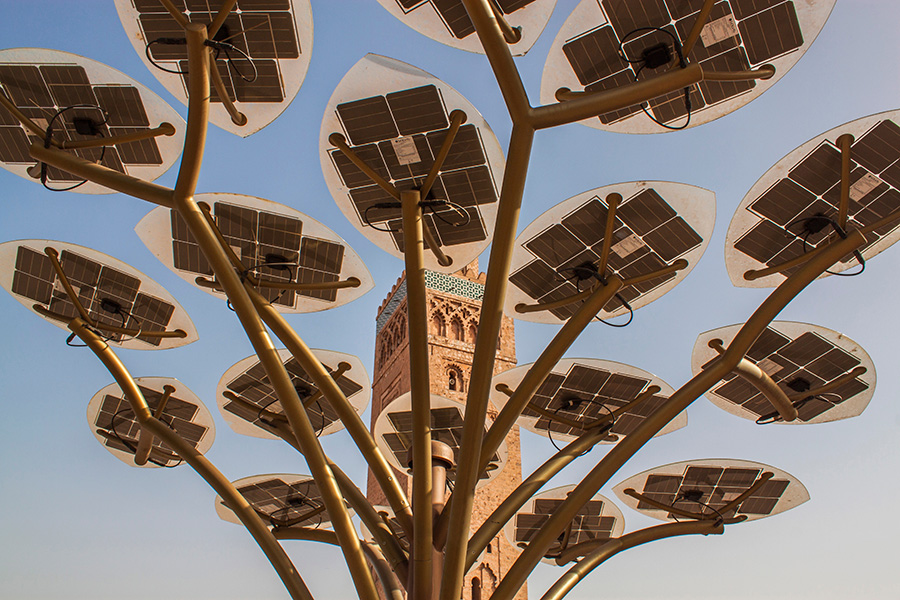 The year 2022 was a remarkable one for MEA energy and utilities. A strong current of growth and expansion took hold across all sectors, with new power and water plants receiving power from new thermal, solar, nuclear, and other sources. A rich energy mix appeared in many places across the vast region.
The big UN meetings in Sharm El Sheikh and in Dubai are bringing the world's attention to the region's real progress toward energy transitions. More, the COP 27-28 conferences offer a prominent stage on which developers have not hesitated to unveil MEA's most innovative power sector projects.
Governments are taking significant steps to reduce their reliance on fossil fuels and promote renewable energy. And, while it will be some time before renewable power overtakes fossil fuel generation, the momentum is with renewables.
One notable fact from the past year may signal a long-term trend. For the first time, according to data from Bloomberg, more debt capital from bank loans went to renewable energy projects than to oil, gas, and coal companies. While many factors are involved, this nascent trend in global finance will have regional impacts that go beyond renewables.

MENA's new geographies
Renewables are part of complex systems of carbon-free energy and energy carriers that are emerging in many countries. New investment is going into technologies and fuels required for countries to eventually meet net-0 targets, including battery storage, hydrogen and hydrogen-based fuels, and carbon capture and storage (CCS).
Egypt:

transforming into an energy exporter and regional power provider. An array of projects, and numerous announcements leading up to and during the COP27 conference, including new systems of power production being planned and built along the

Gulf of Suez

, the

Mediterranean

, near

Aswan

, and elsewhere.

Saudi Arabia:

the start of construction of the green hydrogen facility at

NEOM

, and announcements of large-scale

CCUS projects

by Aramco. A new, regional paradigm is rising, with carbon capture projects in the industrial east of the country, and the development of green hydrogen in the west.

Jordan:

a major new water desalination project, and a potential three-country

energy-for-water project

, promise to help Jordan meet the needs of its people.

Lebanon and Iraq:

power delivery projects are coming into place to help stabilize these two countries and enhance their capacities.
Important announcements also come from Oman, Qatar, the UAE, Morocco, and Algeria.
All of this taken together shows MENA in an early phase of what promises to be a dramatic change in its energy and power sectors. Ongoing global and regional investment trends will reveal the rate at which change will occur.

Entrepreneurial Africa
The year 2022 showed that Africa continues to take its own unique approaches to energy transitions.
500 million people across the continent lack access to power. Yet just 2% of the world's renewable energy deployment is in Africa today.

Only 2% of the world's investment in renewable energy over two decades has gone into Africa.
Renewed efforts by state-owned utilities and distribution companies to improve grid services and expand access.
Considering the continent's enormous potential to generate energy from renewable sources, these numbers point to opportunity. And entrepreneurs are taking up the challenge.

New ways in Nigeria
Discussions at the 9th edition of Nigeria Energy, held in Lagos in September, highlighted how an array of technologies are now being deployed to overcome that country's power grid limitations.
Participants discussed micro solutions, mini-grids, and workarounds to make the grid smarter, leveraging digitized grid management systems to run profitable operations.

Filling the gap between this category, and kilowatt-scale 'pico' solutions, is a middle market with hybrid or off-grid with battery storage – the market for various stationary storage technologies, or novel power systems without batteries, is potentially huge.
Finding finance
Across east, west and southern Africa, a limited amount of development agency finance continued to draw private sector capital. The need for public sources to expand, and for new financing approaches, appeared strongly last year. Finance, mini-grids, and the growing potential of regional power markets all came together in regional discussions.
Kenya

a top regulator emphasized the key part of mini-grids and an upgraded national grid to support regional trade in the Eastern Africa Power Pool.

Horn of Africa

countries should continue to pursue mini-grids expansion while improving their investment environments to draw outside capital, the IEA said.

Eastern Sahel region

countries received the promise of $5.5 million from the African Development Fund for a flagship 'desert-to-power' scheme that encompasses regional connections.
Looking forward to 2023
But as we turn our attention to 2023, what can we expect from the industry? It's looking like another great year in store ahead. The new year comes at a midpoint between global climate summits that straddle the Middle East and Africa. Stay tuned as Energy & Utilities continues to track these and related developments throughout 2023.
Energy & Utilities - Middle East and Africa Market, Outlook Report 2023.
This must-have report for industry players offers a thorough understanding of the latest developments, challenges, and opportunities in the region, supported by data, analysis, and expert insights.