Nigeria's new paradigm for getting power to people emerges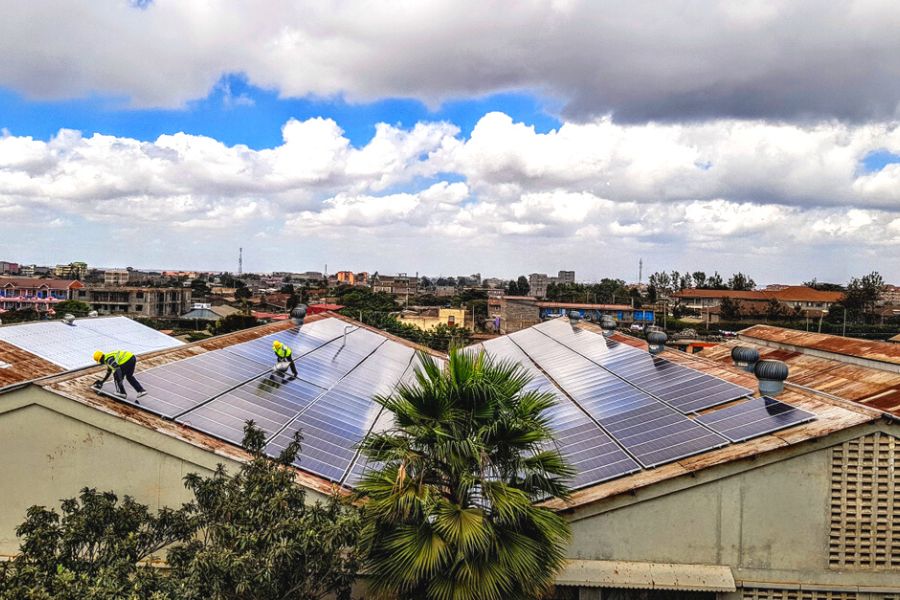 Nigeria Energy conference in Lagos last week looked at limitations and possibilities for tech enabled micro solutions to enhance power grids; finding opportunity in the 'middle market'
Discussions at the 9th edition of Nigeria Energy, held in Lagos last week, highlighted how an array of technologies are now being deployed to overcome the country's power grid limitations. A broad picture of the Nigerian power sector emerged, with experts opening various perspectives on its halting but persistent development.  
A consensus appeared among participants of the need for ongoing technical adaption combined with fundamental reform. Renewables, especially solar power, should play an increasingly important role.
 
Technical adaptation + solar power expansion
The conference occurred in the wake of the federal government's recently stated commitment to have grid connected renewable energy provide 30% of electricity by 2030. This will occur with national capacity rising to 30GW.
A look at Nigeria's current energy mix shows that a lot must happen by 2030. Currently almost 75% of the country's total energy supply is in the form of biofuels, the rest from oil and gas, according to data from the International Renewable Energy Agency
In the power sector, about 80% of the country's electricity capacity comes from fossil fuels, while approximately 16% is from renewables, mostly hydropower. Solar power currently provides less than 1% of the country's electricity. Nevertheless, the country has great renewable resource potential, especially for solar power.
Nigeria has what has been called by many an 'energy deficit' with 85 million without access to electricity, and millions more with intermittent access. This deficit results in significant economic losses for the country.
The great challenge is to expand access for a growing population while achieving the country's environmental goals. This will require finding ways to overcome the well-known difficulties in the country's transmission and distribution sectors. Progress will require widespread technical adaptation coupled with an enormous expansion of solar power capacity in the next few years.
Participants at Nigeria Energy were generally optimistic about the possibilities for this.
 
Tech enabled micro solutions
The conference and exhibition was devoted to discovering opportunities in the Nigerian power sector. The second day's sessions focused on transforming it through digitalization, drawing insights from the exhibitors on the floor, from the entrepreneurs finding solutions.
They discussed micro solutions, mini-grids, and workarounds to make the grid smarter, leveraging digitized grid management systems to run profitable operations. And getting the financing required for these to scale up.
Patrick Nkombua, who is Sales Director for SparkMeter, focused on new applications to enhance the existing grid. His company, a smart meter and data analytics company, creates "the visibility needed between the customer and the transformer," as he put it.
He made the point that while Nigeria's distribution companies have the high voltage system mapped out, they suffer from low to no visibility of the actual customer experience. His company's products give the distribution utilities, and mini-grid utilities, this visibility.
"It's a product designed to reach hard-to-reach places – it's plug and play," he said.
The equipment, placed at key places in the network, can immediately identify when and where losses occur. It brings together meter and SCADA data with GIS applications, operating in cloud networks.
Nkombua described a 3-point triangle encompassing billing and payments, customer and asset management, and system insight. The point, he said, is to move the utility from being reactive to proactive, such that it no longer needs to wait for customer calls when power goes down.
"We are still far away from where we need to be, but Africa has the potential to overshoot, because we don't have legacy," he said. "Rural communities, and distribution companies serving the cities, can adopt new technologies quickly."
Jubril Adeojo, who is Chief Operating Officer at OneWattSolar Limited (OWATTS), a Lagos-based company, offered insights on devices that enable solar power in hybrid (solar + grid) environments. He discussed his company's customer-focused micro solutions, with solar power systems linked to blockchain and AI enabled power monitoring devices.
Ravi Srivastava, Business Head at Simba Group, moved the conversation from specific technologies to the broader matter of the smart grid. His company is a Lagos-based distributor and installer of solar panels, inverters, power backup systems and related equipment.   
"Nigeria has everything, but it lacks power," he said. "There is capacity, but the missing link is the unidirectional grid."    
"So the smart grid, if we get it right, can make a big change."
"We can make 10 GW of solar power, a hundred times the current generation," he continued. "But we need to create a new smart grid, mini-grids integrating with a smart grid, a more distributed grid," he said.  
Joseph Nwakwue, Partner, Zera Advisory & Consulting, sounded a note of caution on the new technologies. He acknowledged that Nigerian utilities are in a difficult situation; they need financing, and they need to collect more revenue to obtain this financing. They're struggling with the challenge of finding innovative ways to control losses and fund their expansion.  
"This technology has a big role to play in stopping losses," he said, speaking of the smart grid technologies under discussion. But his praise came with a warning. "We're trying to improve an old system with modern technology, so we have to ensure this does not lead to increased cost."

Meeting the middle market
"Distributed generation is the future, we're in that reality for Nigeria," said Justin Tinsey, Business Development Consultant for solar power at Huawei. He participated on the panel, "Bringing together smart grids and renewables."
The Lagos-based consultant says that while the current generation of polycrystalline solar panels are excellent, they are not what is of most interest in solar power today. Being low cost and so widespread, they have become almost a kind of global commodity product.
"The real interesting place now is at the sub transmission level, at the inverter level, and the batteries," he said. "Beginning with the shift to lithium and its fall in price over the past decade, that's where the exciting stuff is happening."
He is not optimistic about the prospects for large utility-scale renewable power projects at this time in Nigeria, noting that many have stalled. 
"In Nigeria, at the utility scale, there's no grid to support it, there's no collection mechanism, there is theft of power, so project finance falls apart," he says.  
"PPAs would work if we had a more stable grid that was expanding." 
Down the scale from utility-scale are solar house systems, or 'pico-solar' systems, and there is a World Bank-funded program in Nigeria to directly address rural energy poverty, operating on a per watt subsidy basis.
"It's helpful but ultimately not profitable and therefore not sustainable," says Tinsey.  
This leaves a middle market of residential and commercial & industrial sectors, which is where most of the market for new solar power in Nigeria will be, he thinks.
"It's a straight business model, benefitting from a hybrid inverter, and scalable," he says.
"Hybrid or off-grid, that's the opportunity, a mix with back-up battery or generator," he says. "The market for lithium, stationary storage is only going up, it's potentially huge."
He points to the technology Huawei is working on to support this middle markets, enabled with AI to forecast weather several days in advance to charge batteries at certain levels, and improving battery C ratings such that they can charge and discharge very fast.
Huawei currently offers a 2MWh battery, a 200kWh battery, and combined unit 'all in one' battery and inverter single phase residential of 5-15kWh. These are the products he's now bringing to the small installers and EPCs who are his customers.
He's also working on grid-tie solar power systems without batteries, to lower the capex of solar and facilitate more commercial & industrial applications.
"The definition of this market is fragmented, informal," he says.
Energy & Utilities - Middle East and Africa Market, Outlook Report 2023.
This must-have report for industry players offers a thorough understanding of the latest developments, challenges, and opportunities in the region, supported by data, analysis, and expert insights.