Qatar celebrates first large solar PV plant – 800 MW now in operation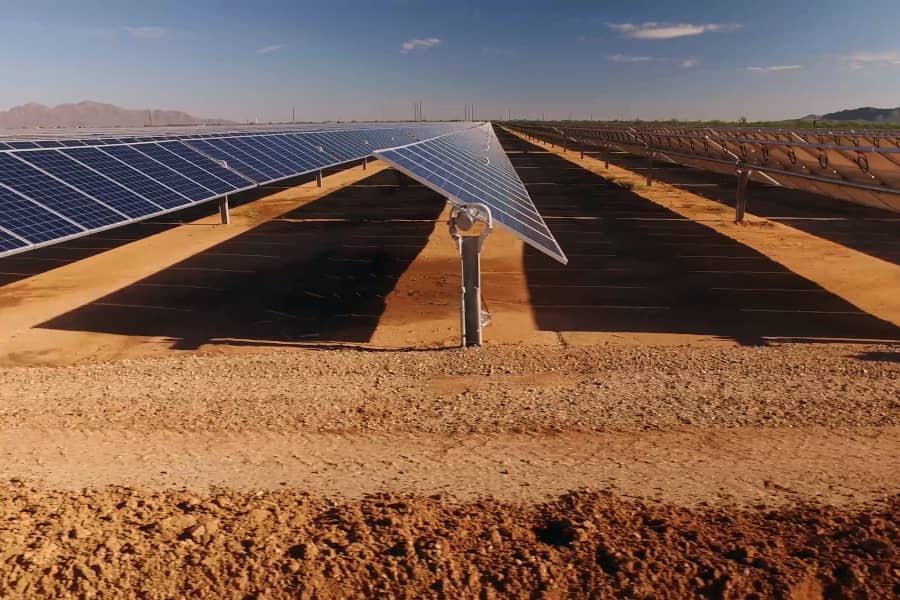 Located 80 km west of Doha, the Al Kharsaah plant was constructed on 1000-hectare site, integrating 2 million high-efficiency bifacial modules mounted on single-axis trackers; project led by QatarEnergy
Al-Kharsaah Solar PV Power Plant (KSPP), the first in Qatar, with 800 MW total capacity, has been inaugurated. His Highness Sheikh Tamim bin Hamad Al Thani, Amir of the State of Qatar, attended a special ceremony yesterday.  
The KSPP, now operating at full capacity, can provide the national grid with about 10% of peak electricity demand. It started supplying electrical power to Qatar's electricity grid last June, with the start up of a 400 MW first phase.
The plant stands on a 10 square kilometre land area with more than 1,800,000 solar panels utilizing tracking technology, robotic arms and treated water to clean the solar panels, according to a statement form QatarEnergy.
The power plant has been developed and is operated by Siraj 1, which is jointly owned 40% by a consortium formed by TotalEnergies (49%) and Marubeni (51%), and 60% by QatarEnergy Renewable Solutions.
The project includes a 25-year Power Purchase Agreement between Siraj 1 and the power grid operator Kahramaa, according to a statement from TotalEnergies.  
"This giant project, which contributed to the sustainability roadmap of Qatar, demonstrates once again TotalEnergies' ability to support producing countries in their energy transition by combining natural gas production and solar energy to meet the growing demand for electricity", said Patrick Pouyanné, Chairman and Chief Executive Officer of TotalEnergies.
"The Al-Kharsaah plant is one of the country's strategic initiatives to build projects that contribute to reducing gas and thermal emissions, thus achieving about a million-ton reduction in annual carbon dioxide emissions," said H.E. Saad Sherida Al-Kaabi, Minister of State for Energy Affairs and President and CEO of QatarEnergy.
The inauguration of the Al Kharsaah plant follows the recent selection of TotalEnergies as QatarEnergy's first international partner for the North Field East (NFE) and North Field South (NFS) liquefied natural gas (LNG) projects.
The inauguration also follows QatarEnergy's recent announcement of large-scale solar power plants to be developed at the Ras Laffan and Mesaieed industrial cities, amounting to nearly 900 MWp when operational in 2024 as planned.
The projects together will give Qatar some 1.675 GW renewable energy generation capacity. QatarEnergy wants to develop 5 GW of renewable power generation capacity by 2035 while reducing the carbon footprint of its facilities.
Energy & Utilities reported in March on Qatar's state utility Kahramaa in negotiations with a Marubeni/Kyuden International consortium for a planned independent water and power project with 2,300-2,600 MW power generation capacity and 100 MIGD desalination capacity.
Energy & Utilities - Middle East and Africa Market, Outlook Report 2023.
This must-have report for industry players offers a thorough understanding of the latest developments, challenges, and opportunities in the region, supported by data, analysis, and expert insights.