Oman starts large solar PV plant for desalination at Sur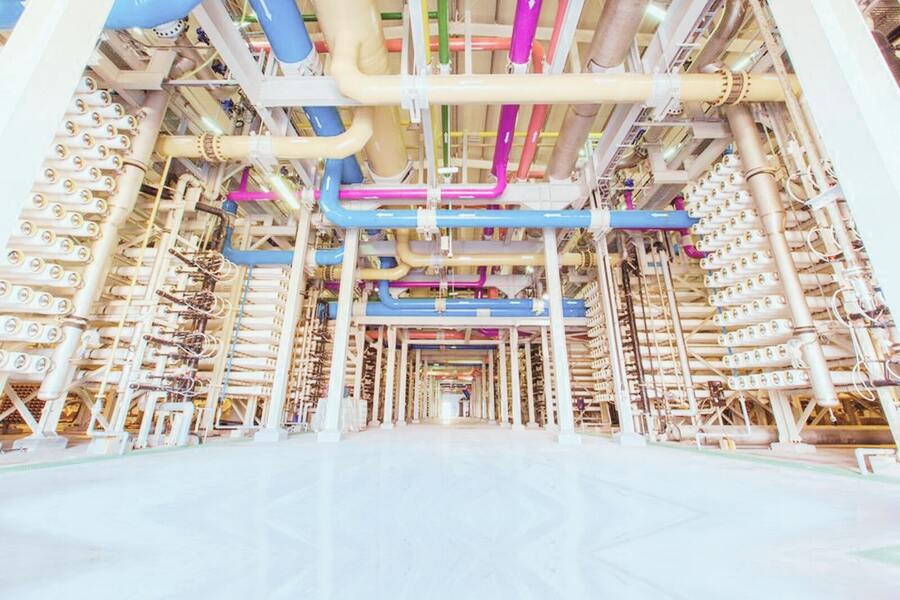 Solar plant developed by French multinationals will have yearly production capacity over 32,000 MWh, covering 100 percent of the desalination plant's consumption during daylight; the largest solar power system for a desalination plant in Oman, company says
As reported in the Oman Daily Observer, a solar photovoltaic (PV) farm producing electricity to power the Sharqiyah Desalination Plant was inaugurated this week on Monday. The event occurred in the presence of Oman's Minister of Energy and Minerals, Eng. Salim bin Nasser al Aufi.
Solar Farm by the numbers
Located in the Omani city of Sur, on the Gulf of Oman south of Muscat, the project was developed by French multinationals Veolia and TotalEnergies. It is the largest solar system for a desalination plant in Oman, according to the news report. With a yearly capacity of over 32,000 megawatt-hours (MWh) of green electricity, it will cover 100% of the desalination plant's consumption during daylight hours.
Construction of the solar plant began in August of 2022 with testing taking place during March and April this year. Commercial operation began in April. The lease agreement for the operation of the solar farm expires in 2036.
Sharqiyah's capabilities
The Sharqiyah Desalination Company (SDC) owns and operates the Sur Independent Water Project (IWP), according to the company's website.
The desalination plant processes over 200,000 m3/day of seawater; this was made possible by a recent expansion project, adjacent to the reverse osmosis project at Sur, that increased the total production of the desalination plant to 131,837 m³/day.
SDC produces 80,000 m3/day of drinking water using reverse osmosis (RO) process with very high energy efficiency, recycling over 97% of mechanical energy and saving up to 40% more energy than a conventional reverse osmosis plant.
The plant's unique facility also eliminates the requirement for chemical pre-treatment and ensures minimal impact on the marine and coastal ecology, according to Veolia's website. The Desalination Plant is operated and maintained by ISO-certified Bahwan Veolia Water Company co-owned by Veolia and Bahwan Engineering Company.
Background
Oman has been investing heavily in various renewable and sustainable projects to develop its utilities infrastructure.
Energy & Utilities (E&U) reported on Veolia and TotalEnergies being chosen to develop the solar PV project last year.
E&U also reported on various international companies being chosen to develop Oman's Manah I and II solar projects.
E&U reported last week that Phase 1 of Oman's interconnection project was complete.
Photo credit: SDC
Energy & Utilities - Middle East and Africa Market, Outlook Report 2023.
This must-have report for industry players offers a thorough understanding of the latest developments, challenges, and opportunities in the region, supported by data, analysis, and expert insights.