Alpha Dhabi acquires majority stake in Metito Holdings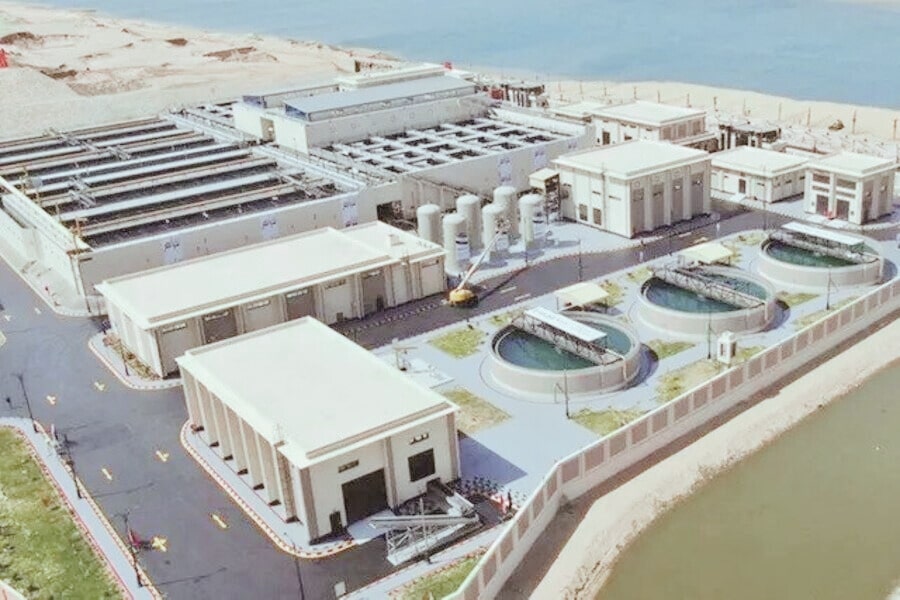 The move supports the objectives of the UAE's Year of Sustainability and the upcoming COP28 and marks Alpha Dhabi's inaugural foray into the water and wastewater sector. Pending regulatory approvals, this transaction marks Alpha Dhabi's entry into the water and wastewater domain.
Alpha Dhabi Holding announced its acquisition of a majority stake in Metito Holdings Ltd., a water and wastewater company, on Monday. The majority stake was purchased from shareholders Mitsubishi Corporation, Mitsubishi Heavy Industries, and Gulf Capital.
Wastewater treatment's growing importance
Eng. Hamad Salem Al Ameri, Chief Executive Officer and Managing Director of Alpha Dhabi, commented: "With nearly half the world's population projected to face water scarcity by 2025, the need for sustainable water solutions has never been more critical."
Talal Ghandour, co-CEO of Metito, remarked: "Together, we aim to address the pressing water challenges, especially in the MENA region, which is the most water-stressed region globally.
"With Metito's extensive experience across 50 countries and our dedication to innovation and technology, this partnership will bolster our capabilities, allowing us to further our mission and bring sustainable water solutions to regions that need it the most."
Rami Ghandour, co-CEO of Metito, added: "We are poised to make significant contributions to sustainable solutions, especially as the UAE's Year of Sustainability and COP28 gain traction."
Water stress – a growing problem
By 2025, an estimated 3.5 billion people could be living in water-scarce regions. The MENA region, home to 7% of the world's population but just 1% of its freshwater resources, is the most water-stressed globally. A staggering 83% of its population, approximately 500 million people across 25 countries, are using over 80% of their renewable water supply. The World Bank projects that by 2050, water scarcity could cost the MENA region between 6% and 14% of its GDP.
In line with the upcoming COP28 summit in the UAE, Alpha Dhabi has also established Alpha Dhabi Climate Capital, focusing on climate-conscious investments, with Metito as a cornerstone of this initiative.
Background
Alpha Dhabi Holding PJSC engages in the provision of construction services. Its projects include high-rise buildings, medium-rise buildings, housing and residences, commercial, culture and education, healthcare, hospitality, industrial and agricultural structures and infrastructure. The company was founded in 2013 and is headquartered in Abu Dhabi, United Arab Emirates.
Founded in 1958 in Beirut, Lebanon, Metito was the first company to develop, (design, build and install) a Reverse Osmosis (RO) plant outside the USA, according to its website.The Ghandour family, Metito's founding shareholders, retain their leadership roles, according to a joint statement by Metito and Alpha Dhabi.
Metito has wastewater treatment plants in Abu Dhabi, Egypt, Dubai and an industrial water treatment plant in the Kingdom of Saudi Arabia.
Energy & Utilities reported that Metito had been awarded a contract by Sharjah Electricity & Water and Gas Authority (Sewa) to rehabilitate the existing Hamriyah Seawater Reverse Osmosis (SWRO) plant.
Energy & Utilities reported that Metito was in consideration, among others, as developer for two water-related projects in Saudi Arabia, including a wastewater reservoir and a sewage treatment plant.
David Haziri contributed reporting
Photo credit: Alpha Dhabi
Energy & Utilities - Middle East and Africa Market, Outlook Report 2023.
This must-have report for industry players offers a thorough understanding of the latest developments, challenges, and opportunities in the region, supported by data, analysis, and expert insights.