ADIPEC Hydrogen Conference keeps green hydrogen hopes alive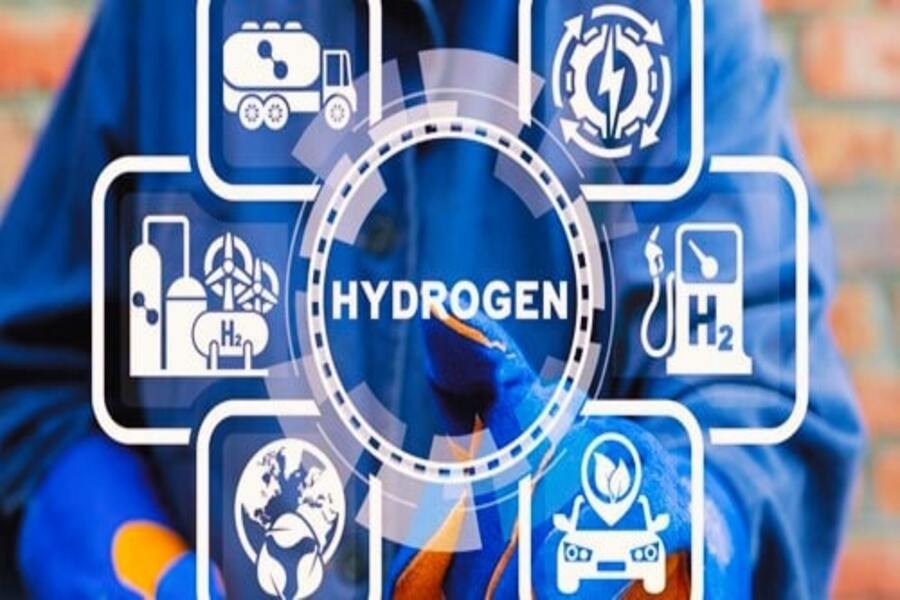 Masdar, EDF, NEOM executives - leaders of future hydrogen value chains - focus on plans and funding essential to scale production and fast-track trade flows; seeing huge global market and MENA advantage
ADIPEC day two saw a wide-ranging discussion of green hydrogen among value chain leaders, in a session moderated by Mogens Holm, Partner and Associate Director, Boston Consulting Group.
Middle East advantage
Stephan Gobert of Engie said: "Cost competitiveness is what we hear everyday when developing a green hydrogen project.
"We are in a great location within the GCC countries and North Africa where we get super records for new tariffs. The strategic location of the Middle East makes it a hub to support countries that need help to decarbonise."
NEOM Green Hydrogen Company's (GHC) Vice President of Operations Yako Wijnands was asked what lessons he had learned about cost and scale.
"You need infrastructure and space for a project of this size. You don't find locations like that [Western Saudi Arabia] too often around the world.
"You start with infrastructure and then really, you need to talk about technology and integration.
"We are building a dedicated facility with dedicated renewables, dedicated transmission and fully integrated with green hydrogen and green ammonia production...for that you need your technology partners, you need to have the right suppliers that can work with you and the right digital platforms and integrate your facility so that it works efficiently."
NEOM GHC's long term plan is to produce green hydrogen to make green ammonia and then export it to Europe for use in industries.
Francois Dao, Vice President of EDF Renewables in the MENA region, offered his thoughts: "We see where land and resources are available, [in places like] Oman, Saudi Arabia and UAE of course, also in Egypt and Morocco.
"It's the perfect location to feed Asia as well as Europe…the demand is so huge that we don't even have enough space in the MENA region to feed what would be needed."
Masdar anticipates H2 announcements
"We are working on multiple projects and hoping to announce by end of this year and mid of next year," said Mohammad Abdelqader El Ramahi, Chief Green Hydrogen Officer, Masdar.
"We need to position Abu Dhabi as one of the global players of hydrogen production.
"Cost competitiveness is becoming very challenging. We can start with smaller scale projects, one of the projects we'll be announcing, hopefully by COP, is targeting roughly 9,000 tons of green hydrogen."
He added that this project is being developed in collaboration ENGIE and that "hopefully we can cross the finish line, FID [final investment decision]."
H2 needs digital
Astrid Poupart-Lafarge, Global Segment President Energies and Chemicals, Schneider Electric pointed out the key role that digital plays in sustainability.
"We believe digital will be a key enabler to accelerate development. You can simulate and accelerate the maturity of your designs. You don't need to build hundreds of plants before you reach the optimized solution."
She gave other examples such as digital instruments being used in power plants to optimize energy flow and train workers quickly, and their important role in hydrogen storage and management, specifically in monitoring temperatures during storage.
Background
Energy & Utilities has reported on NEOM's green hydrogen ambitions: partnering with multinational companies to supply equipment, securing a wind turbine contract for green hydrogen and completing financial close for a green hydrogen project.
Other E&U reports revealed ENGIE's contribution to the green hydrogen market: partnering with Saudi Arabia's PIF, being part of a consortium to develop a green ammonia project and investing $12 billion in UAE energy projects including water desalination and green hydrogen.
David Haziri contributed reporting
Photo credit: ADIPEC
Energy & Utilities - Middle East and Africa Market, Outlook Report 2023.
This must-have report for industry players offers a thorough understanding of the latest developments, challenges, and opportunities in the region, supported by data, analysis, and expert insights.