Oman's Hydrom grants land at Duqm to green H2 consortium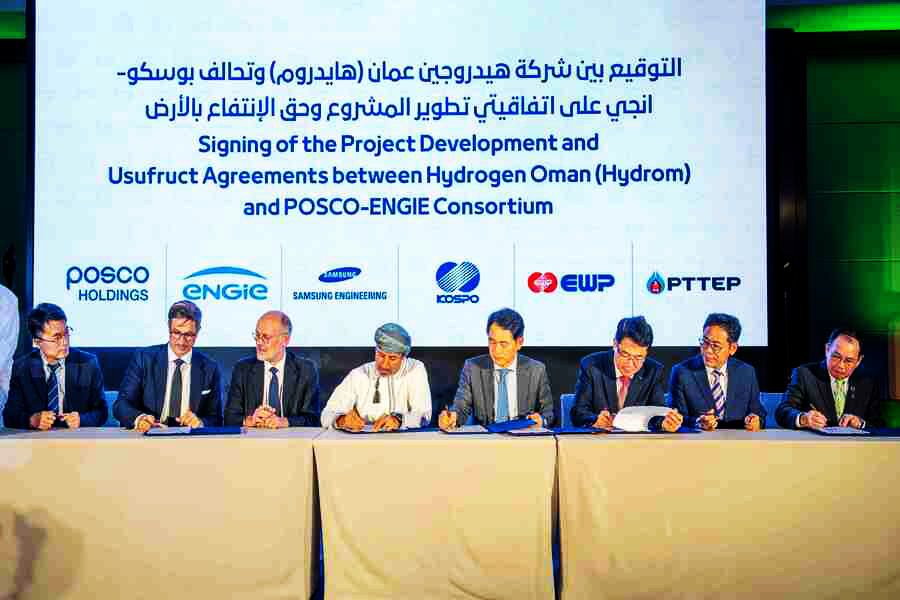 Engie, POSCO-led consortium wins 340 sq km land concession in Duqm for renewable power development and hydrogen plant with pipeline to port; will produce 1.2 mtpa green ammonia for export
France's ENGIE has partnered with South Korea's POSCO to announce their lead role in a consortium for development of a 1.2 million tonnes per annum (mtpa) Green Ammonia project. Other partners in the consortium include Samsung Engineering, Korea East-West Power Co. (EWP), Korea Southern Power Co. (KOSPO), and FutureTech Energy Ventures Company Ltd. (a subsidiary of PTTEP).
The consortium has been named the winner of land block (Z1-02) offered by Hydrom, the master planner of Oman's green hydrogen industry. A signing ceremony occurred in Muscat, according to press reports this week.
Spanning 340 sq. km, the concession block is located in Duqm, with downstream elements to be established at the Port of Duqm.
The project will include a total renewable energy capacity of approx. 5GW and will comprise of wind and solar power, in addition to battery energy storage and a hydrogen plant that will produce 200 kilotons per annum (ktpa) of green hydrogen. The hydrogen will be transported by pipeline to the Special Economic Zone at Duqm and be converted into approximately 1.2 million tons per annum (mtpa) of green ammonia for export. The Commercial Operation Date (COD) is expected by 2030.
Shipping green ammonia in 2030
"By joining forces with our consortium partners, we aim to unlock Oman's extraordinary renewable energy potential while capitalizing on their expertise and capabilities," said Frederic Claux, Managing Director Flexible Generation & Retail, AMEA and Country Manager GCC from ENGIE.
"Ultimately, this collaboration propels ENGIE toward its global ambitions of attaining a hydrogen capacity of 4GW by 2030."
In addition to ENGIE's own ambitions, the project also feeds into Korea's national decarbonization objective of a 40% carbon footprint reduction by 2030, and aids in realizing Oman's Vision 2040 that centers around energy transition and industry diversification.
In March 2022, POSCO and ENGIE signed a Memorandum of Understanding (MoU) to explore joint development opportunities for green hydrogen production and related infrastructure in the Middle East, Australia, and Latin America.
The project contract will last for a period of 47 years, broken down into a seven-year development and construction phase followed by a 40-year operational period, and is set to roll out within a month of the contract signing. Construction is projected to begin in 2027, with the first shipment of green ammonia to Korea planned for the second half of 2030. The consortium will carry out the feasibility and technical studies, in order to finalize the total capital expenditure requirement for the project.
Last week Energy & Utilities reported on an IEA report showing that Oman, due to its "high-quality renewable energy resources and vast tracts of available land," would be a competitive H2 supplier by 2030.
In a May interview with Energy & Utilities, Ralf Blumenthal, Head of Grid Software Middle East, Siemens, said that Oman was one of three Gulf countries with "aggressive green hydrogen strategies".
E&U also reported last month that ENGIE has invested approximately $12 billion (AED44 billion) in energy, water desalination, and green hydrogen projects in the UAE.
David Haziri contributed reporting
Energy & Utilities - Middle East and Africa Market, Outlook Report 2023.
This must-have report for industry players offers a thorough understanding of the latest developments, challenges, and opportunities in the region, supported by data, analysis, and expert insights.