Veolia announces water projects in Egypt, Ivory Coast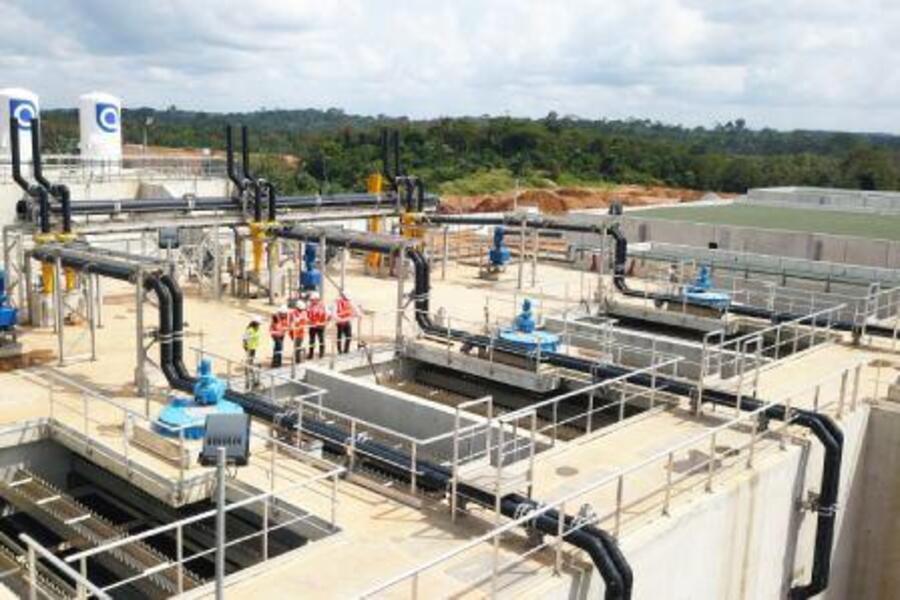 Veolia Water Technologies deployed mobile water treatment units for major Egyptian industry, now entering O&M contract for new water treatment plant providing drinking water for 2.4 million in Ivory Coast's economic capital
The French water management company Veolia announced major projects this month in Africa, including the deployment of mobile water treatment units at Egyptian steel plants, and a 15-year operation and maintenance contract with the Société Ivoirienne des Eaux et de l'Environnement (SIEE), a joint venture between PFO Africa and Veolia.
Desalination on the go in Egypt
Ezz Steel, one of the leading steel producers in the Middle East and Africa, engaged Veolia Water Technologies Egypt to supply mobile water solutions that allow cooling water supply to switch from the Nile River to desalinated seawater. This change is saving precious freshwater resources while helping Ezz Steel maintain business continuity, according to Veolia's recent announcement.
Ezz Steel's rolling mills and flat steel plants are located in Al-Sokhna, an industrial area near the city of Suez in Egypt. The plants,recently making the change to desalinated seawater, needed to accommodate a water source with a relatively high level of chloride that could impact the entire cooling process.
Veolia deployed seven brackish water reverse osmosis mobile water treatment units to treat the desalinated water further, doing so in two phases to ensure a quick response. In two months, Veolia provided an initial 8,000 cubic meters per day (m3/d) capacity which was doubled during the second phase in April 2023 to reach 16,000 m3/d, according to the company's statement.
Utilizing Veolia's mobile water treatment units, 100% of Ezz Steel's water production contained lower chloride and total dissolved solids rates, allowing the water to keep flowing into the cooling system. As a result, Ezz Steel plants have reduced their water and chemical consumption by approximately 75%.
Earlier this month, Energy & Utilities reported that Veolia's subsidiary, SIDEM, is leading the EPC of a desalination plant in Abu Dhabi, United Arab Emirates. The plant has a commission date set for 2025.
E&U reported in 2020 that Egypt was planning a $2.8 bn desalination programme to develop 47 desalination plants over the next, at the time, five years. The projects are part of Egypt's plans to boost water security through developing unconventional water resources. At the time, Egypt relied on the Nile river for water, with 95 per cent of its water supplies coming from the river.
Water for La Mé in Ivory Coast
Last week, Veolia announced signing a 15-year operation and maintenance contract for the La Mé plant, one of the largest single-phase structures in West Africa. The Ivorian government initiated the project in 2018 and entrusted the PFO Africa and Veolia consortium with its construction. PFO Africa, one of the leading contractors in Ivory Coast, specializes in construction and public works projects. It was founded in 2005 and is based in Abidjan, the country's capital.
Veolia ensured its conception, supply of equipment, assembly, project management, plant commissioning and training of operating personnel, according to the company's statement.
Operating for several months, the plant is located 30 km north of Abidjan on an 8-hectare site. At full capacity, it will produce 240,000 m³ of drinking water per day which is enough to cover the daily needs of 2.4 million Abidjan inhabitants.
The plant addresses the issue of water access in Abidjan's northeastern areas by treating surface water drawn from the La Mé river; a new development for Abidjan which relied on groundwater sources for water access.
"It confirms our Group's ambitions in this region and our capacity to support countries in their ambition to develop and sustain essential structures that improve access to water for [their] citizens," said Estelle Brachlianoff, Chief Executive Officer of Veolia.
Clyde Fakhoury, General Manager of PFO AFRICA, said: "This infrastructure contributes to improving populations' living standards and well-being. La Mé's starting up confirms our ambition: being a corporate citizenship (sic) at the service of our country."
Last month, a report by Energy & Utilities revealed that the Singrobo-Ahouaty hydropower plant project in Ivory Coast has achieved a 78% completion rate. The plant, located about 150km from Abidjan, is the first private sector-funded hydropower plant in West Africa and is being financed by a mix of debt and equity.
A 2021 report by Energy & Utilities revealed the Emerging Africa Infrastructure Fund (EAIF) is providing a $29.6m loan for a hydroelectric project in the West African country of Ivory Coast. Financial close for the $205.7m hydroelectric project was expected in the third quarter of 2021. The hydroelectric plant will take 36 months, at the time of writing, to build and will be Ivory Coast's first independent power producer (IPP) hydroelectric project.
David Haziri contributed reporting
Image credit: Veolia
Energy & Utilities - Middle East and Africa Market, Outlook Report 2023.
This must-have report for industry players offers a thorough understanding of the latest developments, challenges, and opportunities in the region, supported by data, analysis, and expert insights.