TAQA CEO highlights key role of water in decarbonization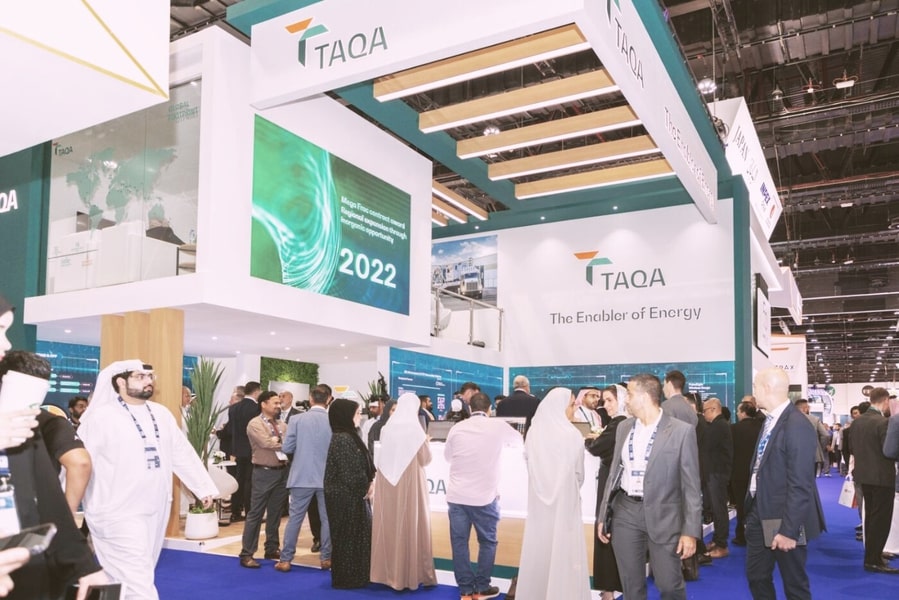 At ADIPEC 2023, Mr. Jasim Thabet engaged in a one-on-one discussion with journalist Hala Gorani, speaking at length about the Gulf region, TAQA's role in it, reverse osmosis and decarbonization
When asked by moderator Hala Gorani about the bigger obstacles that might get in the way of net-zero, and how he would overcome them, TAQA CEO Jasim Thabet preferred to "look at them more like opportunities."
Speaking on the second day of the Abu Dhabi International Petroleum Conference (ADIPEC) yesterday, he featured in a session called, "A sustainable future for water and power in the Gulf." Thabet's comments were mostly focused on clean water and its connection to decarbonization.
"TAQA's bread and butter is production of power and water; that is usually, at large scale, cogen [cogeneration] power and desalination units," he said.
Working with Adnoc
"We work very closely with partners in the UAE, helping them decarbonise water—One good example is, a few weeks ago, we announced financial closure on a project with ADNOC and international partners."
The project will produce 110 million imperial gallons of water per day on the coast close to Mirfa, according to Thabet.
"It will provide ADNOC with a sustainable water supply for its onshore operations, helping them reduce their consumption by 30%. The filtration system will [run on] 100% clean energy."
Water pressure
Thabet also affirmed the priority of water security, as the region's climate and weather only make it more valuable.
"Water security is very high in terms of supply in this part of the world. Even new technologies like green hydrogen, require renewable power and access to water.
"There will be more pressure on water systems as we push for green hydrogen."
The TAQA CEO added that the IEA is expecting desalination to represent 15% of the Gulf's energy consumption by 2040.
By 2030, the desalination capacity of this part of the world will almost double. The majority of TAQA's desalination capacity is developed under 20 to 30-year contracts with governments.
RO for net-0
He gave the example of TAQA developing reverse osmosis technology at the Al Taweelah Power and Desalination Complex in Abu Dhabi, which is "six times more energy efficient compared to the traditional method."
"At the same time, given how energy intensive water is here, we cannot achieve net zero by 2050 without having a serious look at building additional reverse osmosis plants.
"Historically, in this part of the world, power and water have been coupled together."
When a power plant is built, a multistage flash desalination unit is also built, although during winter this setup is not very efficient to produce water. Therefore the company has been rolling out new RO technology for desalination.
Thabet said that commercial operation will begin soon at a 200 million imperial gallon RO plant and "that will be the largest desalination plant in the world, located here in Abu Dhabi."
For the power sector, he stressed the need for more efficient and pragmatic decarbonisation plans.
"For you to have more renewable penetration in the energy mix you need to have more efficient gas-fired power plants.
"It's not about building more renewables but how you become more efficient with your own production and operation."
Energy & Utilities reported this year that TAQA awarded a contract for the large RO desalination project called Mirfa 2.
Another E&U report noted that TAQA had become shareholders of Masdar last year.
E&U also reported that DEWA and Transco, a subsidiary of TAQA, would establish three water interconnections between Abu Dhabi and Dubai to transfer 117 million imperial gallons a day.
David Haziri contributed reporting
Photo credit: ADIPEC
Energy & Utilities - Middle East and Africa Market, Outlook Report 2023.
This must-have report for industry players offers a thorough understanding of the latest developments, challenges, and opportunities in the region, supported by data, analysis, and expert insights.