Saudi NDF contributes SAR 1.7 bn to Al Shuaibah solar project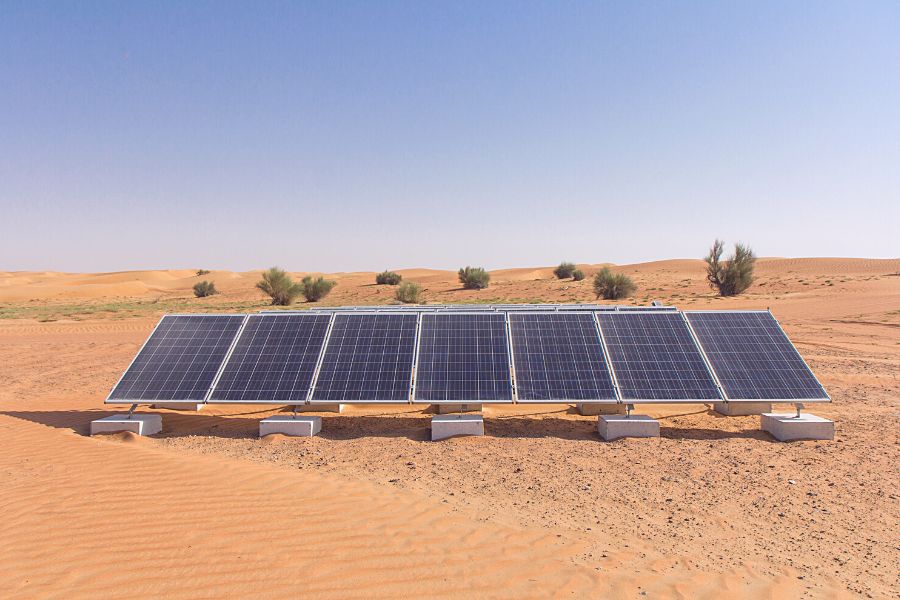 ACWA Power, PIF subsidiary "Badeel", and Aramco's "SAPCO" reach financial close for Al Shuaibah 1 & 2 Solar PV projects, expected to start commercial operations with 2.5GW power capacity in 2025; Aramco's second participation in National Renewable Energy Program (NREP)
Saudi Arabia's National Development Fund (NDF) has contributed SAR 1.7 billion ($453.3 mn) financing to the SAR 8.3 billion, 2.6 GW Al Shuaibah solar project through the National Infrastructure Fund (NIF), according to a Saudi Press Agency (SPA) report last month. NIF is one of the development funds supervised by NDF.
As a result of the investment, project developers ACWA Power, the Public Investment Fund (PIF)-owned Water and Electricity Holding Company (Badeel), and Saudi Aramco Power Company (SAPCO), announced the successful financial close of Al Shuaibah 1 and Al Shuaibah 2 solar PV projects.
Saudi Power Procurement Company (SPPC) is the procurer and the off-taker for the projects, while the new projects will be jointly owned by Badeel (34.99%), ACWA Power (35.01%), and SAPCO (30%).
KSA's largest
According to the SPA's report, the Al Shuaibah `project is the Kingdom's largest renewable energy undertaking. It is expected to start commercial operations in 2025 and will provide over 2.6 GW of green electricity to more than 450,000 households.
Situated in Al Shuaibah in the Makkah Province, the Al Shuaibah PV 1 and Al Shuaibah PV 2 will have capacity of 600 MW and 2,031 MW respectively. The total investment in the plant amounts to US$2.37 billion.
Commenting on the financial close, Marco Arcelli, CEO of ACWA Power said: "Securing financing for this groundbreaking project marks a significant step towards achieving Saudi Arabia's clean energy goals, in alignment with the National Renewable Energy Program, which aims to generate 50% of electricity from renewable sources by 2030."
Aramco's investment
Mohammed Al Qahtani, President of Downstream at Aramco, said: "While oil and gas will play a major role to meet the energy demand of today and tomorrow, renewables will increasingly play a part in the energy transition…The projects mark a significant milestone to support Aramco in achieving its decarbonisation targets."
Aramco's investment in Al Shuaibah 1 and Al Shuaibah 2 Solar PV Projects, through SAPCO, is its second participation in the National Renewable Energy Program (NREP).
PIF, through the Water and Electricity Holding Company (Badeel), in partnership with ACWA Power as lead developer, is executing a total of five NREP projects, with a cumulative capacity of 8GW and over $6 billion of investment from PIF and its partners.
These projects - Sudair, Al Shuaibah 2, Ar Rass 2, Al Kahfah, Saad 2 – are, according to a statement from ACWA Power, aiming to enable and support the local private sector through requirements for significant local content contribution and the procurement of equipment, supplies, and services through local supply chains.
ACWA's growing solar role

With the addition of these two projects, ACWA Power's solar portfolio in Saudi Arabia now exceeds 12 GW of combined PV capacity. This includes the recent inclusion of three new projects with PIF subsidiary Badeel: the 2GW Ar Rass 2, 1.125GW Saad 2, and 1.4GW Al Kahfah solar plants. Overall, ACWA Power's global portfolio of renewable energy capacity stands at 23.4 GW.
Energy & Utilities previously reported on the ACWA-led consortium funding the Al Shuaibah photovoltaic plants. Another report by Energy & Utilities showed that ACWA Power had made large investments in the Ar Rass 2, Saad 2, and Alkahfah solar projects.
David Haziri contributed reporting
Energy & Utilities - Middle East and Africa Market, Outlook Report 2023.
This must-have report for industry players offers a thorough understanding of the latest developments, challenges, and opportunities in the region, supported by data, analysis, and expert insights.