ACWA Power commits $3.25 billion in 3 massive Saudi solar projects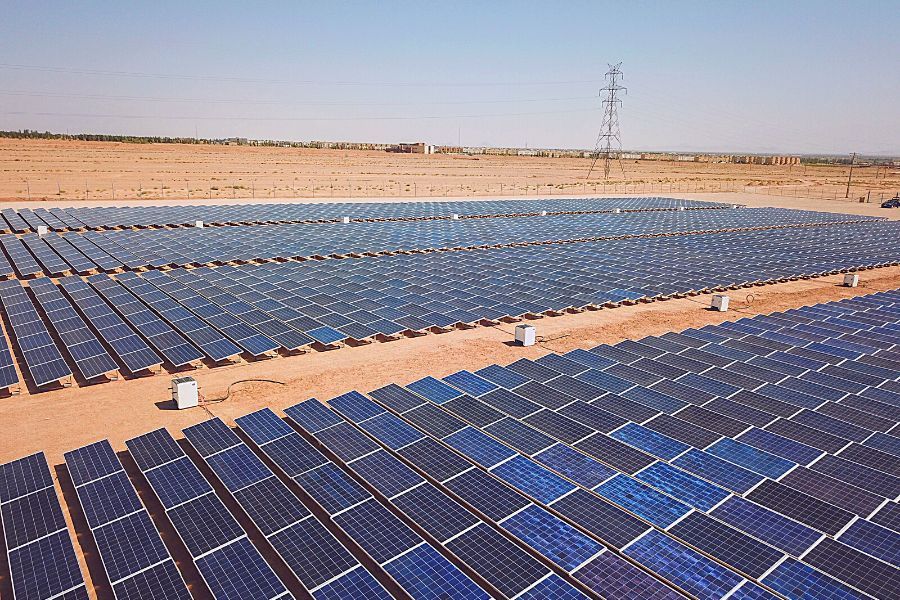 Three PPAs with 35 year durations signed, adding 4.55 GW to KSA's expanding solar portfolio; ACWA Power working on projects with subsidiary of Saudi Arabia's Public Investment Fund (PIF)
ACWA Power signed power purchase agreements (PPAs) last week with the Saudi Power Procurement Company (SPPC) for the development and operation of three major solar PV Independent Power Producer (IPP) projects in Saudi Arabia.
The PPAs, with a duration of 35 years, were signed between the SPPC and ACWA Power's subsidiary companies: Nawwar Renewable Energy Company, Saad Two Renewable Energy Company, and Ishaa Renewable Energy Company.
The combined capacity of the three projects will be 4.55 GW, providing renewable energy to around 750,000 households.
The Ar Rass 2, Saad 2, and Alkahfah projects are located in the central and northern regions of Saudi Arabia and have a capacity of approximately 2,000 MW, 1,125 MW, and 1,425 MW, respectively, with a combined value of SAR12.2 billion ($3.25 billion).
Financial close for these projects is expected by the third quarter of 2023.
"As a Saudi national champion, we are incredibly proud to lead Saudi Arabia's ambitious energy diversification plans and contribute towards achieving its Net Zero targets," said Marco Arcelli, Chief Executive Officer of ACWA Power.
"Signing of three Power Purchase Agreements marks a significant milestone for ACWA Power, representing the largest single transaction for solar projects in our company's history.
"This achievement illustrates our firm commitment to a sustainable future for Saudi Arabia and beyond," he added.
ACWA's Saudi solar portfolio
ACWA Power's portfolio of solar projects in Saudi Arabia is now over 12GW of combined PV capacity, following the addition of the three new projects. This brings ACWA Power's total renewable capacity portfolio to 23.4GW.
This deal comes after ACWA Power's recent agreements in Uzbekistan, where the company is expanding its renewable energy portfolio.
PIF solar portfolio
The solar projects are part of the National Renewable Energy Program (NREP) led by the Ministry of Energy. ACWA Power is working on the projects with a subsidiary of Saudi Arabia's Public Investment Fund (PIF), which is tasked to develop 70% of NREP's target capacity. ACWA Power is part owned by PIF.
PIF is currently developing a total of five renewable projects with a cumulative capacity of 8 GW and over $6 billion investment.
PIF's renewable projects - Sudair, Shuaibah 2, Ar Rass 2, Al Kahfah, Saad 2 - are aiming to enable and support the local private sector through requirements for significant local content contribution and the procurement of equipment, supplies, and services through local supply chains.
"Renewable Energy is one of PIF's priority sectors, with a focus on unlocking the capabilities of promising sectors and enabling the private sector to enhance Saudi Arabia's efforts in diversifying the economy," said Mohammed AlBalaihed, Senior Director – Investment Management at PIF.
Solar gaining momentum
"The kingdom of Saudi Arabia is gaining momentum to increase the share of renewables in the energy mix," says Mohammed AlGhazal, a Riyadh-based energy expert.
"To meet the strategic goal of approximately 50% electricity generated from power plants fueled by clean, renewable energy resources by 2030, gigantic solar projects need to be delivered," he says.
"Such projects of scale are testimony to milestones that are being developed towards achieving Vision 2030's energy aspirations,
"The plan also includes the incorporation of renewable energy resources.
"This is why the kingdom is implementing long-term plans to build enormous renewable energy facilities of international standard," says AlGhazal.
Energy & Utilities reported late last year that Acwa Power and the Water and Electricity Holding Company (Badeel), of Saudi Arabia, have signed power purchase agreements to develop the 2.1 GW solar PV plant in Al Shuaibah, Makkah province. E&U reported last month that ACWA Power won a contract for the 600,000 cubic metre per day Rabigh 4 Independent Water Plant (IWP) on the Red Sea coast.
Energy & Utilities - Middle East and Africa Market, Outlook Report 2023.
This must-have report for industry players offers a thorough understanding of the latest developments, challenges, and opportunities in the region, supported by data, analysis, and expert insights.