Saudi-Chinese consortium gets EPC contract for Rabigh IWP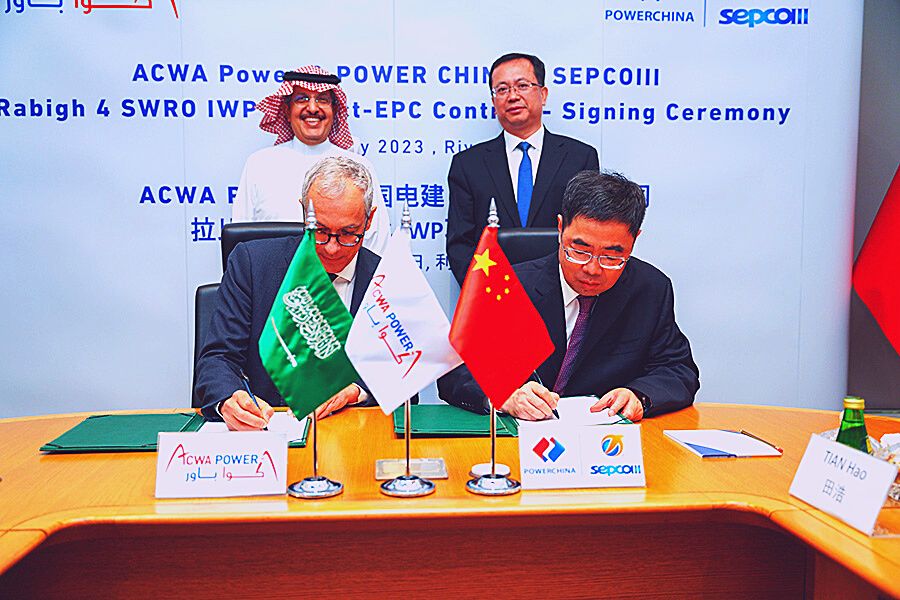 ACWA Power-led consortium awards EPC contract for 600,000 m3/day Rabigh 4 plant in KSA Western Province on Red Sea coast, a $677 million project to serve Makkah and Madinah regions
Riyadh-based ACWA Power, along with Haji Abdullah Alireza & Co (HAACO) and Al Moayyed Contracting Group (AMCG), signed an engineering, procurement, and construction (EPC) contract for the 600,000 m3/day (cubic meters per day) Rabigh 4 Independent Water Plant (IWP) project.
The contract was awarded to a consortium consisting of Power China, SEPCOIII, and Water and Environment Technologies Company (WETICO), according to a statement from ACWA Power last week.
Located in the Kingdom's Western Province on the Red Sea coast, the total Rabigh 4 IWP project cost is valued at SR 2.54 billion ($677 million) and will mainly serve the Makkah and Madinah regions. Financial close for the project is expected during the third quarter of 2023.
ACWA Power currently operates the Rabigh 3 IWP in the same area, the first desalination plant of its size in the private sector. With the addition of the Rabigh 4 IWP, an ACWA Power aims to double its desalination capacity in the area to 1.2 million m3/day, and to 6.8 million m3/day across its portfolio, making it the largest private producer of desalinated water globally, according to the Saudi power developer's statement.
ACWA's ambition
Chairman of ACWA Power, Mohammad Abunayyan said in a statement: "We are pleased with the continuous progress on the project, which further expands our presence in the key Rabigh region, which supplies water to the two Holy Cities."
"The announcement marks yet another milestone in our ongoing partnership with ACWA Power and underpins our joint commitment to advancing sustainable water solutions in the Kingdom," added Zhao Qiming, SEPCOIII Chairman, in another statement.
The Water Purchase Agreement (WPA) of the project was signed earlier this year by the Saudi Water Partnership Company (SWPC) after the consortium of ACWA Power, HAACO, and AMCG emerged as the preferred bidder.
According to ACWA Power, the company now operates 16 desalination plants in four countries, ten of which are in Saudi Arabia. ACWA Power fulfils 30% of the Kingdom's water demand and, in 2022 alone, added 2.4 million m3/day of water desalination capacity via four desalination plants in Saudi Arabia, Bahrain, and the UAE—the highest in its history.
Key players and some background
ACWA Power is a Saudi developer, investor, and operator of power generation, water desalination, and green hydrogen plants worldwide
SEPCOIII is a subsidiary of Power Construction Corporation of China, branded as PowerChina, which is owned by the State Council of China and based in Beijing, China.
WETICO, a Saudi Arabian company specialising in water and wastewater treatment, is owned by Abunayyan Holding.
Energy & Utilities recently reported on ACWA Power signing water purchase agreements for the Rabigh 4 Independent Water Plant (IWP) in Saudi Arabia.
Energy & Utilities also reported that the Kingdom announced seven new desalinization projects which would be built under the PPP model as Independent Water Plant (IWP) projects beginning in 2024, including Rabigh 5.
David Haziri contributed reporting
Photo credit: ACWA Power
Energy & Utilities - Middle East and Africa Market, Outlook Report 2023.
This must-have report for industry players offers a thorough understanding of the latest developments, challenges, and opportunities in the region, supported by data, analysis, and expert insights.