ACWA Power signs WPA for large Saudi project on Red Sea coast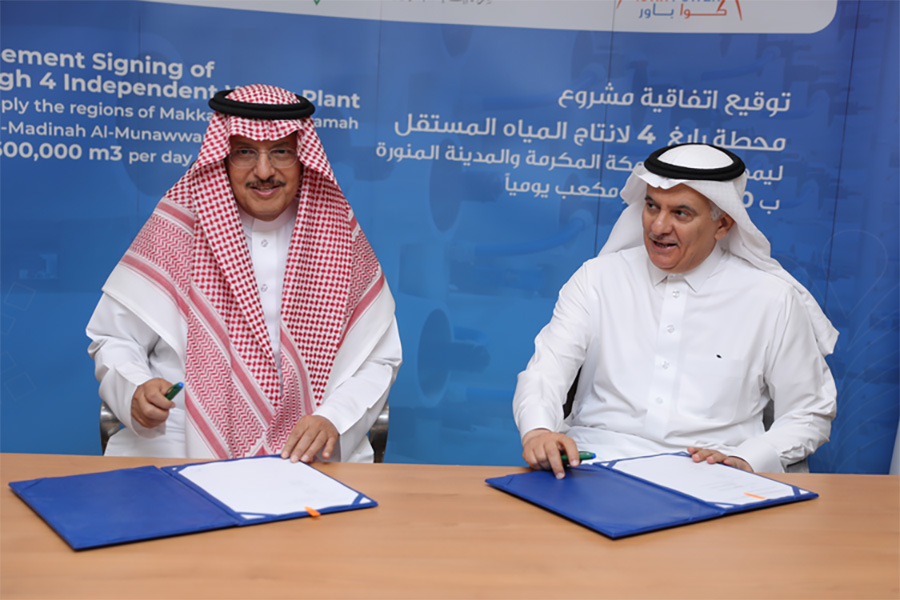 Saudi Water Partnership Company awards contract for 600,000 cubic metres per day facility to ACWA Power, financial close for the project expected during 2023; serving Makkah and Madinah regions
ACWA Power last week signed water purchase agreements for the 600,000 cubic metre per day Rabigh 4 Independent Water Plant (IWP) in Saudi Arabia. The Saudi Water Partnership Company (SWPC), a government off taker, will be the sole buyer of services for the project, which is located on the Red Sea coast in Saudi Arabia.
Valued at around $677 million (SAR 2.54 billion), financial close for the project is expected during the third quarter of 2023. SWPC is the government off-taker and the sole buyer of services for the Rabigh 4 project.
The reverse osmosis plant will service the Makkah and Madinah regions, which typically see a spike in demand during the Ramadan and the annual Hajj season.
"We expect that Rabigh 4 will directly serve pilgrims from around the world in the holy cities of Makkah and Madinah and serve households in the wider region," said HE Abdulrahman Al-Fadli, Minister of Environment, Water and Agriculture, at the signing.
"Rabigh 4 has been designed to use less electricity, lower operating costs, and support local content," said Eng. Khalid bin Zuwaid Al-Quraishi, Chief Executive Officer of SWPC.
"When this plant is operational in 2026, we will see the impact of reverse osmosis technology in action."
ACWA Power currently operates Rabigh 3 IWP in the area with the same capacity as Rabigh 4. The plant has been recognised as 'World's Largest Reverse Osmosis Desalination' plant by the Guinness World Records™.
With Rabigh 4 IWP, ACWA Power will double its desalination capacity in Rabigh Area, according to a company statement. ACWA Power now operates 16 desalination plants in four countries, ten of which are in Saudi Arabia. The company fulfils 30% of the Kingdom's water demand.
In 2022 alone, the company added 2.4 million cm3/day of water desalination capacity via four desalination plants in Saudi Arabia, Bahrain and the UAE.
Energy & Utilities reported last week that Saudi Arabia announced numerous water projects for desalinization, transmission, strategic reservoir, and wastewater treatment.
Photo credit: ACWA Power
Energy & Utilities - Middle East and Africa Market, Outlook Report 2023.
This must-have report for industry players offers a thorough understanding of the latest developments, challenges, and opportunities in the region, supported by data, analysis, and expert insights.