Pre-COP28 report: triple renewable power and double efficiency by 2030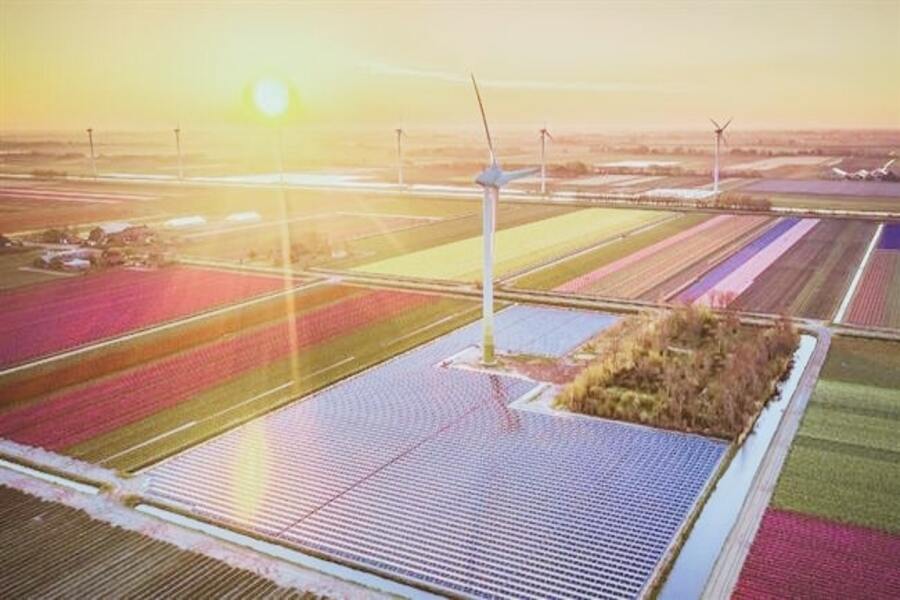 Report launched during Abu Dhabi pre-COP event is to inform countries as they prepare for climate summit, calling for bold renewables target and listing key enablers; Arab countries plan to launch new climate initiatives and to speak with one voice at COP
The Presidency of the 28th United Nations Climate Change Conference (COP28), the International Renewable Energy Agency (IRENA), and the Global Renewables Alliance (GRA) have produced a joint report in anticipation of the upcoming summit in Dubai later this month.
Titled "Tripling Renewable Power and Doubling Energy Efficiency by 2030: Crucial Steps Towards 1.5 °C", the report was introduced last week at a Pre-COP event in Abu Dhabi.
Quick and decisive action
"Tripling the deployment of renewable power generation and doubling energy efficiency are amongst the most important levers to cut greenhouse gas emissions," says COP28 President Dr. Sultan Al Jaber in the report.
Al Jaber called for unified global action to commit to common targets and implement comprehensive domestic and international action.
Citing IRENA's World Energy Transitions Outlook report, IRENA Director-General Francesco La Camera said the energy transition is "dangerously off-track" and requires "immediate and radical collective action" to reach the 1.5 °C target of the Paris climate accord.
"These steps will deliver cleaner electricity systems, open up access to affordable energy and deliver clean green jobs for millions of people," said Bruce Douglas, Global Renewables Alliance CEO.
"The rapid upscaling of renewable energy will require policymakers to work hand-in-hand with industry and civil society to urgently implement the enabling actions in this report."
Key points
The report divides the key enablers into five sections.
Infrastructure and system operation: power grids, energy storage, end-use electrification, sector coupling and infrastructure planning, demand-side management.
Policy and regulation: improving energy efficiency, market incentives and fiscal policy, power market design and regulation, streamlining permitting, reducing negative impacts, maximizing social and environmental benefits.
Supply chain, skills, and capacities: building resilient supply chains, education, training, and capacity-building.
Scaling-up public and private finance.
Enhancing international collaboration.
Regional stake
A report published by the Emirates News Agency WAM last week said that Arab countries are planning to launch new climate initiatives and complete a number of previously announced initiatives at COP28.
Though the Arab World's carbon emissions are low, the region is one of the most affected by climate change, according to the Arab Monetary Fund based in Abu Dhabi.
The WAM report referred to a document titled Negotiations of Arab States Under UNFCCC published by Friedrich-Ebert-Stiftung, a German foundation. It notes that the Arab States together are one of the main negotiation groups at the UNFCCC negotiations.
Consisting of the same 22 Arab countries as the Arab League, the Arab States group is led by Saudi Arabia, which speaks on behalf of the group at all main plenaries. The group meets on a daily basis at COP summits for debriefing and strategizing on positions.
Unified Arab initiative
According to the WAM report, among the most prominent of steps taken among Arab countries to fight climate change is the "Green Middle East" initiative to mitigate the effects of climate change on the Middle East region. It aims to support the region's efforts to reduce carbon emissions by 10% of global contributions, and to reduce carbon emissions from oil production in the region by more than 60%.
The UAE has supported the implementation of many infrastructure and clean energy projects worldwide, investing in renewable energy projects in 70 countries with a total value of nearly $16.8 billion. During COP27, the UAE and Egypt signed an agreement to develop a 10-gigawatt onshore wind power project in Egypt, which would be one of the largest wind power projects in the world.
The Kingdom of Saudi Arabia announced last year the launch of the third edition of the "Saudi Green" forum, to occur on December 4 as part of COP28.
Energy & Utilities (E&U) reported on a new agreement being signed to secure land for the 10GW wind farm project being built as part of a partnership between UAE and Egypt.
E&U reported extensively on COP27 last year.
Photo credit: IRENA
Energy & Utilities - Middle East and Africa Market, Outlook Report 2023.
This must-have report for industry players offers a thorough understanding of the latest developments, challenges, and opportunities in the region, supported by data, analysis, and expert insights.