Egypt advances on 10 GW wind farm with new agreement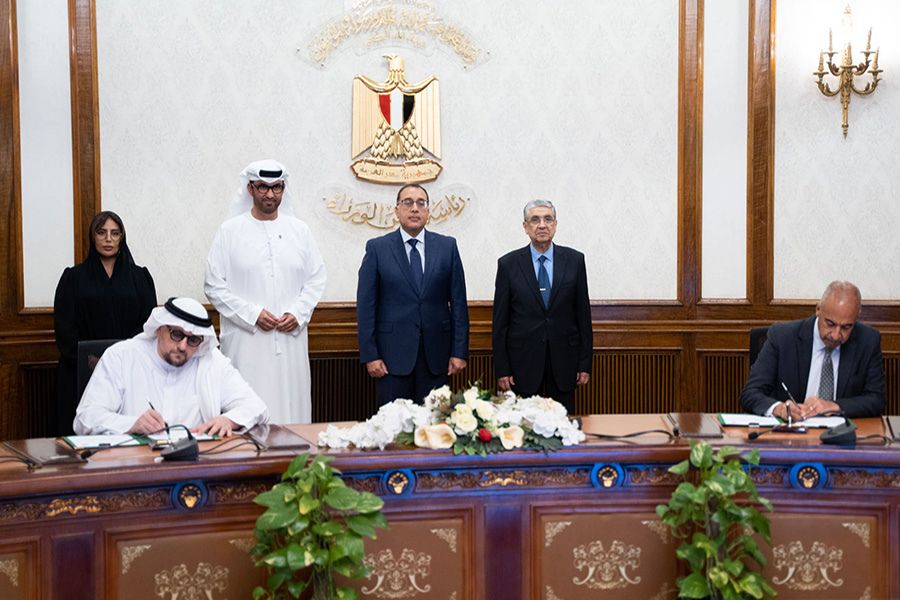 Agreement signed in Cairo looks to secure land for project, joint venture of Infinity Power, Hassan Allam Utilities, and Egyptian NREA; expanding wind farm pact from COP 27 last year
Abu Dhabi Future Energy Company (Masdar), Infinity Power (Masdar's joint venture with Egypt's Infinity) and Hassan Allam Utilities have signed an agreement with Egypt's New and Renewable Energy Authority to secure land to build one of the largest wind farms in Africa.
The wind project will produce 47,790 GWh of clean energy per year and reduce around 9% of Egypt's annual carbon emissions, according to a statement from Masdar last week.
The 10 GW plant will save the North African nation an estimated $5bn in natural gas costs a year.
The original agreement to develop a 1GW wind farm was signed between Masdar, Hassan Allam Utilities, Infinity Power and the Egyptian Electricity Transmission company and witnessed by the presidents of the UAE and Egypt on the sidelines of the UN climate change conference, COP27, in Sharm El Sheikh last year.
Strong partnership
"This 10 GW onshore wind project is set to be one of the largest wind farms in the world, and largest on the African continent," said Dr Sultan Al Jaber, Chairman of the Board of Directors at Masdar and managing director and group chief executive of Adnoc.
"It is a sign of the strong partnership between the UAE and Egypt, with great potential to create jobs, cut emissions and power homes with clean electricity at competitive economical costs,"
"The world needs to triple renewable energy capacity by 2030 to meet the goals of the Paris Agreement," the Cop28 President-designate added.
"The project comes within the framework of global interest and work on producing green hydrogen and transforming Egypt into a global platform for its production," said Mohamed Al-Khayyat, Chairman of the New and Renewable Energy Authority.
"The project comes within the framework of the 'Green Corridor Initiative' in Egypt, which is a network dedicated to renewable energy projects, while it will contribute to achieving Egypt's goal of ensuring that renewable energy constitutes 42% of the energy mix by 2035," he added.
"This project to establish a renewable energy plant, which is set to provide about 10,000 jobs, is the largest wind energy project around the world," said Nair Fouad, CEO of Infinity Power.
Model for Arab cooperation
"The agreement is one of the largest agreements in terms of size, and it also provides a model for Arab cooperation between the UAE and Egypt, which has a long history," said Majed Karam El Din Mahmoud, Technical Director of The Regional Center for Renewable Energy and Energy Efficiency (RECREE).
"This station is a private project, and therefore 80% of its cost, which may exceed $10 billion, will come from international financing institutions, out of confidence in the Egyptian economy, and this is in response to all those who already question our economy."
He pointed out that the volume of foreign direct investments in the renewable energy sector in Egypt currently amounts to about $4.4 billion.
Mahmoud expects that Egypt will be a center for renewable energy in the entire region, and that it will have the ability to export energy to various parts of the world.
Energy & Utilities reported from COP27 on the announcement to develop a 10 GW onshore wind project in Egypt that would be one of the largest wind farms in the world. E&U also reported that Riyadh-based Acwa Power Company signed an MoU with Oman Investment Authority (OIA) to explore possible OIA investment in the 1.1 GW Suez Wind Energy project in Egypt.
Energy & Utilities - Middle East and Africa Market, Outlook Report 2023.
This must-have report for industry players offers a thorough understanding of the latest developments, challenges, and opportunities in the region, supported by data, analysis, and expert insights.