New solar, wind projects to push Djibouti's energy transition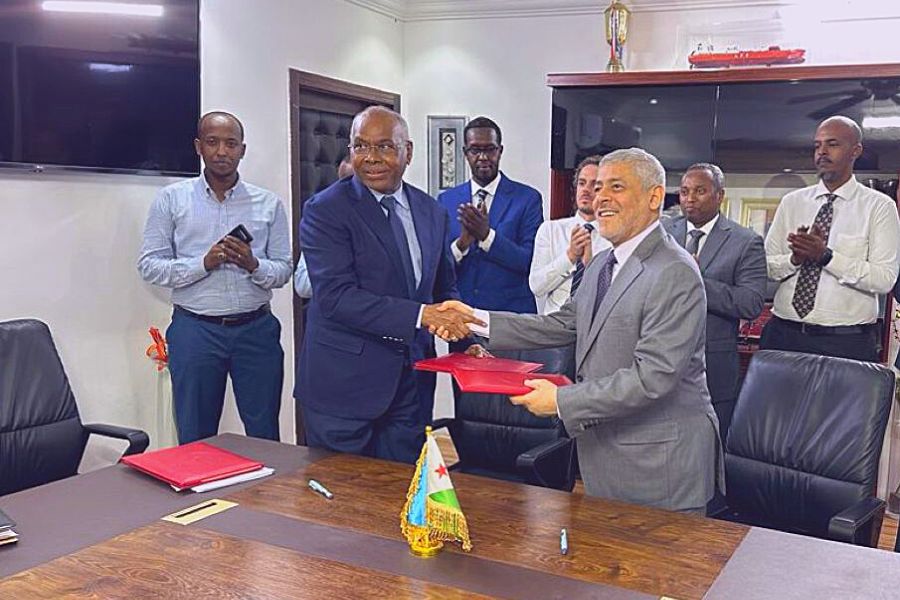 AMEA Power to develop 25MW solar PV plus storage in BOOT structure, Djibouti sovereign fund to own majority stake in plant in Grand Bara area, Electricité de Djibouti is offtaker; 60MW AFC-financed wind power project to be inaugurated this week
Djibouti, now set to commission a new wind farm, and with a recently signed PPA for a solar power plant, is making strides towards its clean energy and energy independence goals.
Amea Power to deploy 25MW solar plant
Dubai-based clean energy company, AMEA Power, late last month announced that it has signed a 25-year Power Purchase Agreement (PPA) with the Government of Djibouti.
AMEA Power will develop a 25MW solar PV plus battery storage system in the Grand Bara area, which is about 80 km south of the capital, Djibouti city.
Mr. Djama Ali Guelleh, CEO of national utility, Electricité de Djibouti (EDD), and Mr. Hussain Al Nowais, Chairman of AMEA Power both signed the agreement while the Minister of Energy and Natural Resources, H.E. Yonis Ali Guedi witnessed the signing.
In a company statement, Hussain Al Nowais, Chairman of AMEA Power, noted that "AMEA Power is proud to reach this milestone and to be supporting Djibouti in its energy transition journey.
"East Africa is an important market for AMEA Power, as it is a region with immense potential for…clean, reliable, and affordable energy."
AMEA Power will develop the project under a Build-Own-Operate and Transfer (BOOT) model. The Sovereign Fund of Djibouti (FSD) will own a minority stake in the project, helping to facilitate financial close. When completed, this will be the first solar Independent Power Project (IPP) in Djibouti.
The plant is expected to generate about 55 GWh of clean energy annually, providing clean power to about 66,500 people. Electricité de Djibouti will offtake the power from the plant.
60MW wind farm set for inauguration
In Djibouti, the country's first wind farm is set to be inaugurated on Sunday, 10 September. The $122m Red Sea Power Project comprises the construction of a 60MW wind plant – consisting of 17 wind turbines – as well as interconnection facilities including a 220MVA substation and 5km overhead transmission line to connect the plant to Electricite de Djibouti's substation. The farm is located 1km west of Lake Ghoubet 120km from the capital.
The Africa Finance Corporation (AFC) was the lead financier for the project, providing about $62.2m. Other co-financiers include FMO, the Dutch Entrepreneurial Development Bank, FMO, Green Horn Investment Holding (local partner), and CIO.
Power from the plant will be sold to EDD under a 25-year take-or-pay power purchase agreement. The off-taker's obligation is backed by a sovereign guarantee and that of the government is covered by political risk insurance received from the World Bank Group's Multilateral Investment Guarantee Agency (MIGA).
The wind plant will generate about 269 GWh of clean electricity yearly, providing energy for about 314,108 people.
Djibouti's energy transition
The country's recent clean energy development, with a new wind farm and recently signed a PPA for a new solar power plant, signals its intent to meet lofty targets. In its Paris Agreement Nationally Determined Contributions (NDCs), Djibouti committed to reducing CO2 emissions by around 40% by 2030.
According to USAID's Power Africa Factsheet, Djibouti has only about 100MW of installed capacity of which all are from thermal sources. However, due to the aging infrastructure and population growth, the country has to rely on energy imports from Ethiopia to meet its energy demands. The government has identified renewables as a solution that can help boost energy security and champion its energy transition.
Energy & Utilties reported on the development agreement for the AMEA Power solar project in Djibouti last year. The country recently participated in the African Climate Summit in Nairobi last week.
Photo credit: AMEA Power
Energy & Utilities - Middle East and Africa Market, Outlook Report 2023.
This must-have report for industry players offers a thorough understanding of the latest developments, challenges, and opportunities in the region, supported by data, analysis, and expert insights.