Masdar announces milestone at Al Dhafra project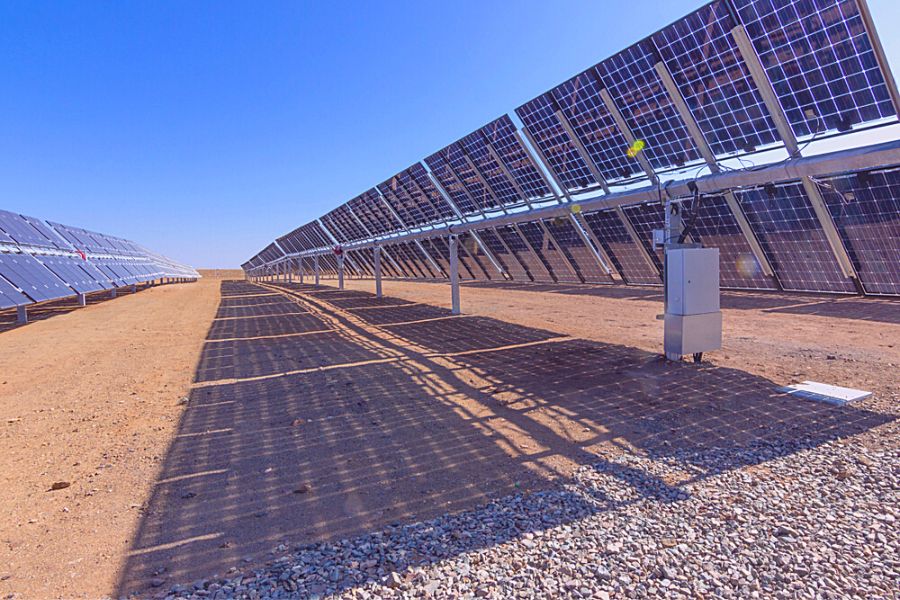 Masdar says last solar PV module installed at Al Dhafra solar IPP, advancing huge 2 GWp toward completion, adding to Abu Dhabi growing renewable power supply with world record 1.32 cents/kWh; emirate will approach 100% carbon-free peak power by 2027-28
The last photovoltaic (PV) solar module at the 2 gigawatt peak (GWp) Al Dhafra Solar Photovoltaic Independent Power Producer (IPP) project in Abu Dhabi was installed, UAE's renewable energy company Masdar said in a tweet on Sunday.
Al Dhafra Solar PV, located approximately 35 kilometers from Abu Dhabi city, will be the world's largest solar power plant with a capacity of 2 gigawatts, according to Masdar. It is expected to lift Abu Dhabi's solar power capacity to around 3.2 gigawatts.
The project is led by a consortium of four companies, including Abu Dhabi-based TAQA and Masdar with 60 percent ownership of the project, and international investors EDF Renewables and Jinko Power, with the remaining 40 percent ownership.
The Power Purchase Agreement (PPA) for the project was signed in July 2020 between EWEC and EDF Renewables - Jinko Power Consortium, after achieving a world-record solar energy tariff of 1.35 cents per kilowatt-hour, which was further improved to 1.32 cents per kilowatt-hour upon financial closing. The transaction has been funded via seven international banks.
The record-breaking project will have a capacity of two gigawatts, supplying power to off-taker Emirates Water and Electricity Company (EWEC). Once operational, the Al Dhafra Solar PV IPP will be the world's largest single-site solar power plant, using approximately 3.5 million solar panels to generate enough electricity for approximately 160,000 homes across the UAE.
The plant will deploy the latest in crystalline, bifacial solar technology for higher efficiency.
A growing supply of solar power
The Al Dhafra project now nearing completion is another addition to the Emirate's growing array of large utility-scale solar power projects.
Among other large-scale projects of Masdar is the Shams project, launched ten years ago, which was the largest renewable energy project in the Middle East at the time. The 100 MW plant produces enough electricity to power 20,000 homes in the United Arab Emirates.
Noor Abu Dhabi, located at Sweihan, covers an area of 8 square kilometres and features 3.2 million solar panels. The plant produces approximately 1.2 gigawatts of power.
In addition to volume, Noor Abu Dhabi broke another record at the time of bid submission in September 2016, attracting the world's most competitive tariff of 8.888 fils/kWh. The project is owned by the Abu Dhabi National Energy Company (TAQA) with a 60 percent interest, with Marubeni and Jinko Power holding 20 percent each.
Currently, the Al-Ajban solar PV IPP, led by EWEC, is planned for power generation capacity of 1,500 MW. EWEC is now reviewing proposals from developers.
In January, Energy & Utilities reported that EWEC announced reaching over 60 percent of its total power demand from renewable and clean energy sources. E&U also reported that EWEC could be running a system that will be close to producing 100% clean energy by 2027-28.
Tahani Mohamad contributed reporting 
Energy & Utilities - Middle East and Africa Market, Outlook Report 2023.
This must-have report for industry players offers a thorough understanding of the latest developments, challenges, and opportunities in the region, supported by data, analysis, and expert insights.