Making grids fit for a very near future - in Abu Dhabi and beyond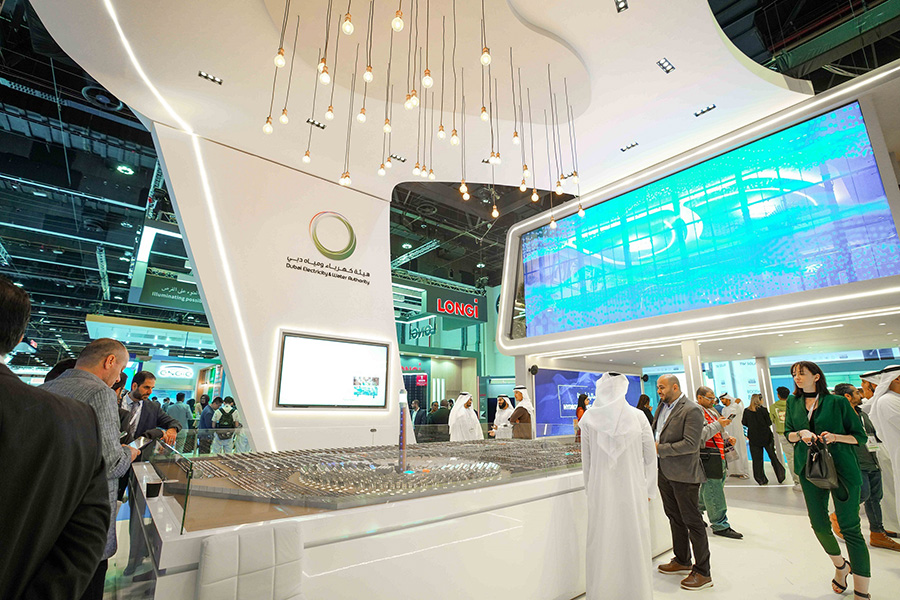 Annual future energy event puts spotlight on how energy transition is forcing grid transition, requiring stability and flexibility, new tools and codes to operate to standard; storage and interconnection will be key as more clean power projects come on-line
The nuts and bolts of future energy were revealed at last week's World Future Energy Summit where numerous discussions focused on the future grid. The Masdar-hosted event was part of Abu Dhabi Sustainability Week.
Energy storage, the experts concurred, will be increasingly critical. And while no specific technology was singled out, the need for a range of capacities, from short to seasonal, was asserted.  
This need became clear at a session called 'Making the grid fit for energy transition,' which made it clear that the grid challenge, in a new era of energy, is already upon us.
Tom Foley, EMEA Future Energy Leader with engineering and environmental consulting firm GHD, moderated. He began by noting that Emirates Water & Electricity Co. (EWEC) announced late last year that 64% of demand was delivered from renewable and clean energy sources, exceeding its goal.
Energy & Utilities reported on EWEC's achievement earlier this month. 
The new reality was made stark by Bruce Smith, Executive Director, Strategy & Planning, EWEC.
"I don't think most people here realize, by 2027-28 we will have enough solar in the system, combined with the nuclear on-line by then, that at this time of the year, at this time of the day (2 pm), we could be running a system that will be close to producing 100% clean energy," said Smith.
"January is perhaps not a good indicator of the whole year," he added. "But the reality is, the challenge we face in terms of operating the grid, we need to deal with it in the most challenging time first, and that's going to be when demand is lowest."
"When demand is lowest (Jan-Feb) we will have enough energy to be running 100% clean energy as soon as 2027-28, if we can provide the system operator with the tools to enable him to do that."
Smith made the point that a system based primarily on solar power and nuclear will provide some of the ancillary services of a natural gas-based system, but will require flexibility, likely leading to requirements for batteries. His company is already planning for this investment.
Panellists described, from various perspectives, how they're now grappling with power systems that were almost entirely natural gas-based until quite recently. The Barakah Nuclear Power Plant, the large Noor and Al Dafra PV plants, and the anticipation of more large solar PV plants coming, are quicky becoming main factors in their planning. 
Afif Al Yafei, CEO of Abu Dhabi-based Transco, addressed the massive shift underway from the perspective of transmission networks. With the planning cycle for transmission infrastructure running longer than that for generation, he emphasized long-range planning for the needed capital investment. Al Yafei attributed the so-far successful integration of large new sources onto the grid to such planning.
"We need the grid to be ready, to receive and integrate so much renewable power," said Ahmed Ali Al-Ebrahim, CEO, GCC Interconnection Authority. "We have the problem of inertia, the problem of intermittency." 
He emphasized this does not require just expansion but new technologies related to energy storage as tools for operators.
"We don't have much time," he said.
Smith expects natural gas power sources to fall from approximately 55% currently to 25% by 2030. But natural gas will continue as the "swing provider" of energy when the sun is not shining. Its flexibility will be needed over the next 10-15 years as energy storage costs fall.
Al Yafei said that hydrogen may come into play, while he emphasized the key role for storage.
"We will need a full scale of energy storage," he said. "Short, medium, and long-term." 
Smith disagreed that hydrogen is likely to be a long-term energy storage medium, unless its price falls considerably.
"Today it's so far out of the money, it doesn't make sense to consider hydrogen as a substitute for natural gas for decarbonizing the grid."
He said that his agency is soon going to market for 300 MW of storage batteries for frequency and ancillary support to the grid, for flexibility not arbitrage.
"We need energy storage at less than half what it is today," he said. "We're at $250 / kWh, we need it at $100-$110 to start arbitraging against gas."
"If we start paying international gas prices, that will raise the price at which storage becomes competitive.
"What we're looking for is 16-hour storage that will enable us to go through the night, without the need to burn gas.
"16-hour storage will be the sweet spot," he said.
He added that the majority of decarbonization can be achieved without seasonal storage. But the specific technologies required for 16-hour storage are not yet clearly known.
The discussion closed out with the question of regulation.
"When we're preparing for grid of the future, we need a completely different mindset," said Al Yafei. "Our regulation has to evolve."  
He spoke of a need to align national plans at the GCC level to reach optimal system design.
"This year we will start updating the code in the UAE with the utility stakeholders," said Ahmed AlMazrouei, Director of Regulation & Supervision Dept., Ministry of Energy & Infrastructure, UAE.
He spoke of the need for all codes to be aligned to accommodate clean energy, updated for a new grid with much less natural gas in the system.  
The discussants also noted that a great human capital challenge is facing the industry as power grids become more complex. Their agencies will need highly skilled personnel to manage them.
photo credit: WAM.ae
Energy & Utilities - Middle East and Africa Market, Outlook Report 2023.
This must-have report for industry players offers a thorough understanding of the latest developments, challenges, and opportunities in the region, supported by data, analysis, and expert insights.