Iraq moves on multiple fronts to overcome power deficit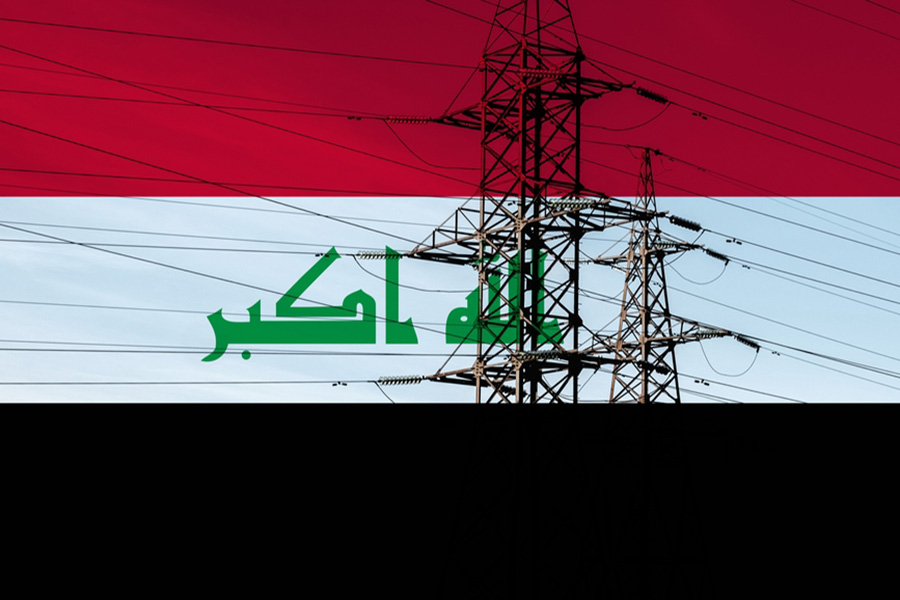 Facing chronic energy shortfalls and a relentless rise in demand, the country is seeking to build power plants, diversify power imports, and launch solar projects; breaking away from reliance on Iran
Iraq is OPEC's second largest oil producer. Yet it continues to experience chronic energy shortfalls, with domestic power production significantly short of demand. The country's 42 million people still endure regular blackouts and load shedding.
The country must import power and, in recent years, has imported much of its electricity and gas to generate electricity from Iran, as high as 35% in 2021. Four main power transmission lines connect the two countries. Yet the imports have often been unreliable, resulting in power cuts, as Iran has faced economic setbacks and has prioritized its own power needs.
The problem of lack of power is compounded by inefficiency; by world standards Iraq has an extremely inefficient power supply system resulting in large distribution losses. The former prime minister, Mustafa al-Kadhimi, acknowledged that Iraq had spent $62 billion since 2003 yet has failed to restore reliable electricity.
Work is proceeding to increase power generation capacity and improve supply reliability. Iraq is entering new regional agreements to add to its cross-border power supplies, while it pursues private sector partnerships to continue building up its electricity sector. A nascent solar power sector has been stalled but holds potential.
Still the challenges are great, as the country's debt obligations and funding shortfalls hinder progress in the electricity sector. Meanwhile, Iraq is facing increasing pressure from World Bank and other international actors to diversify its economy away from oil and natural gas in preparation for a global energy transition.

Adding electricity
By some estimates, Iraq's peak power requirement is 35 GW, while it faces an electricity deficit of as much as 13 GW. Demand for electricity is increasing rapidly in Iraq, by as much as 1 GW per year.
An announcement in January from the Ministry of Electricity stated that Iraq is planning to build combined cycle power plants totalling 4 GW in the next two years. Ziad Fadhil, Minister of Electricity, said that the additions would contribute to overcoming the country's power shortages, while Iraq will also seek to convert its power supply to "smart systems" to improve efficiency.
Also in January, the Ministry of Electricity entered a MoU with Siemens Energy to add 11 GW power production. Planned projects include constructing and developing power generation facilities for both conventional and renewable energy sources, according to a statement from the German Economy Ministry.
This agreement advanced last month, when the Ministry of Electricity awarded long term service contracts for power plants to Siemens Energy, which include providing maintenance and servicing to the Al Sadr, Kirkuk, and Al Rasheed power stations.
In February, Iraq entered a cooperative agreement with GE to explore the development of new power plants and expanding capacity at existing facilities, to maintain and rehabilitate installed power generation and transmission infrastructure, to establish new substations to relieve grid congestion across various directorates, and to enhance the interconnectivity between the Jordanian and Iraqi grids. The goal of moving toward decarbonization was also noted in an official statement.

Diversifying power imports
Iraq has also been striving to diversify cross-border power supplies and end the monopoly of energy supply from Iran. Negotiations with Turkey, Jordan, Saudi Arabia, and the Gulf Cooperation Council Interconnection Authority have been conducted and projects are now underway.
Last year, Saudi Arabia and Iraq signed a MoU to connect their national electricity grids. The two countries agreed on an electrical interconnection from Arar in northern Saudi Arabia to Yusufiya near Baghdad, a length of 435 km, with a 400kv line with 1,000 MW power transfer capacity. A start date has been set for the project according to media reports.
Earlier this year, Iraq and the Gulf Cooperation Council Interconnection Authority (GCCIA) signed contracts worth $220 million for implementing an electricity interconnection between the GCC nations and Iraq.
The project involves the construction of a double circuit 400 kV transmission line from Wafra station in Kuwait to Al Faw station in south Iraq with a total transmission capacity of 1.8 GW and a length of 295 km, according to a statement from the Council. Work on Phase 1 with transmission capacity of 500 MW is now underway and planned to be completed in 24 months.
Jordan also has signed a deal with Iraq to connect the two nations' power grids, to supply Iraq with nearly 400 megawatts of electricity. Work on a first phase 150 MW capacity is slated to begin in June, according to the Ministry of Electricity.
Turkey will also supply power to Iraq. Two power lines with 500 MW of combined capacity were completed in the first half of 2022. The project now requires agreement on electricity tariffs in a final operating agreement, according to the Ministry of Electricity.
The long-distance electricity connections are costly for several reasons. Their length will lead to high energy loss and voltage drop, while their long-distance passage through uninhabited areas will subject them to security risk. And, because electricity frequency between Iraq and Saudi Arabia is different, frequency converters will be required.
Iraq is also looking at other options to diversify its energy supply, such as importing gas from Qatar for power generation.

Getting renewables going
Iraq is now just beginning to build utility-scale renewable energy projects. The Ministry of Electricity said this month that Riyadh-based ACWA Power has agreed to develop a 1 GW solar power plant at Najaf in central Iraq. The project has its origins in a recent agreement with France's TotalEnergies to build oil, gas, and renewables projects that will improve the country's electricity supply. The oil major invited ACWA Power to join the project.
The Ministry also disclosed that Chinese solar power develop PowerChina will build a 250 MW plant at Najaf. The Iraqi government initially entered into agreement with the company in 2021 to build solar power plants with capacity of 2,000 megawatts.
Energy & Utilities reported last year that Iraq's Central Bank approved a $680m fund for renewable energy projects in the country. E&U also reported that Jordan seeks a role as regional power hub with Egypt, Saudi, Iraq, and Israel connections.
Hanadi Dagher contributed reporting
Energy & Utilities - Middle East and Africa Market, Outlook Report 2023.
This must-have report for industry players offers a thorough understanding of the latest developments, challenges, and opportunities in the region, supported by data, analysis, and expert insights.