COP 27 sidelines agreement calls for Jordan collaboration with Masdar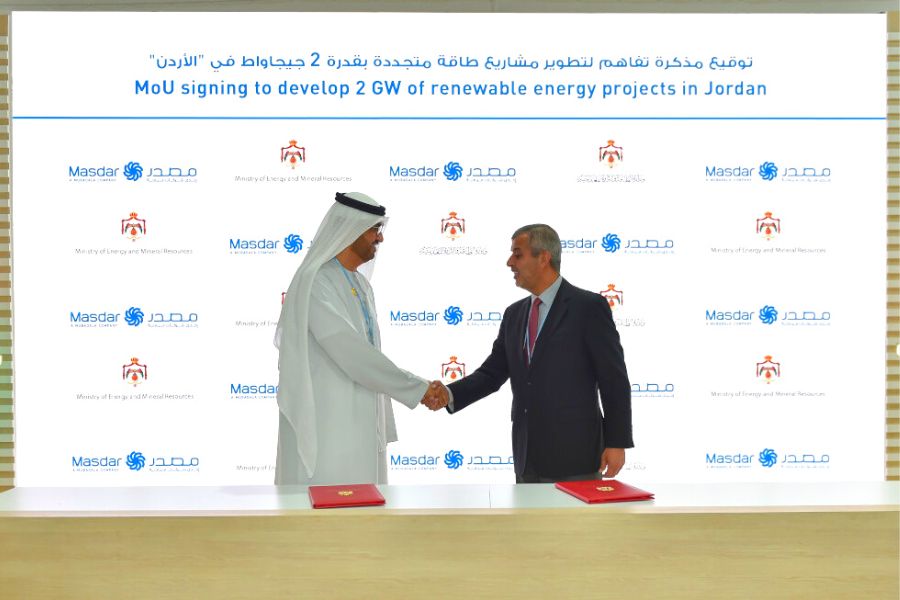 MoU to explore renewable energy projects in Jordan with production capacity up to 2 GW, helping it achieve 50 percent renewable power share by 2030; Jordan seeking role as regional hub with Egypt, Saudi, Iraq, and Israel connections
Masdar, the Abu Dhabi Future Energy Company, has signed a MoU with Jordan's Ministry of Energy and Mineral Resources to explore collaboration in renewable energy projects with a total capacity of up to 2 GW.
The MoU was signed yesterday at an event on the side lines of the 2022 United Nations Climate Change Conference (COP27). It was signed by HE Dr Sultan Al Jaber, UAE Minister of Industry and Advanced Technology, Special Envoy for Climate Change and Chairman of Masdar, and HE Dr Saleh Al-Kharabsheh, the Jordanian Minister of Energy and Mineral Resources.
The two sides will explore development and investment in renewable energy projects in Jordan with a production capacity of up to 2 GW. The memorandum also includes exchange of expertise and knowledge in the areas of renewable energy and infrastructure development, including electricity transformation, distribution, and exportation.
"The projects being explored through this memorandum would support Jordan's ambitious renewable energy goals and help to ensure energy security for the nation," said HE Dr Al Jaber.
"As we look toward hosting COP28 in the UAE next year, Masdar is dedicated to supporting our neighbouring countries in the Middle East in their energy transitions."
Through the MoU, Masdar may significantly increase its renewable energy footprint in Jordan, which currently includes two major renewable energy plants.
"Jordan is already a pioneer in renewable energy development in the region, where it currently produces around 29 percent of its electricity from renewable sources, and aims to increase this share to 50 percent by 2030," said HE Dr Al-Kharabsheh.
In 2015, Masdar delivered the 117 MW Tafila Wind Farm in Jordan, increasing the country's total power capacity by 3 percent. Masdar was also the developer and lead partner on the 200 MW Baynouna project, located east of Amman, which is the largest single solar energy project in Jordan, according to a statement from Masdar.
The Baynouna project generates 563 GWh of electricity each year, equivalent to 4 percent of the annual energy consumption of Jordan. Since 2020, it has been meeting the annual power needs of approximately 160,000 homes, displacing an estimated 360,000 tonnes of carbon dioxide each year.
Jordan is looking to become a regional hub for green energy production benefiting from the abundance of renewable energy energies, in addition to its central location in the Middle East and Africa.
Energy & Utilities reported last week that Jordan, the United Arab Emirates, and Israel signed a MoU to continue feasibility studies for a 600 MW solar photovoltaic plant, complemented with electric storage, to be built in Jordan to produce clean energy for export to Israel, and for a water desalination plant located in Israel to export to Jordan.
In June, E&U reported on the planned 164 km electricity interconnection project between Saudi Arabia and Jordan, proposed to have 500 MW capacity with future phases planned to increase the capacity to 1GW.
E&U reported last fall that Egypt and Jordan agreed to double the capacity of the electrical interconnection between the two countries to 1 GW, from the existing 500 MW, supporting further planned power connections to Iraq and Lebanon.
Photo credit: Masdar News
Energy & Utilities - Middle East and Africa Market, Outlook Report 2023.
This must-have report for industry players offers a thorough understanding of the latest developments, challenges, and opportunities in the region, supported by data, analysis, and expert insights.