Intersolar conference conveys solar power's key role for MENA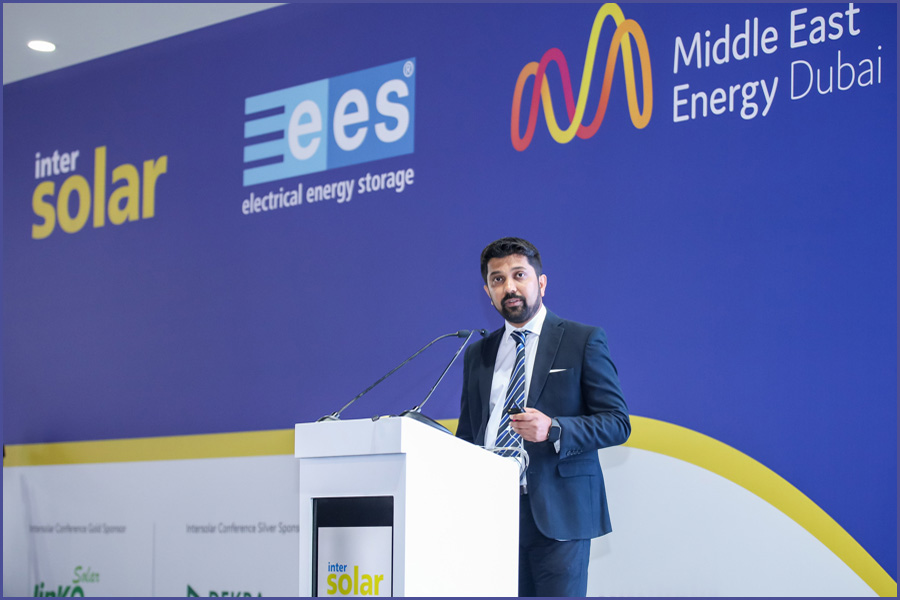 Speakers describe remarkable growth for solar while experts lead extensive technical discussions in conference co-organized by global business platforms Intersolar and ees; UAE in sharp focus as it prepares to host COP28
The 48th edition of Middle East Energy, held in Dubai last week, brought focus on solar power as the main energy source for the Middle East and North Africa's energy transitions in the years ahead.  
In a keynote address by Nicolas Daher, Lead Energy Analyst at the Economist Intelligence Unit (EIU), it was singled out as a key component that will make MENA a global leader in new energies.
Daher said that solar will lead the energy transition in the region, with Israel, Saudi Arabia, UAE, and Oman all projected to grow their solar power generation considerably in the next decade. Wind power, in contrast, is set to expand but not as widely, primarily in Israel and Egypt.
"The world is desperately looking for a climate change leader and, with the latest COP held here (in Egypt) and the next COP held here too (in the UAE), the world is clearly curious and eager to hear what this region has to say," he said.  
Intersolar conference
Solar power received a full three-day discussion in a concurrent conference co-organized by global business platforms Intersolar and ees (Electrical Energy Storage). It was the sixth year of their partnership with Middle East Energy.
The crowded Intersolar/ees conference was a popular attraction, with extensive expert-led discussions on green hydrogen, hybrid solutions, utility-scale technologies, C&I data solutions, storage and grid integration, supply chain challenges, and integrated photovoltaics.   
Faster than anyone could have imagined
The conference opened with a keynote speech by Ahmed S. Nada, President of Middle East Solar Industry Association, who discussed the rapidly changing perceptions of energy in the region during the past decade.
"If we look back only 10 years, the cost of solar energy was too high, and landowners across the Middle East did not believe in the vision of creating a world-leading solar ecosystem as other fuels such as oil and gas were in abundance," said Nada.
"Things have changed much faster than anyone could have imagined, with the Middle East now poised to truly contribute to global energy security through the alternation of existing assets to renewable assets.
"Countries such as Egypt, Algeria, Libya and Turkey are all competing to become a corridor of energy to Europe – and this is being done through collaboration, not confrontation.
"The Middle East will most certainly play a key role in the energy security of the future – especially in the renewable space.
"We are also seeing a shift in the supply chain away from reliance on China," he continued.
"If the impacts of COVID-19 have taught us anything, it is that supply cannot be dominated by one country, and this is why Europe is investing heavily in production, and the United States has enough market capacity and demand to justify local manufacturing."
A more 'acute' transition
Parag Bhamre, a partner at EuPD Research & Joint Forces for Solar, provided a MENA solar market outlook for 2023. He said that the high risks of, and heightened attention to, climate change is forcing governments worldwide to transition towards renewable energy.
"Global energy requires a coordinated global shift in both the supply and demand from fossil fuels to cleaner energy," he said.
"However, the transition in the MENA region is more acute than in other parts of the world as it entails transitional risks such as loss of export earnings from fossil fuels, macroeconomic instability, and stranded assets.
"On the other hand, if the region does not transition quickly enough, it is at the risk of warming rapidly, with the risk of water resources dwindling, creating water stress – a real issue," he said.
"To tackle climate change, the MENA markets have set ambitious renewable energy targets setting the region up for explosive growth in the renewables space, particularly solar."
According to Bhamre, the UAE has taken the lead in the region's transition towards renewables.
"With the country in sharp focus as it prepares to host COP28 later this year, the UAE National Energy Strategy 2050 has set a target to increase its renewable energy share in its energy mix to 44 per cent by 2050, of which solar PV is expected to contribute 18 per cent.
"Dubai also aims to increase the share of clean and renewable energy in its energy mix to 25 per cent by 2030, and 75 per cent by 2050," he said.
Detailed technical discussions continued throughout the three days of the conference.
Energy & Utilities also reported on the Strategic Conference and Technical Seminar at Middle East Energy last week.
Energy & Utilities - Middle East and Africa Market, Outlook Report 2023.
This must-have report for industry players offers a thorough understanding of the latest developments, challenges, and opportunities in the region, supported by data, analysis, and expert insights.