US utility exec looks to future energy storage in distributed networks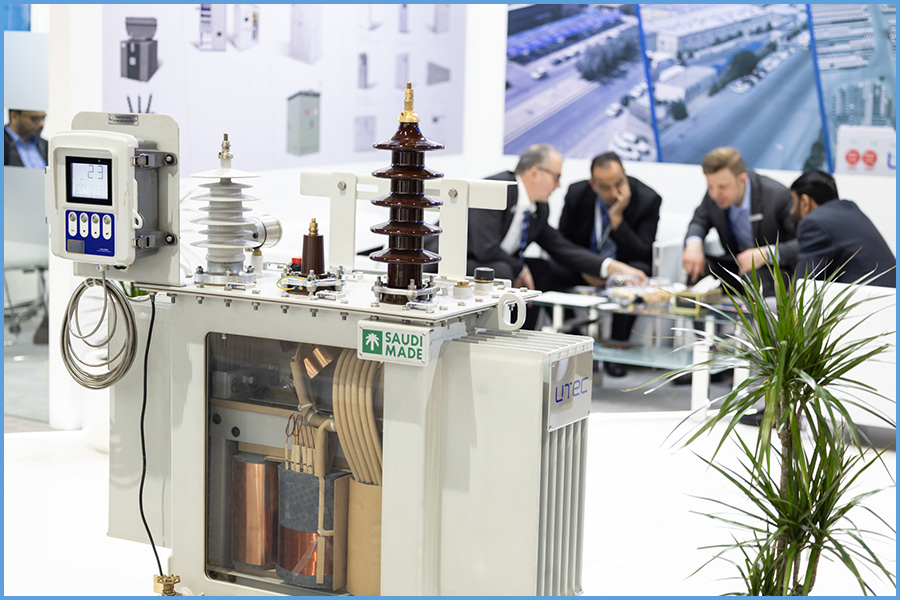 Top exec from the National Grid USA speaks at Middle East Energy 2023 Strategic Conference, shares perspective on battery energy storage in distributed generation; US DOE says battery storage to become essential energy system component
Fouad Dagher opened the final day of the Middle East Energy 2023 Strategic Conference with an expert perspective on battery energy storage in distributed energy networks.
"Up until around 15 years ago, energy transmission and distribution has generally remained the same as it was 100 years ago," said Dagher, Director, NY Energy Storage Development, National Grid, USA.
"Although we have enjoyed efficiency and reliability gains, modernisation, and, in some countries, privatisation of energy systems, the changes in the energy supply mix have led to the biggest changes."
Distribution now a 'two-way highway'
Today, we witness distributed generation almost everywhere we go – on our homes, buildings, highways and even vehicles, Dagher explained. Suddenly, what once was a one-way street for power distribution is now a two-way highway, thanks to the sun.
He noted that New York (NY) state, with a population of 20 million, is on course to achieving a zero-emission electricity sector by 2040 with unprecedented investments for this. And, despite what sceptics may say, solar energy can be relied upon for energy storage.
"In total, NY state is spending approximately $50 billion in the next eight years," Dagher said. "This is not small change."
Policies coupled with the declining cost of batteries have led to deploying more energy storage for grid services. According to the US Department of Energy, battery storage will become an essential energy system component. NY state has a goal of 6 GW of energy storage by 2030. However, studies envision that deployment of energy storage in NY state is expected to be 15 GW by 2040.
The road to battery energy storage: from analytics to deployment
According to Dagher, battery energy storage has many benefits, including dramatic changes to the load curve with the deployment of photovoltaic technologies, the displacement of 'dirty' power plants, ancillary storage and the augmentation of upgrades to grids, to name a few.
However, for Dagher, many questions remain, including establishing what is needed to move from the analytical phase to deployment and execution, how to quantify benefits that cannot be monetised, and how to build a new economy based on many uncertainties.
"We have a lot to consider from the perspective of supply chains, workforce development, new modelling systems, new financial mechanisms, incentive programmes and policy changes that are needed," he said.
"This is the challenge for all of us, and we have much to consider for the future of battery energy storage."
Finding a balanced business model
Dagher later joined a panel of energy experts who shared perspectives on 'Alternative business models in the power sector'.
They explored the need to balance delivering sustainability while meeting investor demands for growth. They also discussed how companies integrate their corporate, environmental, social, and governance (ESG) strategies.
Dagher, whose company supplies electricity and gas to millions of customers in the Northeast US, emphasized partnerships.
"Partnerships leading to successful developments look collaboratively at what it means to run a successful business for all stakeholders," he said, highlighting how collaboration can help achieve common objectives.
"In the absence of…collaboration, we are going to develop solutions that are not solving our problems," he added.
Ravi Seethapathy, Independent Board Member, Power Transmission and Distribution Division, Larsen & Toubro, India, sounded a similar theme. He said that countries with a robust policy regime also have a relatively easy regulatory regime, allowing everyone to do what they intend to do.
"However, when we have an open market for solutions, everyone says theirs is the best in the world," he said.
"If it doesn't solve my problem, it is not helpful to me."
Collaboration for investment
Speaking on the same panel, Ibrahim Yusuf, advisor to the Minister of Energy and Minerals of the Republic of Somaliland, noted that although it is exciting to look into the future, his region is still in the stage of trying to get the basics right.
"To get investment into sub-Saharan Africa, not only do we want to reduce the risk for investors, but we also want to look at how we can collaborate and work together," he said, when asked about investing in the power sector in Sub-Saharan Africa.
"One way to attract investment is by guaranteeing a return on investment or offering incentives such as tax relief.
"Other ways include profit-sharing schemes, building at a fixed price, so they see protection in terms of the cost and profit, and the other is to build and operate."
Yusuf also said international companies are more aware of damage done to the environment and that their stakeholders demand that they are environmentally responsible and have good governance.
"There is a synergy between us in the sub-Saharan and those companies," he said. "They have an interest to please their shareholders, and we have an interest because we can see the first-hand effect on our environment.
"So this makes it easy for us to collaborate."
Representing a think tank perspective, Reji Pillai, Chairman, Global Smart Energy Federation, said that they have been waiting for a decade for the utility of the future.
"In most geographies, utilities are regulated by independent commissions or governments, and very few have looked at other revenue models," Pillai said.
"Now we can see new revenue streams from the digitalisation of the power sector."
"Utilities have two sets of assets: physical assets, which depreciate," he said.  
"The other is digital assets (or 'new oil') which appreciate in value.
"These are valuable data that can be monetised to build different revenue streams outside the regulatory environment."
Energy & Utilities reported this week on strategies for hybridization of renewable energy projects discussed at Middle East Energy Strategic Conference. 
Energy & Utilities - Middle East and Africa Market, Outlook Report 2023.
This must-have report for industry players offers a thorough understanding of the latest developments, challenges, and opportunities in the region, supported by data, analysis, and expert insights.