CCS in technical context at Middle East Energy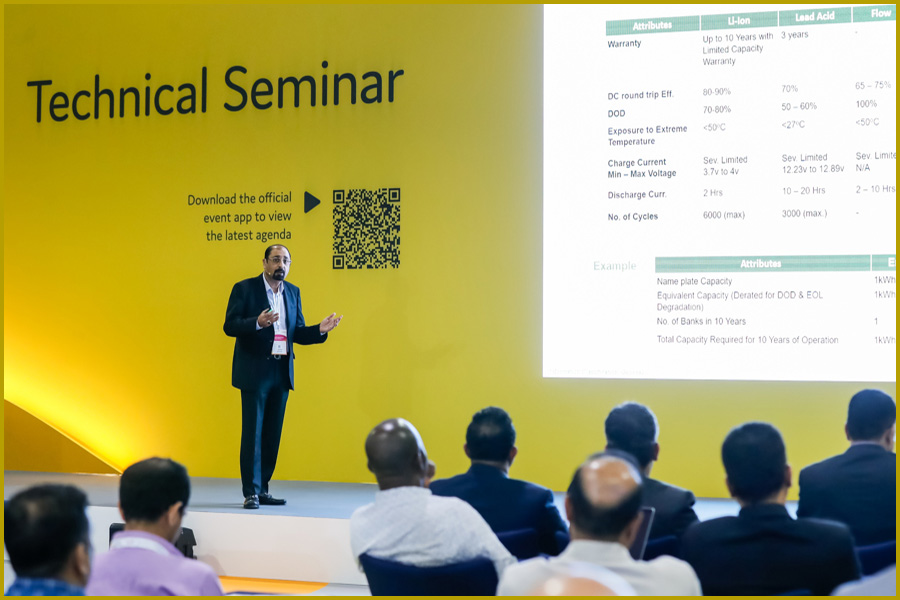 Technical Seminar takes in-depth look at CCS methods, starting three days of talks on hybrid strategies, energy management, data and smart grids, battery storage, and related product innovations
A technical seminar, part of last week's Middle East Energy expo in Dubai, gave the stage to more than 30 energy and technology experts showcasing innovations that will drive the energy transition.
Running parallel to the Strategic Conference and Intersolar Middle East conference, the sessions put emerging vectors such as CCS into the broader context of technical advances across the energy and utilities spectrum.
Just a few of the presentations are reported on here.
Keynote talk delves into CCS techniques
Delivering the opening keynote address on the first day of the Technical Sessions, Dr. Mohammad Abu Zahra, Head of MENA Region, Global CCS Institute, outlined three main methods of carbon capture and storage.  
These include pre-combustion, post-combustion and Oxyfuel CO2 capture. They work by splitting molecules of carbon dioxide, nitrogen and/or oxygen depending on the method.
The main advantages of pre-combustion capture (PCC) are its high efficiency and easier carbon removal from fossil fuels. It also produces a fuel that can be less detrimental to the environment.
PCC can also be retrofitted to existing power plants which lowers the cost of adoption. The main disadvantages are its high cost, limited availability of coal gasification plants (PCC works by removing CO2 from a gas mixture), issues of decay when hydrogen-rich fuel is used, and efficiency of heat (energy) transfers.   
The main advantage of post-combustion capture is that it can be retrofitted into current and new power plants. Another advantage is that it has existed for close to a hundred years. As such, it can be incorporated into industrial applications for maintenance reasons. The main disadvantage is the low amount of carbon capture efficiency which makes it quite cost inefficient.   
The main advantages of Oxyfuel CO2 capture are that it can capture 100% of the carbon dioxide emitted, without nitrous emissions, and low fuel combustion. The major disadvantage is that the process is energy demanding and certain high efficiency gas power plants require a turbine, which inflates the cost of incorporating it into grids.
According to Abu Zahra, "the partial pressure of carbon dioxide is important," as it is a cost factor in the efficiency of the CCS method. Where the carbon dioxide concentration is much higher, the easier (cheaper) the CCS process is.     
"Economies of scale will benefit by the reduced cost" of CCS, he said.
"We can build a case for CCS," he added.  
Currently there are more than thirty CCS facilities that are operational worldwide. Major projects are underway in the UAE, Qatar, and Saudi Arabia.
The Global Carbon Capture Sequestration Institute (Global CCS Institute) is a non-profit organization and international think tank that aims to push the deployment of carbon capture and storage. Headquartered in Melbourne, Australia, the Institute recently opened another headquarters in the UAE.
Transformers go green
"Our task is to decarbonize the energy sector, transformers play an important part," said Dr. Matthias Schick, Head of Decarbonization Strategy/Technical Consultant at thyssenkrupp Electrical Steel.
Schick said there is an increasing demand for low loss transformers that improve the efficiency of electrical grids, either localized or wider networks.
'Green transformers' as they're called are very likely the future of modern transformers, he said. A key component that makes their efficiency possible is thyssenkrupp's bluemint® powercore® low carbon steel in the transformers.
Not only are these transformers produced with low CO2 emissions, they are also highly efficient and limit the load loss when operational, according to Schick. A low load loss leads to lower CO2 emissions by transformers. The main disadvantage is cost, which will be compensated in long term usage. After 30 years, the cost advantage is around 50 percent for low loss design, he said.
Data to empower energy performance
"Data collection is an important part of sustainability," said Rachid Hamida, Vice President of Energy & Technology at Enova, during a talk about the importance of data collection and analytics.
As he explained, data gathered in the field can be analysed and understood and then further action can be taken. Even drones have been used to examine photovoltaic panels for thermal spot leaks.
Realtime analysis and fault detection lead to much higher energy efficiency as well as quick action on problems. An example he gave was the artificial intelligence powered energy management of the Empire State Building, which was retrofitted with Internet of Things (IoT) technology.
Making solar radiation calibrated maps
Sachin Jain, a research associate at Hamad Bin Khalifa University, discussed using a geographic information system to generate solar radiation calibrated maps.
GIS can drastically improve the efficacy of solar farms with regards to output and can lead technicians to design bespoke solar farms as per the topography of a localized area.
"Satellite and ground data are used together to give a more accurate picture," he said.
This data, coupled with the data taken by pyranometers and pyrheliometers, tools of the trade for solar technicians, can lead to a highly accurate model of an area's solar map.
Deploying IoT to limit partial discharge
"80% of failures in medium voltages and high voltages are related to partial discharge," said Mahdi Abdelkhalek, Technical Sales Manager, Middle East for Prysmian Group.
Partial discharge was a large part of his presentation. He cited a study of grids in Europe and the Middle East, particularly those in Denmark, France, and Egypt to show that on average, "2-6% of grids have a chance of failure."
One of the products showcased was PRY-CAM, a device that can detect partial discharge effectively and can be used with IoT technology to analyse high-risk areas and conditions using data gathered and stored in the cloud.
When asked if this could be implemented in underwater cables, Mr. Abdelhalek answered: "We have solutions for sub-sea cables and land-based cables as well." 
Energy Management Systems in microgrid applications
David Desfosses, Smart Grid Solutions Lead at Tractebel Engineering (Germany), expanded on the challenges of applying Energy Management Systems (EMS) in a variety of microgrid applications.
"The issue here is access to electricity and reliability of electricity," he said.
Desfosses also expanded on the key issue of reliability of EMS, especially in developing countries that do not have a robust infrastructure or localized expertise. The three crucial points that every EMS should be measured by is its reliability, sustainability and operability, he said.
Energy & Utilties reported last week on the Strategic Conference at Middle East Energy. 
David Haziri contributed reporting
Energy & Utilities - Middle East and Africa Market, Outlook Report 2023.
This must-have report for industry players offers a thorough understanding of the latest developments, challenges, and opportunities in the region, supported by data, analysis, and expert insights.