Hydrogen and Sustainability are hot topics of seminars at WETEX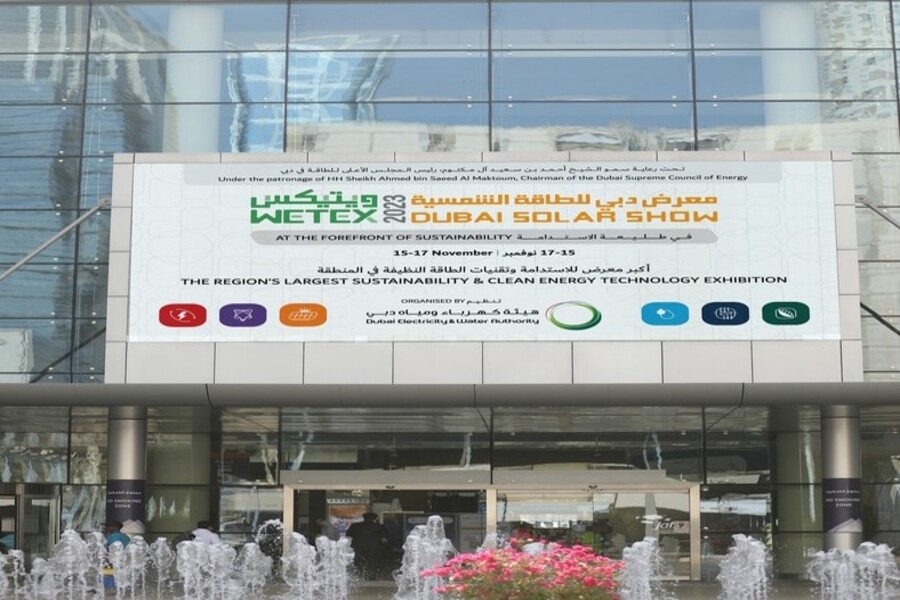 The big energy and water show in Dubai this week offers sponsored seminars covering all sectors; hydrogen and sustainability discussed at length by reps from ACWA Power, ENOC, ENOC Link & Siemens Energy
The 25th Water, Energy, Technology, and Environment Exhibition (WETEX), and Dubai Solar Show, opened this week at the Dubai Wold Trade Center. WETEX is organized by the Dubai Energy and Water Authority (DEWA).
WETEX Day 1 held a series of sponsored seminars which showcased the steps the major corporate players are now taking to increase sustainability and improve reliability and cost-effectiveness.
ACWA asks: how fast can we go?
"Almost twenty-five years ago, the question wasn't sustainability, the real question was reliability," said Bart Bousemans, Chief Technical Officer (CTO), ACWA Power. "Is it going to work? Can we allow these new technologies?"
In a seminar titled 'Clean Energy (Green Hydrogen) and Energy Efficiency, Sustainability and Conservation', Bousemans said the industry has proved that such technology is reliable, that the question shifted to affordability, which the industry soon proved was possible as well.
"Now the real question is, how fast can we go to net zero," added Bousemans. "It's about real sustainability."
Mr. Bousemans added that reliability, sustainability and cost-effectiveness are all possible in today's green projects, whereas in the past companies could only achieve two of the three to achieve their green projects.
"If we're good at optimizing renewable energy projects, we should also be good at producing, affordable, competitive green hydrogen," ACWA's CTO affirmed. He said the Middle East is "blessed by having the possibility to go very low" in regard to the cost of green hydrogen.
He touched on ACWA's various projects: Taweelah Independent Water Project (IWP), seawater reverse osmosis (SWRO) desalination plant and Noor Energy 1, touted as the world's largest concentrated solar power (CSP) plant.
ENOC Link
A seminar titled 'Disrupting / Emerging / Innovative Technologies in Energy, Water and Environment' was offered by Faisal Al Qahtani, CEO of ENOC Link.
"ENOC Link is ENOC's answer to the demand, to the need and to the initiatives that cater to the Dubai government related to digitalization and clean energy," said Qahtani.
The company, a fully owned subsidiary of Emirates National Oil Company (ENOC), provides digital and on-demand fuel services. Its main clients are communities like Meydan, Jumeirah Gardens and any fleet-based service including taxis, planes, trucks and other vehicles.
ENOC Link has a fleet of its own: eLink stations, which are mobile, solar powered vehicles that deliver fuel to clients. Qahtani said the eLink stations are the world's first mobile fuel delivery stations and are "manufactured in-house". He added that reaching out to customers helps them start their day with a full tank and reduces morning traffic.
It also enables fleets to start their delivery or transport routes immediately, cutting costs. ENOC Link has developed an in-house software, called Solver, that functions like a GPS to show the best possible route for recharging or refuelling vehicles along a journey without running out of charge or fuel. These fuels include diesel, gas and biofuels.
Colorful H2
Hydrogen was the sole focus of a short talk titled 'Clean Energy (Green Hydrogen)' given by Khalid Saad Mohammed Al Fuhaid, Director, ENOC Industrial Products Marketing. He outlined ENOC's multicoloured hydrogen products, including green, blue, and brown (produced via gasification of lignite or 'brown coal'.
Fuhaid promoted the benefits of green hydrogen, highlighting its high energy yield, zero harmful waste products when combusted, and longer drive range compared to fossil fuel powered and electric vehicles. He showed how many hydrogen refuelling stations (HRS) are operational around the world, with 250 - 300 of them located in Europe.
The Green Hydrogen Mobility Pilot is "the first project of its kind in the MENA region" and is being done in partnership with DEWA to promote sustainability in mobility and will utilize DEWA's green hydrogen production facility in the Mohammed Bin Rashid Al Maktoum Solar Park.
Silyzer 300
"Europe and North America are the major producers of green hydrogen in 2025," said Paul Schwappach, Head of Sustainability Energy Systems, MEA, Siemens Energy, in a seminar titled 'Power to X'.
"EU and NA are estimated to hold this lead, and the Middle East is still a bit behind, by 2030."
Schwappach spoke about green hydrogen's usefulness. It can be converted back into electricity through re-electrification, produce various types of synthetic fuels to support the decarbonization of various industries like aviation and transport, and can replace grey hydrogen directly in industrial applications.
He also took time to introduce the Silyzer 300, a membrane electrolyzer that can produce 100 – 2,000 kg per hour of hydrogen 5.0, which is hydrogen with an ultra-high purity. In partnership with Air Liquide, Siemens Energy has already begun production of electrolysis stacks in Germany this year.
Energy & Utilities reported, this week, on NEOM receiving its first set of wind turbines which will be used to power a green hydrogen plant.
E&U also reported on Saudi's new EV company finally getting a brand name.
Photo credit: Dubai Media Office
Energy & Utilities - Middle East and Africa Market, Outlook Report 2023.
This must-have report for industry players offers a thorough understanding of the latest developments, challenges, and opportunities in the region, supported by data, analysis, and expert insights.