First set of wind turbines reaches NEOM Green Hydrogen Company site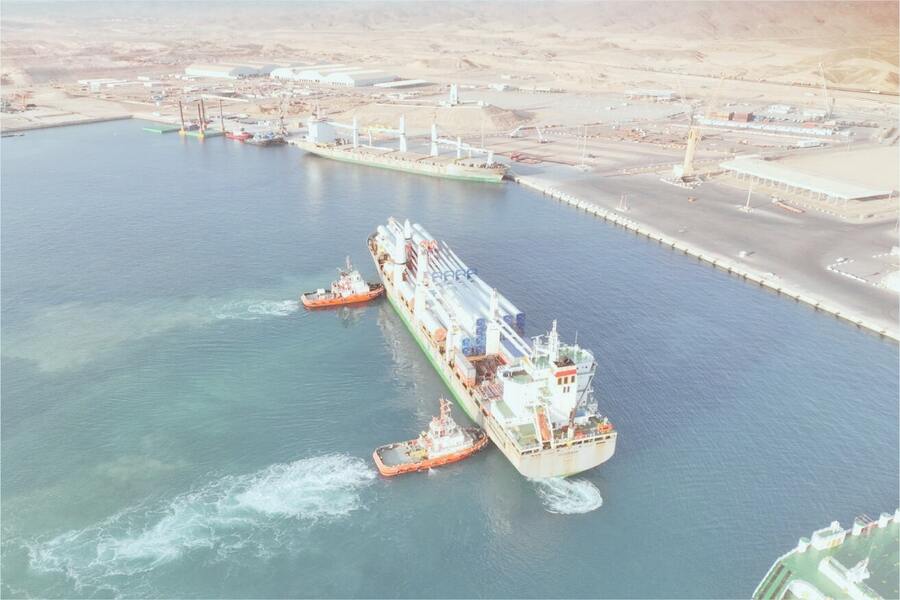 Initial delivery of wind turbines to power the world's largest green hydrogen plant received at the Port of NEOM located in Oxagon, more to arrive before the end of the year, with 250 in total to be installed to power the facility according to the company's statement; only green H2 project 'at the scale we need' says expert
NEOM Green Hydrogen Company (NGHC) has received its first delivery of wind turbines at the Port of NEOM in northwest Saudi Arabia according to a statement by Neom last week.
Wind powered green hydrogen
The first set of wind turbines was successfully delivered on October 8, and were transported via road to the 'Wind Garden' site near the Gulf of Aqaba where they will be assembled and installed.
Additional turbines are expected to be delivered by the end of the year, with NGHC's Wind Garden ultimately featuring more than 250 to directly power the green hydrogen plant via a dedicated electricity transmission grid, according to the company's statement.
NGHC's facility, located in Oxagon, NEOM's reimagined industrial city, will integrate as much as 4 gigawatts of solar and wind energy to produce up to 600 tonnes of carbon-free hydrogen daily. Once the plant at NEOM is fully operational in 2026, 100% of the green hydrogen produced will be available for global export in the form of green ammonia, through an exclusive long-term agreement with Air Products.
"This is the first of a series of major equipment deliveries arriving over the next year," says David R. Edmondson, Chief Executive Officer (CEO) of NGHC.
"We are on track to start exporting green hydrogen in 2026."
"Our teams and contractors are fully deployed on-ground and with a series of equipment deliveries continuing in the coming months, the sites are really starting to take shape," says Wolfgang Brand, Vice President, NEOM Green Hydrogen Project, Air Products.
NEOM developments
As development across NEOM accelerates, its port is expanding its capabilities to meet the rising cargo volumes being received, serving what the developers intend to become a renewable energy-powered manufacturing ecosystem at Oxagon.
Envision Energy is manufacturing the wind turbines for the NGHC facility as a supplier to Air Products. According to the statement by Neom, NGHC is an equal joint venture along ACWA Power, Air Products and NEOM.
In May 2023, NGHC achieved full financial close at a total investment value of $8.4 billion including $6.1 billion in non-recourse financing from 23 local, regional, and international banks and financial institutions. Following this, the EPC agreements were concluded with Air Products at a value of USD 6.7 billion.
NGHC also secured an exclusive 30-year off-take agreement with Air Products for all the green ammonia produced at the facility.
Green hydrogen in context
According to IRENA's World Energy Transition Outlook 2023, hydrogen and its derivates are projected to make up 14% of global total final energy consumption by 2050 in a world aiming to stay under a 1.5-degree temperature increase.
The eighth meeting of IRENA's Collaborative Framework on Green Hydrogen panel, which took place at the beginning of this month, concluded that a coordinated effort, including international collaboration, are crucial for a successful implementation of national green hydrogen strategies.
Frank Wouters, Senior Vice President, Reliance Industries Ltd., and Chairman of MENA Hydrogen Alliance, said in an interview with Energy & Utilities this week, that NEOM is the only green hydrogen project "at the scale that we need."
He continued: "What we're seeing now, the government incentives, whether quotas, subsidies, etcetera, are not yet there.
"For renewables… we had all kinds of support mechanisms, and now it's in the money it's commercial.
"With hydrogen we still need to go through that phase."
Earlier this year, E&U reported on ENGIE and the Public Investment Fund partnering on green hydrogen funds in Saudi Arabia.
Photo credit: NEOM
Energy & Utilities - Middle East and Africa Market, Outlook Report 2023.
This must-have report for industry players offers a thorough understanding of the latest developments, challenges, and opportunities in the region, supported by data, analysis, and expert insights.