Digital DEWA, Nedaa MoU to enhance IoT & communications in the region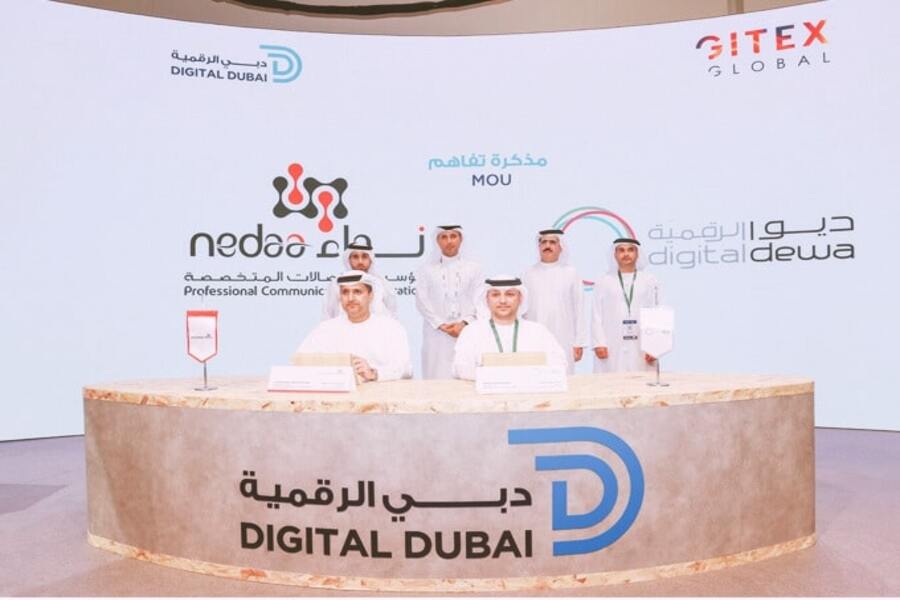 MoU signed during GITEX sees DEWA collaborating with Nedaa in the near future to innovate in fields like IoT, fibre connectivity and cyber services to improve efficiency and connectivity; expanding role for Digital DEWA
DEWA has entered a Memorandum of Understanding (MoU) with Professional Communication Corporation (Nedaa), the exclusive secure network provider for the Government of Dubai. According to the, the two sides will co-develop bundled services like Internet of Things (IoT), fibre connectivity, cloud, data centre and cyber services.
The MoU was signed in the presence of HE Saeed Mohammed Al Tayer, MD & CEO of Dubai Electricity and Water Authority (DEWA), and HE Hamad Obaid Al Mansoori, Director General of Digital Dubai Authority, Digital DEWA, according to a DEWA announcement.
Also signing were HE Mansour Bu Asibah, CEO of Nedaa, and Marwan Bin Haidar, Vice Chairman & Group CEO of Digital DEWA, during GITEX Global event last week at the Dubai World Trade Centre.
Digitizing utilities
According to the statement by DEWA, the MoU marks the beginning of an innovative partnership aimed at leveraging the unique capabilities of both organisations.
"Our collaboration with Nedaa aims to pioneer a new era of digital services and underlines our commitment to meeting the evolving needs of private and public enterprises in the region by harnessing Digital DEWA's cutting-edge infrastructure.
This ensures a brighter and more connected future," said HE Saeed Mohammed Al Tayer.
"Together, we [DEWA and Nedaa] aim to set new benchmarks for safety, innovation, and reliability, and take the lead towards a new era of efficiency and innovation in different industries. This alliance marks a pivotal moment in our mission of delivering cutting-edge solutions that protect and serve the public," said HE Bu Asibah.
Past and future
The DEWA statement added that the collaboration is poised to bring about ground-breaking advancements in IoT connectivity and critical communications. The two organisations aim to drive innovation and deliver solutions that will shape the future of technology and secure communications in the region.
Energy & Utilities (E&U) previously reported on DEWA and Microsoft partnering to play a key role in Digital Dubai's Cloud Project.
Another report by E&U revealed that DEWA's R&D had developed an IoT gateway to connect terrestrial sensors to satellites and ground networks to improve management of water and power utilities.
David Haziri contributed reporting
Photo credit: DEWA
Energy & Utilities - Middle East and Africa Market, Outlook Report 2023.
This must-have report for industry players offers a thorough understanding of the latest developments, challenges, and opportunities in the region, supported by data, analysis, and expert insights.