DEWA R&D announces breakthrough in satellite-connected IoT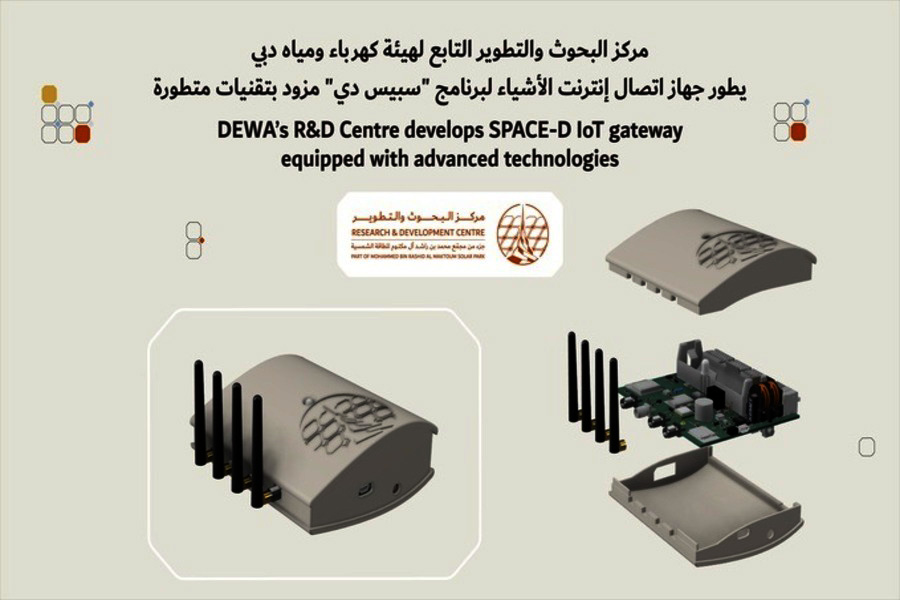 DEWA's Space-D programme pursues nanosatellite technology to complement terrestrial IoT communication networks; nanosatellites can be used to more efficiently manage power, water and distribution network
The Dubai Electricity and Water Authority (DEWA) announced this week that its Research and Development (R&D) Centre has developed an in-house, versatile gateway that can connect terrestrial sensors to satellites and ground networks as part of their Space-D programme.
The company's ongoing work in advanced IoT could have far reaching implications for how future utilities manage water and power.
The gateway
The gateway has various physical, operational technology (OT) connectivity and Internet of Things (IoT) edge protocol libraries to support the latest IoT communication networks like LoRa (long range), Wi-Fi & BLE. The device is designed to suit various industrial applications such as utilities, infrastructure, asset-tracking, agriculture, smart cities, fleet management etc.
The device has a long battery life to support various LoRa protocols and LoRaWAN (Long Range Wide Area Network) to communicate directly with several satellites and terrestrial networks, which contributes to a significant reduction in device and operational costs. The device complies with international IoT device security standards, including OT security.
It was also fully designed, fabricated and tested at DEWA's R&D Centre and its enclosure was manufactured at the R&D's labs using 3D printing. Specialised systems for electricity and water generation, transmission, and distribution were developed enhancing the management of the power network and the water transmission and distribution network.
Digital DEWA in space
The technology seeks to provide value from the data received from IoT terminals via the satellite constellation network. DEWA uses the digital IoT platform hosted by its data centre operated by MORO hub, the backbone of digital DEWA, to enable the terrestrial IoT communications of the developed gateways and to visualise the collected data.
The Internet of Things (IoT) describes the network of physical objects—"things"—that are embedded with sensors, software, and other technologies to exchange data with other devices and systems over the internet. Such devices could be ordinary household objects or complex industrial tools.
Seeing many applications

"Through DEWA's Space-D programme, we aim for nanosatellite technology to complement terrestrial IoT communication networks and increase the efficiency and effectiveness of DEWA's operations and support the digitisation of our electricity and water networks," said HE Saeed Mohammed Al Tayer, MD & CEO of DEWA.
"This will increase the efficiency and effectiveness of our planning, operations, and preventive maintenance for our production, transmission, and distribution divisions, as well as our smart grids and electric vehicle charging stations.
"It also reduces costs, improves asset use, enables knowledge and experience transfer, and trains Emiratis at DEWA," he added.
Al Tayer pointed out that the use of nanosatellites makes "DEWA the world's first utility to use nanosatellites to enhance the maintenance and planning of electricity and water networks."
Last year, Energy & Utilities reported on a joint venture between Masdar and French utility company EDF to build a solar photovoltaic plant for a data centre that will facilitate the expanded use of IoT protocols to meet growing demand.
At Middle East Energy (MEE) 2023, Energy & Utilities interviewed Franco Atassi, a Siemens Middle East executive who stressed the importance of technology including Siemens' own Mindsphere, an Industrial Internet of Things (IIoT) smart solution.
David Haziri contributed reporting
Image credit: DEWA
Energy & Utilities - Middle East and Africa Market, Outlook Report 2023.
This must-have report for industry players offers a thorough understanding of the latest developments, challenges, and opportunities in the region, supported by data, analysis, and expert insights.