DEWA cloud platform to play role in Dubai Digital Cloud Project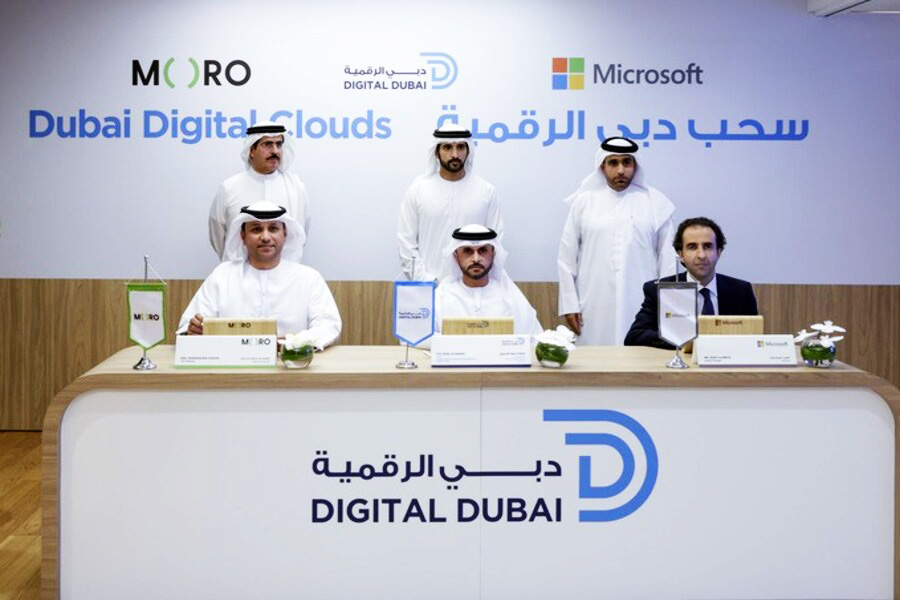 A project of multiple digital clouds providing platforms to government entities, based on agreements signed with Microsoft and DEWA's Moro Digital Data Hub to provide cloud services through Moro Cloud platform
H.H. Sheikh Hamdan bin Mohammed bin Rashid Al Maktoum, Crown Prince of Dubai and Chairman of Dubai Executive Council, launched the Dubai Digital Cloud project during a visit to the Digital Dubai headquarters this week.
In an effort to achieve the project's ambitious objectives, Digital Dubai signed its first agreements with Moro Hub (Data Hub Integrated Solutions LLC), a subsidiary of Digital DEWA, the digital arm of Dubai Electricity and Water Authority (DEWA), and Microsoft Corporation. It continues to collaborate with other private sector stakeholders, according to a statement by DEWA.
Cloud Services
Under the terms of the partnerships, Moro Digital Data Hub is set to provide cloud services through its platform, Moro Cloud. The platform helps reduce overall costs of IT infrastructure in Dubai and provides a system of emerging technologies and cloud services to support digital transformation, according to the statement from DEWA.
Meanwhile, Microsoft and Digital Dubai will collaborate to support the project by leveraging the Microsoft Azure cloud computing platform and providing platforms dedicated to government entities, governance and compliance with Digital Dubai's policies and regulations. The two parties will also work together on a Digital Skills Program.
Through this project, Digital Dubai will work "to support government entities to prioritise the transition towards the Dubai Digital Cloud project and select authorised service providers based on the requirements and objectives of each entity."
The project also aims to establish "an agile digital infrastructure in Dubai that leverages the most advanced cloud technologies." Moreover, it seeks to address information security risks by implementing strict cybersecurity standards and policies, creating an enabling environment to support Dubai's digital economy and aid decision-making processes, according to DEWA.
Powerful cloud
The Dubai Digital Cloud project consists of multiple digital clouds designed to provide high levels of flexibility and operational efficiency, while offering solutions from private to public clouds.
"We are proud to be partnering with Digital Dubai to provide cloud services to government entities in Dubai through the Moro Cloud service," said HE Saeed Mohammed Al Tayer, MD&CEO of DEWA.
Naim Yazbeck, GM of Microsoft UAE, said: "The cloud is a powerful tool for public sector organisations to transform their services, enhance their digital security, and empower their citizens. [It] also enables organisations to access innovative solutions, including AI services, scale up or down as needed, and collaborate and share data across boundaries."
Energy & Utilities reported last week about DEWA using IoT connected nanosatellites to help manage water and power services more efficiently.
DEWA also touted its progress in clean power by focusing on the ongoing progress at Mohammed Bin Rashid Solar Park, as per a report last week by Energy & Utilities.
David Haziri contributed reporting
Energy & Utilities - Middle East and Africa Market, Outlook Report 2023.
This must-have report for industry players offers a thorough understanding of the latest developments, challenges, and opportunities in the region, supported by data, analysis, and expert insights.