Zambia to accelerate BESS deployment with USTDA grant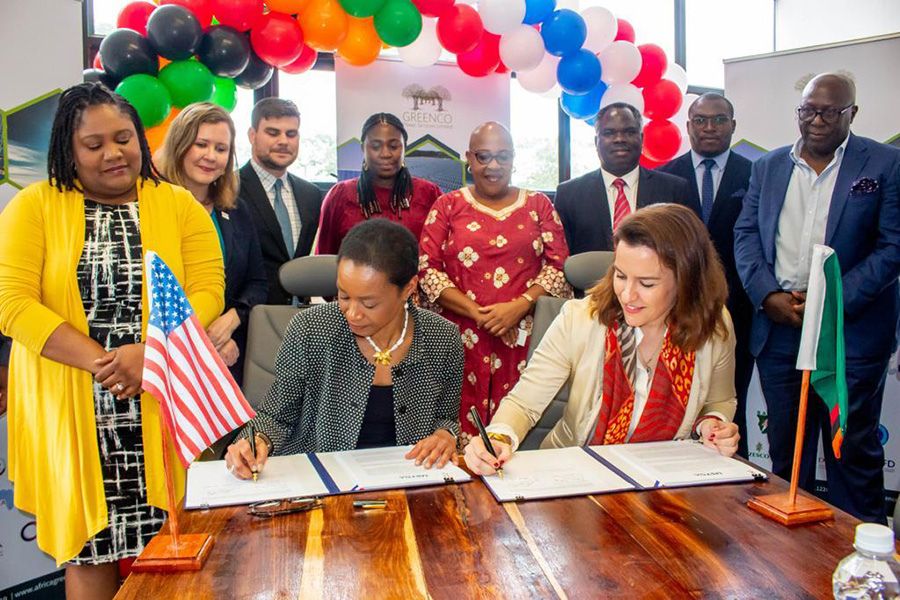 Africa GreenCo gets US grant award to study BESS deployment, looking to deploy utility-scale solar PV plus BESS pilot in Sesheke District; study will advise on expanding to 400 megawatt-hour BESS portfolio in the country
Late last month, the U.S. Trade and Development Agency (USTDA) announced a grant award to Zambia's GreenCo Power Services Limited (GreenCo). The grant will fund a feasibility study to accelerate the deployment of battery energy storage systems (BESS) nationwide.
The project will help facilitate the integration of renewable power into Zambia's grid, while ensuring its stability and reliability. GreenCo selected Maryland-based K&M Advisors, LLC, to carry out the study.
The study aims to assess the technical, economic, and financial viability of deploying a utility-scale solar PV plus BESS pilot in the Sesheke District of the country. The study will inform GreenCo's battery storage technology selection and system design. It will provide recommendations for an expanded 400 megawatt-hour BESS portfolio in the country.
When implemented, GreenCo's BESS project will be one of the largest such battery installations in Africa, according to a USTDA statement. It will place Zambia at the centre of renewable energy trading across southern Africa and allow energy traders to buy renewable energy from anywhere in the region, store it in Zambia, and then sell it to any customer that is connected to the Southern Africa Power Pool (SAPP), according to the agency.
"The scale of this project and its potential impact on renewable energy development in Zambia and across southern Africa is quite remarkable," stated Enoh T. Ebong, USTDA's Director. "USTDA's partnership with GreenCo is a strong example of our focus on deploying innovative renewable energy solutions that are tailored to Africa's requirements."
The study will also include economic and financial analysis for operating the pilot and portfolio, including a commercial and market analysis of GreenCo's business model.
GreenCo currently purchases energy from independent power producers (IPPs), utilities, and the SAPP competitive markets and resells through long-term contracts to utilities and private buyers. GreenCo also executes shorter-term trades through the SAPP.
"We are excited to receive USTDA's support in developing Zambia's first utility-scale BESS, which will help increase the solar PV and wind power capacities that can be safely connected to the national grid," stated GreenCo CEO Ana Hajduka. She added that the BESS and the solar PV pilot project would create 600 short-term and 20 long-term jobs.
The USTDA believes the project will facilitate sustainable renewable energy integration in Zambia's grid. GreenCo's BESS project aims to become one of the continent's largest grid-connected energy storage installations. The USTDA and GreenCo believe that when completed, the infrastructure will also improve Zambia's energy export to the Southern Africa Power Pool, making it a leader in clean energy supply in the region.
Southern Africa turns to BESS for improved stable grid supply
BESS technology has received increased attention in recent years, with the sector set for rapid growth on the continent. Southern Africa seems to be leading this effort, as several BESS projects have either been completed or are under construction.
In 2021, Germany provided €20 million in grant funding to the Namibia Power Corporation (NamPower) to construct a 58MW/72MWh battery energy storage system at the Omburu substation in the country's Erongo region.
In May 2022, independent power producer (IPP) JCM Power commissioned the first grid-connected BESS in Sub-Saharan Africa in Malawi. The project comprises a 28.5MWp solar farm with a 5MW/10MWh lithium-ion storage capacity.
Last December, South African utility Eskom commenced constructing the first phase of its 343MW/1,440MWh solar PV plus Battery Energy Storage System (BESS) project. This phase will see the construction of 8MW solar PV and 32MWh BESS capacity over the next 12 months.
While investment in BESS projects across Africa is lower than the global average, the World Bank believes this could change soon. In its 'Guidelines to implement BESS systems' report, the bank states that battery storage could be essential in less developed markets. The benefits include utilizing battery storage to relieve existing network constraints, improve grid resilience, and enable these markets to reach clean energy penetration earlier.
According to the Zambian Energy Ministry, the country's total power capacity is 3,356.6MW, comprised of 83 percent hydro, 9 percent coal, 5 percent heavy fuel oil, and 3 percent solar PV.
Energy & Utilities reported in January that Angola, Uganda, Zambia agreed to develop renewable energy projects with combined capacity of up to 5 GW, under a UAE-led initiative to raise public and private sector funds for Africa's renewable energy sector.
Energy & Utilities - Middle East and Africa Market, Outlook Report 2023.
This must-have report for industry players offers a thorough understanding of the latest developments, challenges, and opportunities in the region, supported by data, analysis, and expert insights.