Saudi Arabia's desalination provider signs green hydrogen agreement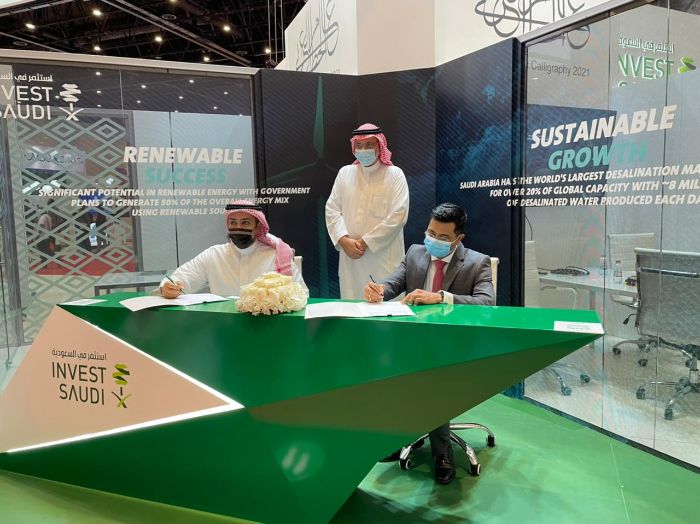 Saudi Arabia's water company Saline Water Conversion Corporation (SWCC) has signed a memorandum of understanding (MoU) with Cummins to collaborate on developing green hydrogen technologies
Saudi Arabia's water company Saline Water Conversion Corporation (SWCC) has signed a memorandum of understanding (MoU) with Cummins Arabia to collaborate on developing green hydrogen technologies.
The agreement was signed during the Water, Energy, Technology and Environment Exhibition (Wetex) in Dubai.
Commons Company, part of the Cummins group, specialises in the design, manufacturing and distribution of various energy solutions in the UAE, Saudi Arabia and Kuwait.
SWCC is the largest producer of desalinated water in the world, with a production capacity of 5.9 million cubic metres a day (cm/d) in 2020.
Saudi Arabia is moving ahead with plans to develop significant green hydrogen capacity as part of its energy and economic diversification strategies.
Saudi Arabia is developing one of the first large-scale green hydrogen projects in the Middle East at its $500bn Neom development on the Red Sea coast, one of the kingdom's Public Investment Fund (PIF's) key megaprojects planned to diversify the country's economy away from a dependence on oil.
Air Products, in partnership with Saudi Arabia's Acwa Power, signed initial agreements for the $5bn hydrogen-based ammonia plant at Neom in June 2020.
Energy & Utilities Middle East and Africa Market Outlook Report 2022: Out Now!
The coming years promise opening of new avenues within the energy industry. The latest outlook report from Energy & Utilities highlights the power sector outlook with a focus on both, developed regions, as well as emerging markets.
Explore core findings about the business opportunities, regulatory environment in the Middle East's power market and more about the planned projects and investments in Africa's emerging utilities markets in this latest release.