Providing liquidity to African power markets - an interview with Ana Hajduka Shields, CEO Africa GreenCo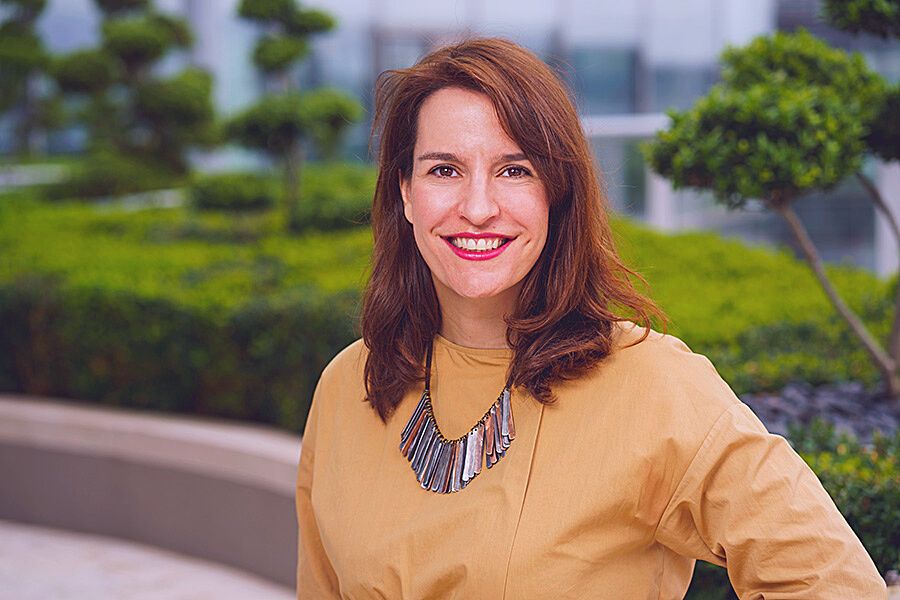 Power markets entrepreneur discusses the key need for 'credit-worthy' buyers of renewable energy, with a strategy to de-risk by selling on the Southern African Power Pool; forging strong links with utilities and IPPs in five countries
Ana Hajduka is Founder & CEO Africa GreenCo/GreenCo Power Services Limited. She is an attorney specialized in project finance, having practiced energy sector law in the US and the UK. She began working on African renewable energy projects in 2010. She is based in Lusaka, Zambia since 2019. She welcomes all renewable power developers to make contact via Africa GreenCo's IPP procurement portal.

We called her last week for a 40-minute interview.
Energy & Utilities What were your initial projects in Africa?
Ana Hajduka When I joined law firm Trinity International in 2010, focused on advising on energy projects in sub-Saharan Africa.
We were involved with Lake Turkana in Kenya, a number of projects under the RIPP process in South Africa, and non-renewables in Nigeria. We were also legal advisors on the Ugandan 'Get Fit' projects.
GreenCo was born because we also advised the Southern African Power Pool (SAPP), the then-Executive Director Dr Lawrence Musaba and I remained in contact. It was his inspiration to take into account power pools, to try to come up with a different model IPPs at scale in Southern Africa.
This pushed me into thinking about how to develop a bankable structure with a willing buyer and seller model, utilizing the regional power pool as risk mitigation on the demand and payments side.
E&U Is your company an energy trader or an energy middleman, so to speak?
AH Our parent company is Africa GreenCo Group, the main company on the operational side is GreenCo Power Services Ltd., a subsidiary based in Zambia, where all our team is based, including trading and operations personnel.
We are an energy buyer, trader and aggregator.
E&U You don't own infrastructure.
AH No. We are not an asset owning entity. We are exclusively here to help scale up new renewable energy projects on the IPP side, giving them long-term PPAs, and mitigating their risk through being able to trade, utilizing the SAPP market.
We are building a portfolio of suppliers on one end, customers on the other end, the power pool as risk mitigation.
E&U The company calls itself a 'credit-worthy' buyer of renewable energy. Why is that important?
AH It's a key problem when it comes to bringing electricity into the market. It's not readiness of projects, the project pipelines are huge in each country. The problem is about, whom to sell to? And which banks are willing to lend to you as an IPP, on the back of a PPA with the ultimate buyer.
Most sub-Saharan African utilities are heavily indebted. And when they are not, they are not considered credit worthy. Normally there is a significant requirement for government guarantees and fiscal support for the power purchase obligations of state utilities in the region.
That effectively imposes a significant capital-intensive liability on the balance sheet of a state utility. It imposes a contingent liability on the finances of that particular country.
However, if you look at the indebtedness levels of state utilities and indebtedness levels of most sub-Saharan African countries, according to IMF article 4 calculations, it is impossible to continue this model. Because the ceilings have been reached, whether on the corporate state utility level, or of the country on the contingent liability level.
The only way to unpack this issue is to move to a more liberalized willing-buyer, willing-seller model, which we are proposing by introducing a private sector buyer in the middle. One that utilizes the wider power pool on a regional basis to mitigate any defaults on payment on demand experienced on a national basis.
E&U How are you credit worthy?
AH Our business model and risk mitigation on the operational side, meaning the customers we have, and membership of the power pool, would not be enough.
What is also required is significant cash collateralization of our payment liabilities. Which in our case are given by our very well rated DFi investors. Our investors represent the government of Denmark through its IFU, the PIDG Group through InfraCo Africa, funded by the governments of UK, Switzerland, and The Netherlands, and ElectriFI an EU-funded investment entity.
So when you look at our shareholding base, and when you look at the level of capital they're willing to put aside to cash-collateralize our payment obligations to the IPPs, it gives lenders to the IPPs that enter into long-term PPAs with us, comfort that they will be paid.
Most importantly, that cash-collateral that they are putting forward, that we then put forward on behalf of our investors, to make sure that we are considered credit worthy, is further de-risked by our ability to sell on the SAPP basis.
So imagine we sign a PPA, and five years in, our portfolio of customers start defaulting. Because of another Covid, or an industrial shut-down, or for other reasons in the market. In that case, when they stop paying us, we start utilizing that liquidity buffer, which is cash collateralized by our shareholders and investors, to continue keeping the IPP whole, to continue paying them, and therefore keeping the lenders comfortable.
But if we were just doing that without any operational risk mitigation, we would soon use up the liquidity buffer. What we do at that moment, we also start selling any defaulted-on power onto the day-ahead market or other competitive markets of the SAPP.
When we start selling into the regional day-ahead market, we are selling to mitigate the risk of the liquidity buffer extension. Because the region will continue for the foreseeable future, unfortunately, continue to experience significant demand deficits.
So even in the worst scenario for average trading prices in the day-ahead market, which was about 3.5 cents/kWh when there was industrial shutdown in the region due to Covid, our liquidity buffer would last from the original cash collateralization of 12 months, up to 10 years.
And during that period, we can find many alternative domestic large power users to sell to. Or the same ones that have defaulted on payment have sorted out their issues and repaid us, etcetera.
You see, what we are doing is coming up with a new model that bridges together financial support to ensure our creditworthiness, with our operational ability to significantly make that financial support durable and therefore creditworthy in the eyes of the lenders that finance the IPPs that we enter PPAs with.
E&U You are entering into contracts with major utilities throughout five countries?
AH Yes. We wouldn't be here without the support of the utilities in particular ZESCO in Zambia when it comes to our SAPP membership as our SAPP operating company is GreenCo Zambia. Because we are the first private sector market participant, i.e., trader, member of the SAPP.
In order to have achieved that, the SAPP is a group that represents mostly state utilities in southern Africa. So they all have to say yes, unanimously, to accepting us as a member. Why would they say yes? Because we worked with them for a long time, to show them the win-win of our business model.
Meaning that if we buy, they don't have to put their balance sheet to support new electricity coming into the market. If we buy, but we don't own any assets, we need to compensate them for grid access services, wheeling, banking, balancing, and other ancillary services. This helps us buy intermittent, sell as firm as possible, and help us effectively be able to wheel that power between the customer and the generator.
So we are helping the utilities unpack those services, and monetize their assets, whether it be on the distribution or transmission level, by bringing more liquidity into the market, and utilizing their assets, and therefore monetizing them by paying for that service to them as a market participant in their energy system.
E&U So you're working with utilities, entering into contracts with them in which countries?
AH Our operational hub is Zambia, where we have agreed the relevant system operation agreements with the state utility ZESCO. ZESCO as mentioned before was also instrumental in helping us obtain our SAPP licence.
We recently incorporated and agreed to system operations and wheeling arrangements in Zimbabwe through a great working relationship with ZETDC.
In Namibia, we are in the process of negotiating the same with NamPower. And in South Africa we are in the process of negotiating with Eskom. All these utilities and most importantly the SAPP CC itself have been the most important stakeholder in our achievements to date.
E&U Are the suppliers, the IPPs, located throughout the same countries?
AH Yes. Our first 85 MW solar PPA was signed in South Africa two months ago with AMEA power one of the leading IPP developers in Africa. Our second 25 MW solar PPA we hope to sign in Zambia at some point this summer/winter (depending on whether you are based in Zambia or elsewhere) with Ilute Sola. We are negotiating a number of PPAs in Namibia at the moment. And, following the issuance of relevant licensing, in Zimbabwe we will start the procurement process there as well.
We invite all IPPs to approach us via our procurement portal, which we built on-line, in order to assure transparency, in order to for them to know what our procurement rules and obligations are, what the expectations are. The procurement portal is comprehensive. You log in and see everything, the minimum requirements that we require in order to engage with IPPs, and negotiating the PPAs or taking it further toward financial close. (for more info see: https://procurement.africagreenco.com/ )
E&U Do you work with power producers who are involved in all forms of power production?
AH As GreenCo says in the name, we are focused on renewable energy only, including hydro, but excluding fossil fuels. That doesn't mean we don't believe that more baseload power from, for example gas, is necessary. We believe it is necessary. But at the moment we cannot procure from any other than renewable energy suppliers.
E&U Are you finding enough power suppliers?
AH More than enough. Our procurement pipeline, launched at the end of last year, is already at 4 GW spread across the SAPP connected countries (2 GW from RSA alone). The interest is immense. This is why we need to have very clear procurement rules, in order to categorize and prioritize which projects we want to start working with first.
Because at the same time we need to achieve enough liquidity support for the supplier interest that we have. There is no problem with readiness of projects in the region. The problem is more on the buyer side and bankability requirements.
E&U Are they mainly domestic power producers, or does this supplier base also include international companies?
AH It is a combination of these. Because local developers like to partner with international ones who have experience with achieving COD on at least one project in the region.
Our rules prescribe that you must have reached COD on at least one project in sub-Saharan Africa.
We encourage local developers; we give more points where local developers are involved on a shareholder basis in a consortium. But because of project finance and other requirements, and having achieved commissioning already, it's mostly done through consortiums with those parties that are international and have already delivered projects in the region.
E&U Are the projects coming to your portal mostly solar power projects?
AH Yes. With a significant amount of wind. And some hydro. Perhaps 70 percent is solar.
E&U And any supplier needs to have a connection into the main grid?
AH Yes.
E&U Regarding the US-funded grant you received to study battery deployment in Zambia, is this a case where GreenCo is acting as a developer?
AH It is the only time when we might own an asset. It is battery storage. In order to efficiently aggregate our renewable energy portfolio, and in order to deal with transmission losses, frequency control, and other issues, and to minimize the requirement for wheeling, we will need significant battery storage capabilities.
So one part of the feasibility study we're doing at the moment is, whether we will ourselves venture into that, or whether we will be effectively acting as an aggregator of battery storage services from third parties that might help our own portfolio, when it comes from more flexible or demand-driven supply to our customers.
Those are some of the elements we are studying at the moment, following the award of that grant. Including technical elements, such as which battery storage technology to prioritize.
E&U Will battery storage be critical for GreenCo?
AH Yes. We are very customer service oriented, at the forefront of our mind is how to best supply our customers. Taking into account our mostly intermittent portfolio. And especially in countries where hydro is not as predominant as in Zambia, where we have a banking arrangement with the utility.
In countries which don't have that, it's much more important to incorporate battery storage elements, to stabilize supply and sell into the SAPP, and optimize time of use and prices on the power pool.
We have incorporated GreenCo StorageCo, in Zambia, and are starting to explore those activities in Zambia and across the region. We will finalize the feasibility study by end of year.
E&U Does Southern Africa have sufficient power interconnection among the countries to support your business?
AH Yes, up to a certain point. There is sufficient infrastructure and interconnection among SAPP member countries, at the moment. However, when we reach significant scale with sales into the SAPP market, transmission congestion will become a significant problem for us and everyone else involved.
It is already a problem across South Africa, and it will become a problem throughout the region.
This is why we're already working with transmission companies trying to raise funding for new distribution and transmission lines, to show them and their lenders, the significant pipeline for this that we are bringing on board – this can help transmission companies make their investments more bankable.
We think's it's very important for aggregators in each market and on a regional basis to work with TSOs and transmissions companies on transmission and distribution investments. Without this, we will all reach a ceiling and not be able to scale up sufficiently to satisfy the growing demand and current demand deficits and lack of energy access in the region.
E&U Your company is relatively young, it was founded in 2019?
AH Yes. We started as an idea in 2016, which led to a feasibility study and business plan, the company was incorporated in 2019 with the first investors in 2020. It was amazing that we achieved that in the middle of Covid. Our investors were very brave.
E&U What stage are you at now in your business development?
AH We have traded already, a brownfield IPP, 8000 Mwh, into the day-ahead market of SAPP.
We are now putting forward a first portfolio of IPPs, taking them to financial close on the back of our PPA and have signed our first 85 MW PPA with AMEA Power in South Africa.
E&U Are there other companies in your space now in Southern Africa?
AH Yes. We see many following our steps. We are the frontrunner, whilst working with the utilities and regulators we made sure that we are helping that the system works not just for us but for everyone else.
Our agreements with utilities (system operations/use of system) have also been used by the state utilities for other third parties like us. We're encouraging that, because the deficit is so huge we don't fear competition. At the end of the day, it will be about who is the best service provider, which will bring efficiency to the whole market and more supply for all.
E&U You now have a pipeline of 4 GW, from IPPs coming to your platform. What is your short-term or mid-term goal, in how much power delivery you want to achieve?
AH As you know, project finance takes a long time. So what we want to achieve is financial close on one project by end of this year, financial close of up to five projects by end of next year.
E&U Financial close with the IPPs?
AH Yes. There will be staggering of construction times and CODs, but we want to make sure that we achieve financial close on up to 500 MW of power generation by end of 2025.
E&U Will South Africa be your biggest market?
AH We're looking at it differently, because we're a regional member of the SAPP. And it also depends on the transmission, export, import, licensing.
South Africa is a huge focus for us, but so is every other country. Each one brings something different. Zambia will be smaller in scale in IPPs, but bigger in banking arrangements. Zimbabwe, with a customer base growing rapidly, is huge on the customer demand side, which can be linked to supply from other countries and the start of procurement in the country.
We always analyse business opportunities through a regional lens. Like how we optimize supply from Mozambique selling into Zimbabwe or South Africa, or supply from Botswana selling to South Africa.
Our operational headquarters are in Zambia, because Zambia brings interconnectivity with the SAPP, it is very interlinked, and it has important banking arrangements because of its hydro but we have subsidiaries in all other countries to make sure we understand country context and appropriately deliver – namely in: South Africa, Zimbabwe and Namibia with potentially Mozambique from 2024 onwards.
Notwithstanding a country's size, each is equally important for us as a SAPP member.
E&U Thank you Ana for sharing insights into Southern African power markets, very interesting.
AH My pleasure.
Energy & Utilities - Middle East and Africa Market, Outlook Report 2023.
This must-have report for industry players offers a thorough understanding of the latest developments, challenges, and opportunities in the region, supported by data, analysis, and expert insights.