Nigerian PV panel production gets going at new Lagos plant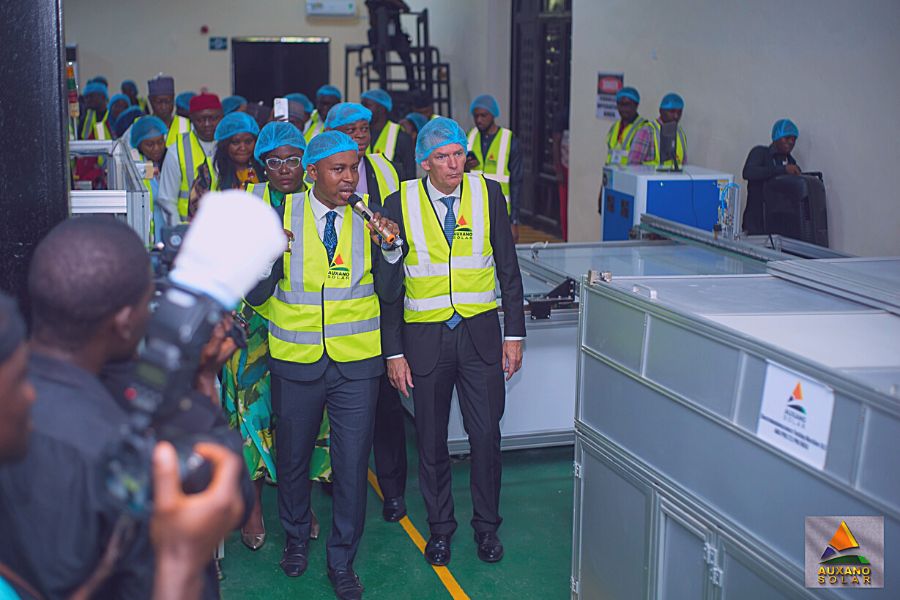 Auxano Solar commissions new plant with total capacity of 100MW of solar PV panels annually, adding to its previous 10MW semi-automated assembly plant; All On is major financier of new plant
Nigerian renewable energy company, Auxano Solar, on September 28 commissioned its new Solar PV module assembly plant in Ibeju-Lekki, Lagos. Auxano is a vertically integrated company, providing solar PV module manufacturing and solar system design, installation and operations services.
The company's new plant can produce a total capacity of 100MW of solar PV panels annually adding to its previous 10MW semi-automated assembly plant.
Shell-backed impact investor All On is a major financier of the new plant. It provided $1.5m in a blend of equity and debt financing in 2020, and an additional $500,000 in 2022. According to All On, the funds were meant to help Auxano meet its expansion plans and cover its facility relocation and working capital needs as it rapidly expands its operations.
The company announced the commissioning on its social media as well as hosted a live stream of the event on its website.
Milestone for African renewables
The new plant is fully automated and covers an area of about 5730 square meters comprising the production floor, a warehouse, and office space. The building is also powered by 141KWp of installed solar energy system. Auxano will source its major solar components like wafers from Asia, mainly China.
Speaking at the commissioning, Caroline Eboumbou, the Managing Director/Chief Executive Officer, of All On noted that the plant is a significant milestone in the growth and development of the renewable energy sector in Nigeria and Africa at large.
"The success of Auxano as the first privately-owned solar assembly factory is a triumph for the promotion of local manufacturing within the Nigerian renewable energy sector," she said.
The case for increased local manufacturing capacity
Despite the price of solar components falling over the past couple of years, the end-user price in many developing countries does not reflect this decline. Macroeconomic effects like forex rates and availability as well as policy decisions like high import tariffs and supply chain challenges severely impact the cost of solar products in markets like Nigeria.
As a result, solar energy is unaffordable for people who need it the most.
Improving local manufacturing capacity would help reduce costs and improve affordability for many. A 2021 study, conducted by All On, reported that an increase in local solar assembly capacity in Nigeria from 20MW to 100MW would reduce the price of solar home systems by 9%, which would increase the number of households that can afford these systems by 77%.
One key challenge to expanding local manufacturing capacity in Nigeria is the absence of a local supply chain for both main manufacturing components like solar PV cells, and also for other secondary components like glass.
Solar PV module assembly represents the first step in solar PV Manufacturing. It is a less technological and chemically complex stage requiring input-import and presenting product-export opportunities. Scaling up to other complex manufacturing activities like polysilicon and wafer production requires more energy and specialized labor.
Energy & Utilities reported earlier this year on a solar PV cell plant under construction near Abuja with financing from a Chinese fund. E&U also reported on the commissioning of Nigeria's 10MW grid-connected solar PV plant plant in northern Kano state.
Energy & Utilities - Middle East and Africa Market, Outlook Report 2023.
This must-have report for industry players offers a thorough understanding of the latest developments, challenges, and opportunities in the region, supported by data, analysis, and expert insights.