Nigeria now building solar module production plant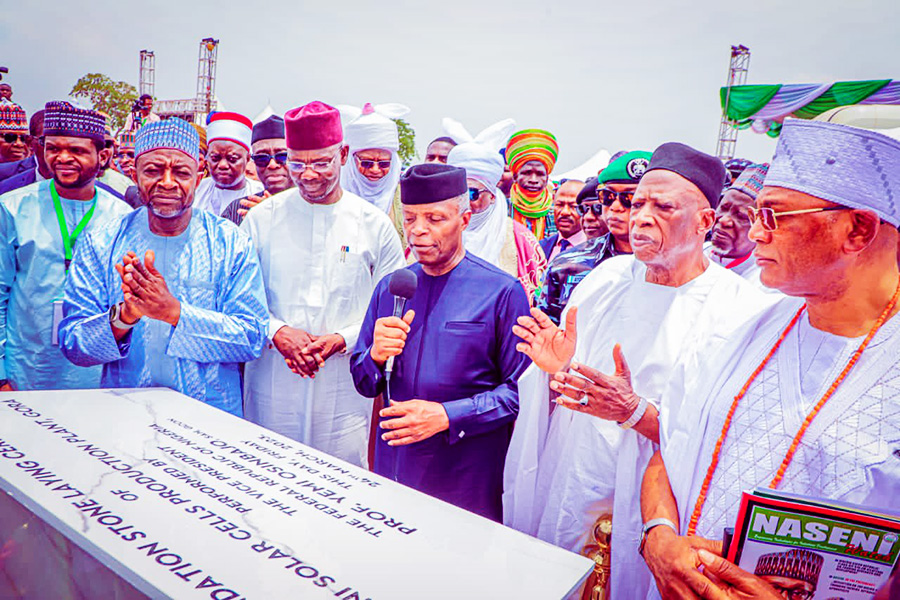 Solar photovoltaic cell plant now under construction near Abuja with financing from Chinese fund; officials see opportunity to lower energy transition costs with domestic solar tech production
Nigeria's National Agency for Science and Engineering infrastructure (NASENI) has commenced the construction of a solar photovoltaic cell production plant in Gora, Nasarawa State, just west of the capital Abuja. Vice President Yemi Osinbajo laid the foundation for the plant on 24 March.
"This landmark achievement places Nigeria within the ranks of countries pushing the boundaries in the use of climate-smart alternative energy sources, particularly solar power," noted the vice president. He added that the NASENI's earlier 7.5MW solar panel production plant – built in 2011 and sited in the Federal Capital Territory – now has a production capacity of 21MW.
The agreement for the new plant was initially signed in July 2013, however, development was stalled. The former CEO of NASENI, Prof. Mohammad Sani Haruna, said at the commissioning last month that the vice president played a key role in securing government commitment for the plant.
The new plant when completed will comprise four main production sections: a polysilicon production section, a 1,000-tonnes per annum ingot production section, a 50MW annual solar wafers section, and a 50MW solar cells section, according to Prof. Haruna.
According to NASENI, the plant will cost about $172m. The China-Africa Development Fund through the Bank of China will provide 85 percent of this funding. The remaining 15 percent will be local counterpart funding from the Nigerian government. The plant is expected to generate about 19,800 jobs when completed.

Local manufacturing capacity key to meeting energy transition targets
According to the International Renewable Energy Agency (IRENA), Nigeria can meet about 60 per cent of its 2050 energy demand with renewable energy sources. However, this will require the implementation of initiatives that reduce solar energy costs locally. One such initiative that IRENA recommends is the development of local renewable energy technology manufacturing capacity.
The UN-partner organization, Sustainable Energy for All, also sees advantages in local production of renewable energy technology in Africa. Its Renewable Energy Manufacturing Initiative (REMI), in its Africa Renewable Energy Manufacturing: Opportunity and Advancement report, notes that the growing renewable energy adoption and availability of the raw materials needed to produce renewable energy technology can help the continent expand its clean energy industry. However, the REMI report notes that barriers such as insufficient enabling policies, high capital costs for setting up production plants, and insufficient energy to power manufacturing activities must be overcome.
While Nigeria has policies aimed at supporting manufacturing for the transition to clean energy, local manufacturers and interested developers lack access to affordable financing. For instance, NASENI has courted the private sector to take over its 7.5MW solar panel plant after construction but has been unsuccessful.
But this might be changing with positive investor attitudes toward local manufacturing capacity development. In 2018, Blue Camel established a solar PV panel assembly in Kaduna capable of producing 10,000 units of solar panels. In 2020, impact investor, All On and Lagos-based solar panel assembler Auxano signed a $1.5m investment deal. The funding will enable the company to expand its capacity by over 50 percent. In January 2023, Kaduna state and China's Ming Xin Mineral Separation Nig Ltd. announced the construction of the country's first lithium-processing plant, which will manufacture lithium-ion batteries.
Energy & Utilities reported in January that Nigeria inaugurated its largest grid-connected solar power plant, a 10MW facility in Kano state.
Photo credit: NASENI
Energy & Utilities - Middle East and Africa Market, Outlook Report 2023.
This must-have report for industry players offers a thorough understanding of the latest developments, challenges, and opportunities in the region, supported by data, analysis, and expert insights.