Nigeria energy finance gets investor support group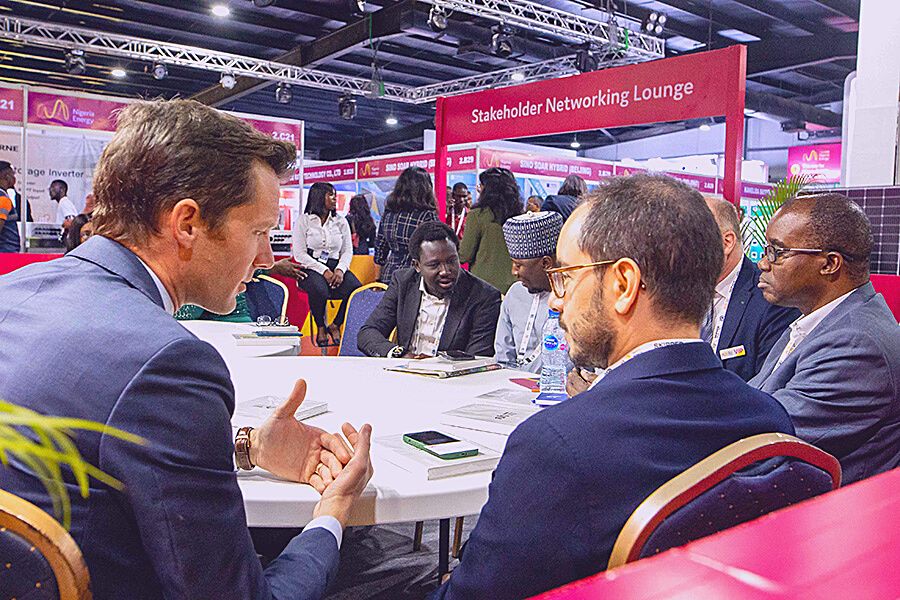 Investor club looked at full range of problems and possibilities from diverse angles, discussing new bank programs, need for partnerships, investment in homegrown start-ups, and motivating capital at the highest levels; gathering again at upcoming Africa Energy Expo in Rwanda
The 10th Nigeria Energy exhibition and conference, which drew some 7,000 visitors in Lagos last month, saw an increasing focus on finance. Investors and potential investors were prominent, representing a broadening base of potential investment capital in the country's energy sector.
Much in the air was talk of the New Electricity Act of 2023, allowing state governments to generate and transmit electricity – essentially paving the way for state electricity markets. Meanwhile, discussion of advanced technologies, increasingly applied in power transmission and distribution, intensified.
These factors are certainly building momentum for investment across the spectrum of grid and off-grid systems and solutions.
An innovative approach to understanding and building on this momentum was launched on the second day of the three-day event. An Investor Club gathered 34 professionals to look at financing problems and possibilities from all angles.
They looked at problems and shared perspectives from diverse angles.
Investor club
"The Investor Club at Nigeria Energy aims to not just address the investment issues but help make progress in implementing solutions," says Navya Abraham, who is VIP manager at Informa Markets.
"We bring not just policymakers and government, but stakeholders who can invest directly, enable investment frameworks or influence in bringing more investments into developing the sector."
"Based on feedback, we want to create a closed-door roundtable moderated by a sector expert to address the issues, identify the gaps and look at how investments are progressing year on year – providing investors with opportunity for a 365-day engagement with the industry," she says.
Abraham adds that such investor gatherings will continue at Nigeria Energy and at the upcoming Africa Energy Expo in Rwanda next year.
Motivating capital
Andrew Smith, Deputy Chief of Party, Nigeria Power Sector Program of USAID, offered a high-level perspective on the investment question.
"The government of Nigeria is looking to take a private sector approach to the power sector, our program is structured in order to enable private sector investment," he said.
"Our focus is on assisting the government, and trying to mobilize private sector capital, and that often means putting in enabling environment structures, such that investors feel comfortable investing."
Asked where investment is really needed now in the Nigerian power sector, he took a broad view.
"I think it's needed across the value chain, both on-grid and off-grid, there's a lot of interest in the off-grid, a lot of interest in electrification and energy access.
"But at the same time getting investment capital to flow to the on-grid sector is critical because you can't have a viable economic system without strong on-grid power that can be delivered reliably and sustainably," he said.
"Nigeria needs to address how to motivate the capital."
We need partnerships
Godfrey Ogbemudia, Program Manager, Delegation of the European Union to the Federal Republic of Nigeria, oversees technical support and overall management of EU interventions in Nigeria's power sector, including on-grid and off-grid renewable energy projects.
"We have been working in solar energy, now moving into small hydro, and we will be looking at waste-to-energy as well," he said.
Asked how the Investor Club will help his work at the Ministry of Power, he was clear:
"That we have access to investors directly, getting feedback from them, their challenges, their plans," he said.
"We already have incentives, we want to know how our incentives are helping, what more they expect…Because my department is devoted to promoting investment in this sector."
We want to have an updated databank of potential investors.
Ogbemudia said this would include Nigeria-based and foreign investors, because he believes some investors do not know the opportunities and ways to access incentives.
He was quite sanguine about the Nigerian environment for investing.
"We have about 200 million population, not all be served, and the government cannot do it alone," he said. "We need partnerships."
Prospecting
One prospective partner at the gathering was Marcin Lapa, President, Office of HH Sheikh Ahmed Al-Qassimi, who is a major investor and member of an Emirati ruling family.
"I came to Nigeria Energy the first time last year," said Lapa.
"We are slowly learning about the local market, we have meetings with local governments and utility companies, and with start-ups.
"So we will try to facilitate new ventures within 12 months.
"We have gained knowledge and I hope next year we will be ready to execute our first venture."
Lapa said that 'venture' means they enter a PPP/joint-venture with local government, with their office, with a technology partner, and with a financial partner.
An excellent time
Chinma George, Head, Renewables, First City Monument Bank, oversees a dedicated renewable energy desk at the bank. She sees plenty of opportunity for investment in the growing off-grid part of Nigeria's energy.
"We look mostly at solar power, we've financed mini-grids and solar home systems, and energy efficiency equipment," she said.
"Recently we launched an energy loan program for solar home systems.
"It is for small businesses with smaller pieces of equipment."
She explained that the new government in Abuja has removed the petrol subsidy, causing the consumer price to double. So she thinks it's an excellent time for Nigerians to turn to renewable energy as an alternative.
"That's why we launched our 'energy loan'," she says. "It is for small scale, smaller solar homes systems – the maximum is 10 million NGN," she said.
French financed start-ups
Jean Guyonnet-Dupérat, Country Director, Proparco, a subsidiary of the French Development Agency (AFD), has worked on investing in Nigeria for four years.
"We work only with the private sector," he explained. "Our mother company, the AFD, works with the public sector."
His agency is putting money directly into companies, taking equity position and engaging in debt finance.
"In Nigeria, we have mainly invested directly," he said. "After the Paris Agreement in 2015 we decided to move away from thermal energy."
In 2019, Proparco invested in Rensource Energy, which provides C&I electricity mini grids including solar power and battery arrays. In 2020 the agency joined with other investors to support Daystar Power serving the C&I sector. That company's clients are large industries in Nigeria, installing rooftop solar, batteries, and gen-sets. It was bought by Shell last year.
"There are very smart people setting up these companies," said Guyonnet-Dupérat.
"The market potential is huge and investors are here," he said. "But the risk for us as investors is not only the local currency risk, but there is also operational risk."
While discussing the real risks, he also shared plans.
"We want to do more in the energy sector," he said.
"In this area are smaller players, and some can grow quite large, like Daystar Power which was bought by Shell…It grew quite fast, now they have expanded into other West African countries, like Ghana, Cote d'Ivoire, Senegal.
"This year we're looking at investing in another Nigerian company, not a large investment but we will join the investors in this company.
"I have identified a couple companies of this type for next year or the following."
Energy & Utilities reported extensively on the Nigeria Energy conference and expo last month.
Rwanda will host a new, pan-African energy event, the Africa Energy Expo, in February next year.
Energy & Utilities - Middle East and Africa Market, Outlook Report 2023.
This must-have report for industry players offers a thorough understanding of the latest developments, challenges, and opportunities in the region, supported by data, analysis, and expert insights.