Rwanda to host pan-African energy event in 2024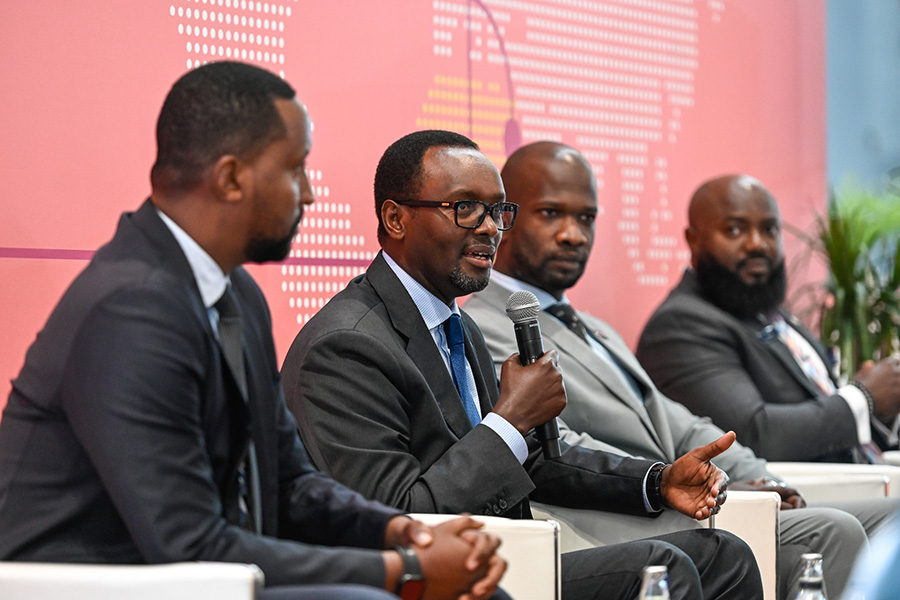 The central African republic, emerging as an important hub of African events, joins with Informa Markets to announce a major energy exhibition and conference; looking to land in Kigali in early '24 for first annual expo
A new, pan-African energy event will be held in Rwanda early next year. It is intended to expand opportunities for investors while furthering an increasingly intense global conversation about Africa's energy future.
"We will deliver an event for Africa, and for the world to come and meet in Africa," said Azzan Mohamed, Exhibition Director for Informa Markets energy portfolio.
The announcement occurred at Middle East Energy in Dubai this month, in the African Suite on the exhibit floor where government officials and hosted buyers were gathered.
Referring to the many buyers who had come from Africa, Mohamed described an African event that will give wider access to everyone interested in African energy opportunities and investment.
"We want to extend this, giving access to more stakeholders throughout Africa in a pan-African event that will allow our exhibitors to engage with them," he said.

Reasons for Rwanda
Mohamed introduced HE Emmanuel Hategeka, Ambassador of Rwanda to the UAE, who emphasized his country's excellent environment for a new pan-African energy sector event.
"For me as ambassador to the UAE, also serving Saudi Arabia, and Bahrain, I can't wait to see you in Kigali next year," he said in announcing the new event.
Ambassador Hategeka spoke of Rwanda's readiness to host a pan-African energy event.
"Rwanda is one of the best governed countries on the continent," he said, while asserting that its fast growing economy, which pre-pandemic was expanding at 8.5 percent annually, is now back on track.
And, he assured, the country is "very safe."
He described his country's heavy investment in infrastructure over the past decade to make it a highly attractive destination for the Meetings, Incentives, Conferences & Exhibitions (MICE) sector. Four airlines make Kigali International Airport a hub with excellent connections, he said, while the country is building a new airport.
Ambassador Hategeka emphasized his country's open travel policy and ease of access. Finally, he mentioned Rwanda's wide range of attractions beyond the exhibit floor, including magnificent parks with wildlife.
"Every nationality of the world gets a visa on arrival," he said. Visitors arriving from the Commonwealth, the Francophonie, and African Union countries are eligible for free visas.
Yves Gahonzire, of the Rwanda Convention Bureau, was also introduced. He said the new event would open investment opportunity for the whole African market.

A pan-African event
Ade Yesufu, Exhibition Manager for Informa's energy portfolio in Africa, said that based on feedback from exhibitors, the attempt was to create, as he described, "an original pan-African event that can represent all Africans."
Yesufu highlighted the importance of such an event for Africa, home to 1.2 billion people, where 600 million Africans lack access to reliable electricity.
This led to open discussion as executives from companies and ministries across the continent raised questions and made comments, anticipating topics likely to arise in Rwanda next year.
Ambassador Hategeka fielded several questions that gave him opportunity to elaborate on Rwanda's role as host country, its current energy sector, and its plans for transition.
In response to a question about Rwanda being the seat of the new event, he said his country is uniquely positioned to meet its pan-African objective, bringing together the different parts of the continent in one place.
"It is the first time in the heart of Africa, in Rwanda," he said. "That's the beginning of a pan-African approach."
Rwanda will be home for such an event, he said, but it's not just about Rwanda. It's about a shared African concern for future energy.
"If there is any big priority for the continent, energy is number one," he said. "If you don't have energy, you can't develop."
Looking at his own country, with 13 million people, some 61 percent of whom have access to electricity, he said the target is to have universal access by 2024. And, with 50 percent of its power supply from renewables now, Rwanda is looking to transition completely to renewables.
This transition is a strong commitment shared by many African countries, he said. The event in Kigali will look at how to scale up generation and distribution, what technologies to deploy, and the investment opportunities that come with that.
"We're going to be talking about doing business in Africa," he said. "We're going to be talking about investing in Africa, given the demand that is far from satisfied."
In response to a question about current investment in Rwanda's energy sector, Ambassador Hategeka said his country is looking at mini-hydro and at solar power. And Rwanda is putting incentives in place. He explained that an investment of $50 million, or an energy project of 25 MW or greater, will enjoy seven years tax-free, and then have a 15 percent corporate income tax rate.
The tax incentives, he said, "make sure when you invest, you recoup your investment."
"We want energy," he said. "We've seen the power of getting energy to a community, it changes their life."
"And its not just energy, it's sustainable energy, it's renewable energy.
"That's why we want to see what an exhibition like this brings to the continent, in terms of new technologies, in terms of what can be done differently," he said.

Pan-Africanism in practice
A topic that strongly emerged during the discussion was standards, and more broadly, a need for unity across countries to tackle the great challenges of the energy transition.
Peter Kimemia, Manager of Standards for Kenya Power, said he likes the idea of pan-Africanism, as each country strives to extend energy access and enrich its energy mix.
"We're talking about African connectedness," he said. "We are able to interconnect with Rwanda, and Uganda, to share resources," he added, referring to his country's enormous geothermal resources.
"What we want to see…is to develop standards across the continent that are uniform, so that…as you come to invest in Africa it is truly a common market," he said.
Kimemia referred to standards such as those governing voltages, so that buyers of switchgear, transformers, cables, and the like, have similar standards and common technologies for these.
"From a Kenya Power perspective, we would love to see that," he said.
Abba Ibrahim Terab, Deputy General Manager, Nigerian Electricity Regulatory Commission, spoke of the importance of the West African Power Pool, to balance energy sources, from hydro, other renewables, and natural gas.
"We can optimize resources across the West Africa region," he said.
"So we have to come up with a clear regulatory framework, for feed-in tariffs to incentivize investment, and clear processes for investors."
He also emphasized the importance of funding from the developed world.
"We have a lot of gas resources in Nigeria, so moving to an energy transition is at a cost," he said. "How best do we levelize that cost over the period as we transition to renewables?"
David Otu, technical assistant to the MD/CEO, Rural Electrification Agency of Nigeria, spoke of the key role of the private sector in Nigeria.
"Most of our projects are fully private-sector driven," he said.
"There's an active World Bank and AfDB-funded Nigerian electrification project, through this we've been able to deploy about 75 mini-grids across the country."
Otu said the agency recently achieved one million connections of solar home systems under this program. It has also deployed about 100 solar hybrid mini-grids. It has received more funding to activate a next phase of the Nigerian electrification project.
"We want to do more but funding is a huge problem in the African mini-grid space," he said.
"We leverage a lot of private sector expertise, so we try to make sure the business environment works for them…so we are able to deploy at a faster rate."
A consultant working with an international engineering company in Sudan returned the discussion to standardization.
"How can we standardize regulations in Africa?
"We're talking about the continent, not the country, because most of the natural resources in Africa are actually inter-country, and trading of energy is critical," he said.
Referring to power trading among Sudan, Egypt, and Ethiopia, he did not see a great problem with actual power flow, but a significant problem with standardization of regulation among the countries.
He made the point that effective standards will be necessary for further development of power trading, and to ensure high standards for power equipment coming into Africa.
Energy & Utilities reported on the rising visibility of Africa at the annual Middle East Energy event in Dubai.
Energy & Utilities - Middle East and Africa Market, Outlook Report 2023.
This must-have report for industry players offers a thorough understanding of the latest developments, challenges, and opportunities in the region, supported by data, analysis, and expert insights.