Making the case for Africa – an interview with Hussain Al Nowais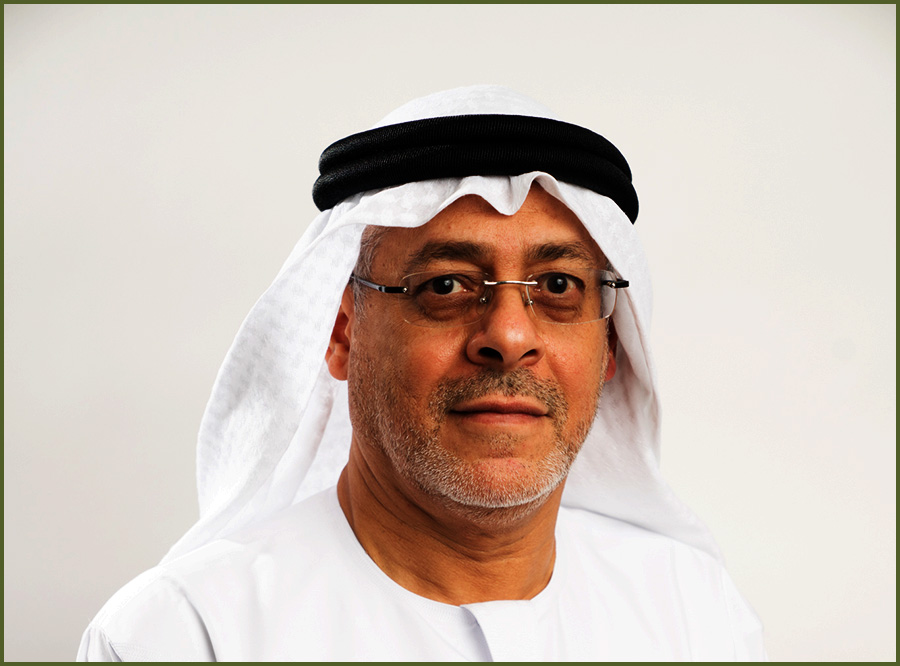 The Chairman of AlNowais Investments, who founded AMEA Power seven years ago, is actively engaged in developing renewable power projects in Africa, the Middle East, and Asia. These days he is especially keen on Africa, where his company is breaking new ground for solar power in West Africa, pursuing ever larger projects in East Africa, and going big on hydrogen in North Africa.
Al Nowais holds forth on the Continent's clean power possibilities and its challenges, offering insights on Egypt, Morocco, Kenya, Tanzania, Ivory Coast, South Africa and elsewhere
Energy & Utilities  You are a Dubai-based company with many projects underway and planned in Africa. What led you to Africa?    
Hussein Al Nowais  AMEA Power is a young company. The Middle East is our home ground. Our first projects were in Jordan. Egypt is like home for us.
We look at the African continent as a continent with a huge need for power. And huge potential.
The initial focus was building wind and solar projects. More recently we started exploring what we call power-to-X, with the same renewable power, extending it to green hydrogen. Or water desalination.
While exploring opportunities in Africa, we have seen the scarcity of clean water in many African countries. We can use reverse osmosis technology to create clean drinking water from seawater, a process the UAE is very familiar with. And we are also seeing the global attention turn to solutions like green hydrogen.
E&U  Green hydrogen is very new, still unproven. What is your thinking about it?
H Al Nowais  For sure, the appetite for green hydrogen/ammonia is growing everywhere. So countries with wind and solar resources are attractive locations.
The electrolyser is very important, it is an evolving technology. We are seeing its development by the day.
So we don't need to go big from day one, because we could have an obsolete technology a few years later. We need to be gradual in building these projects.
We've been looking at many electrolyser technologies from Europe, the US, and Asia. And we see their constant development. We need to select the right technology, for the right size, for the right time.
E&U  What is your most advanced hydrogen project?
H Al Nowais  Our project in Egypt is the most advanced. We have three others in the early stages of evaluation. In Egypt, we have signed a framework agreement with the government to build a facility at Ain Sokhna near the Red Sea. We will produce green ammonia for domestic and international export.
For non-recourse project finance, we must have an off taker. We have been in discussion with off takers in Europe and in Asia, in Japan in particular.
For us this is just the beginning. We have already signed agreements with other countries, and we are currently assessing locations, size, and technologies.
E&U  There are a lot of hydrogen projects announced for the Gulf of Suez area in Egypt, not all will prove viable. What's your strategy there?
H Al Nowais  Actually there are more than 15. But Egypt is a country we know very well. It is a country where we are today constructing 1GW of wind and solar projects. So we're there. We know the client, the people, the geography. We have confidence and faith in that country. Therefore, it's easier for us than for an outsider. We have a big office in Egypt with good, experienced staff. So we're not starting from ground zero.
In any country we enter, knowing the country, the people, the landscape, the legal framework, is very important. It makes it easier for us to move quickly.
What we are not 100% in control of is the electrolyser technology, which is evolving. And we have to mitigate our lack of experience in that. We are building alliances with those who do know.
E&U  Can you mention anyone in particular?
H Al Nowais  We are talking to many, to the top five global manufacturers. And we are talking to the off takers, we're having our fifth or sixth meeting with a big off taker.
E&U  Egypt wants to become a power exporter, supplying power to the region and to Europe. Do you see Egypt succeeding this role?
H Al Nowais  Yes, they're also planning an undersea connection to Greece.
Egypt is blessed with resources. It has good wind and solar resources to be a key player in renewables. Wind speed is an important factor, solar radiation is important, and Egypt has some of the best resources in the world.
The network is strong. They've invested in the network, they have a very good distribution network. Now they can build upon that.
E&U Do you see a continuing capacity to finance Egypt's power projects?
H Al Nowais  I have been working in Egypt for more than 30 years, in different sectors. They have their ups and downs. There are times when International Monetary Fund (IMF) intervenes, there is tight control of everything, debt increases, availability of dollars decreases. This is not the first time, not the second time, it won't be the last time.
We're going through that challenge today. Money is spent on upgrading infrastructure, on new projects like the New Cairo. They borrowed to build it. The world is going through challenges everywhere, the impact of 'corona', of the Russia-Ukraine war, inflation, all are factors which are impacting economies.
They will have challenges, let's not sugar-coat it, the next 3-4 years will be challenging for Egypt. I believe in the leadership of the country and that they will manage to find a solution, with the support of the World Bank, IMF, and their brothers in the Gulf, from UAE, Saudi, Kuwait, Qatar.
What they're working on, and must continue, is to privatize the public sector. They've done a lot through state-owned companies. They need to start offloading that from the state, selling assets, getting the cash to pay their debt.
The concept of the private sector having a role is important, Public Private Partnership (PPP)  is important for funding infrastructure. In the power sector, in the water sector, PPPs are necessary.
And I think they are very aware of that.
E&U  Looking at Morocco, you have three projects underway there. What is your thinking about Morocco?
H Al Nowais  Morocco is important to AMEA Power. It has several important factors. First, it's close to Europe, the proximity opens the European market for them. Second, AMEA Power has an office in Morocco staffed with talented Moroccans. We're using this office to build the Company's presence in Morocco and West Africa.
Given the proximity of Morocco to West Africa, a three-hour flight, and given they share the French language, it has encouraged us to have a base there penetrating the West African market, in addition to the North African market.  
Morocco also has a big geographical advantage for developing green hydrogen. Again, it has strong wind resources, strong solar resources, but it has the potential to pipe to Europe. And that could give both Morocco and Tunisia an advantage, because they're connected by pipeline to Italy and to Spain. So you may not need to convert the green hydrogen to ammonia.
E&U  Can Morocco, and Tunisia, meet the challenge of supplying sufficient domestic power while they also export?
H Al Nowais  Yes. They have good coverage, they have a good network. The challenge they are facing today is, you need to have stable power, baseload power, and for that you need natural gas. It's encouraging them to increase their capacity of clean power, because they have good wind and solar resources.
E&U  What can change the dynamic more toward renewables there?
H Al Nowais  The day when battery storage becomes more economically feasible, it will change the face of baseload power. Today, if you are a country like Morocco, or Egypt, or Tunisia, you have solar power for a good number of hours of the day, perhaps eight. If you have wind, you will have another eight or nine hours at night, complementing the solar. So your gap is maybe 5-7 hours. That gap can be filled with battery storage.
The cost of batteries has not been a factor for us so far. In our Togo project we have battery storage. We are introducing battery storage in other projects we are building.
So we know cost and supply of this, and we talk to suppliers all the time. We believe the prices will come down. It's like what happened with solar, where the price for the panel has come down substantially, while the capacity of the panel has doubled. We used to buy panels of 350w, now we buy 750w, the same size panel.
So we see the technology evolving, of the solar power with battery storage. I believe this will follow suite, and we will have battery storage at lower prices. That will change the energy landscape.
E&U Do you have a preference for battery storage technology?
H Al Nowais My preference is the right price for the right technology. There are US, Japanese, Korean players. I'm impressed with the Chinese lithium technologies, they are perhaps the most feasible. I think they will dominate the market.
E&U  Looking at West Africa, your project in Togo was among the first to have large battery storage. Do you foresee more projects like this, perhaps 75-100 MW with battery storage, as a kind of paradigm for Africa?
H Al Nowais Yes but depending on the price. The challenge today is the price. All of these countries look at the tariff they will pay.
I've been in this business in the renewable energy sector for seven years now. I've seen countries shift, from not interested in green power, because it's costly, 'it doesn't give base load', to a situation now where they want to have green power.
We're signing, this week, with the government of Ivory Coast, for a 50 MW solar power plant. It is the first solar IPP arrangement in the Ivory Coast. The country a few years ago was not interested in green power, they had gas. Today they have a clean energy plan, so they want to develop more projects. I've seen many other countries like this.
So the awareness and sensibility about being a green power country is increasing. The challenge they saw, in cost, and baseload, that is the key where battery storage becomes important. In Togo, we began with a 30MW plant, increased this to 50MW, now increasing to 70MW, with the plant now being complimented by battery storage.
Battery storage has two functions. It prolongs the hours that green power is available. And it stabilizes the grid. That's why we put it into the Togo project. The village, where the project is located, can now have power until 10:00pm. Also, it stabilized the grid in this area, which is in the north of the country.
E&U  Many African countries, they produce a few hundred megawatts of power, and the grid doesn't get much beyond the capital city. Will they be able to expand their grids as they add more renewable power projects?
H Al Nowais  The challenge they face, they cannot attract investments into the IPP structure for the grid. When developing renewable energy projects, investors have a guarantee of off-take from the government, a sovereign guarantee, and the investor then must find an institution for funding perhaps up to 75% of the project.
Whereas, when it comes to investing in the grid, it doesn't follow the same business model, so it's less attractive to investors. So the government needs to fill the gap, and if it doesn't have the resources, it becomes a challenge.
World Bank, and other development institutions, are helping. And they need to do more, to help develop electricity networks across Africa.
Now, there is also interconnections between countries, and the African Development Bank is supporting this, there is the SAPP (Southern African Power Pool), and Eastern Africa Power Pool. These pools of connectivity and others like them with help stabilize the grid and improve access to energy.
Most of these countries also have hydroelectric generation, however this type of energy generation can be vulnerable to droughts. For example, Zambia, is going through a very challenging time right now and is able to produce the power it requires.
So this is why energy mix is important, with investment in the grid.
E&U  How does your company play a role in getting the grid to develop in African countries?
H Al Nowais  We're focused on power but we have to connect. Sometimes, there may be a 20-30 kilometre gap, so we'll build that. We'll build the substation, because it helps us to distribute our own power.
E&U  Is there a country in West Africa you like the most?
H Al Nowais  I like Togo. I like Ivory Coast. I like a country where I see speed in moving things. You know, time is money. A project cannot go on and on.
There is a country, we tried to close a project for six years. We had to work with constantly changing officials. That kind of unfortunate situation is there.
E&U  Looking at East Africa, what about Kenya?  
H Al Nowais  I like Kenya, we are keen to expand in the country. It has good resources for wind and solar power.
E&U  Do you see projects there being on the same scale as your project in Togo?
H Al Nowais  We can build a much larger project in a country like Kenya. Don't forget, Kenya has 50 million people. We can develop 300MW to 500MW to meet demand.
E&U  Can Kenya achieve that scale?
H Al Nowais  Yes. Kenya Electricity Generating Company (KenGen), a state-owned utility, announced last week its plans to add 3,000MW of renewable energy to the national power grid in the next ten years.
E&U  Kenya also has fascinating geothermal. Have you considered that?
H Al Nowais  We have evaluated it. There are challenges with exploration. And the equipment for a geothermal plant is quite expensive today. It might come down, I hope it does. So much depends on the price.
I also like Ethiopia, it's a big country, and we are committed to Ethiopia. We are planning to build a 300MW wind farm in Ethiopia. It also has geothermal potential.
E&U  Where else are you looking to build in East Africa?
H Al Nowais  Today in East Africa we have an advanced pipeline of projects in   Ethiopia, Kenya, Uganda, and we're very interested in Tanzania. We see a big shift in strategy in Tanzania by encouraging more private investment through IPPs. It was not the case with the previous government. The new government is encouraging the private sector and we are very keen to be in Tanzania. It's 60 million people, they need clean energy.
Zambia is another interesting country. East and southern Africa is our next focus now. Ethiopia, Kenya, Tanzania have big demand and big potential. We are also developing projects in Malawi, Mozambique and Angola. We're interested in the DRC, but it's a slow process there.
All of these countries are part of our focus. AMEA is present today in twenty countries.
E&U  So you see East Africa scaling up to 500 MW projects?
H Al Nowais  Yes eventually. The initial project we are developing in Ethiopia is 300MW. I would like to see in Kenya at least 200MW, in Zambia at least 200MW, Tanzania 300MW.
E&U  You're also working in South Africa, which has a lot of challenges in its state-owned utility. Can a company such as yours bring innovations from the private sector?   
H Al Nowais  South Africa, it goes without saying, is big and its need for power is unbelievable.
We come with good financing schemes. My country, the UAE, has been encouraging companies to go abroad, and it provides export credit finance, similar to the US and the UK. We now export credit and insurance. That is encouraging us.
Obviously we also work closely with the big development institutions, IFC, AfDB, Islamic Development Bank, and national banks. We have a strong team in project finance to reach out to key financial institutions who want to develop Africa and understand it.
E&U  And the international development banks will be key in providing the base project finance?
H Al Nowais  Absolutely. I always tell my African friends we must have firstly, a signed power purchase agreement with a sovereign guarantee, take or pay. The 'take or pay' is a must. Secondly, we must be paid in foreign currency, dollar or euro. And sovereign guarantee.
E&U  COP 28 is coming up in Dubai. What do you want to see there? Is it mainly a question of finance for clean power development?
H Al Nowais  I've been in the clean energy business for seven years. What I have seen in the COP meetings is an increased awareness to develop clean forms of power. It's no longer a need it's a must. Climate is becoming increasingly important.
Now we must find the right financing mechanisms at the right cost to help Africa. They need power desperately to support their people and build their economies.
And we need to help Africa by investing in the grid. That is not a job for the private sector. That is a job for World Bank and governments helping with soft loans to have connectivity. If you don't have grid connectivity, in the country or in the region, you have challenges.
E&U  And wealthy countries should provide more finance to support this?
H Al Nowais  Absolutely.
E&U  Thank you very much Mr. Al Nowais for your insights.
H Al Nowais  My pleasure.
See E&U news on AMEA Power's latest project in West Africa
Take your first step towards energy transition
Middle East Energy has a 45+ year legacy of bringing together key stakeholders within the energy sector; to network, debate, and form key relationships in an industry that's ever-changing.
The 48th edition of Middle East Energy will bring together 800 exhibitors, 3 powerful conferences, 5 product sectors, and an exclusive VIP programme, all under one roof! Join 20,000+ energy professionals from 7 – 9 March 2023 at Dubai World Trade Centre, UAE.