Jordan a rising star in renewable power and exports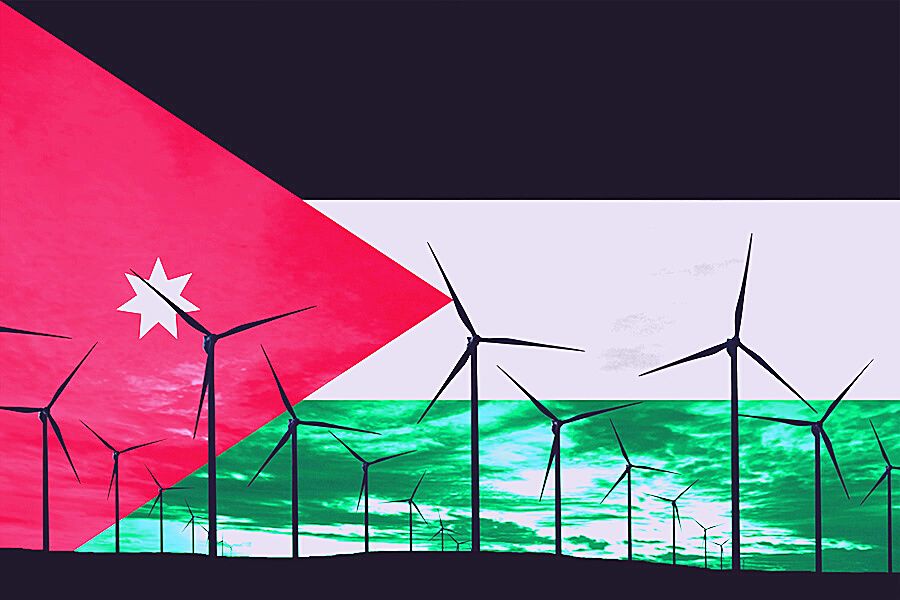 Renewables now supplying more than 25% of the country's power, with numerous mid-size solar and wind projects built in past five years; expert credits early legal framework for renewable energy
Jordan is orchestrating a paradigm shift in its national energy strategy, according to recent reports and expert opinion, positioning itself as a beacon of progress in the realm of renewable energy. The Middle Eastern country has recently taken the pole position in the region's energy landscape, notably through calculated steps to start distributing energy surplus to neighboring countries in need, and by investing in new types of energy sources.
According to Eng. Mohammed Al Ta'ani, the general manager of Jordanian Renewable Energy Society (JRES), "27% of Jordan's electricity is currently derived from renewable energy."
This impressive figure demonstrates the country's longstanding commitment to sustainable energy sources. As it stands, the country boasts numerous large projects related to energy and renewable energy. Some have been completed and are operational since at least 2016, some are under construction and others are still in planning.
Promising projects
The most important operational solar plant is located in Al Quweira; it was inaugurated in 2018. It has a capacity of 200 MW and was the country's largest solar power plant when it was built.
Another major plant of the same capacity is the 200 MW Baynouna Solar Power Plant, inaugurated in 2020. It is considered the largest in the country and currently accounts for over 4% of Jordan's total electrical energy production.
In addition to these, Jordan has inaugurated numerous other solar PV plants of approximately 50 MW scale during the past five years, including the 50 MW Al-Risha project, the Al Manakher Solar Park with a capacity of 52 MW, and the Ma'an Development Area solar parks with total capacity of 150 MW. Other plants include Azraq solar PV plant, Al Ward Al Kabir solar PV plant, and Mafraq I and Mafraq II solar PV plants.
Jordan also has important wind resources. The Tafilah Wind Farm, inaugurated in 2015, has 117 MW capacity. The 80 MW Maan Wind Farm is located near the village of Al Rajef in the Ma'an Governorate, approximately 200km south of the capital. There are several other wind farms of similar size developed during the past five years in Tafilah and Maan governorates.
Apart from these large-scale projects, there is also immense potential for small-scale solar installations in Jordan. According to a report by the International Renewable Energy Agency (IRENA), rooftop solar installations alone could contribute up to 1.4 GW of solar energy capacity in the country by 2030. This was confirmed by Eng. Mohammed Al Ta'ani.
Strategic renewable energy
Jordan first started paving the way for the development of renewable energy more than a decade ago.
"In 2012, we became the first Arab country in the region to create a legal framework for renewable energy," explains Al Ta'ani, adding that the Kingdom's early adoption of this legal framework underscores its proactive approach in promoting renewable energy.
This initiative was quickly followed by concrete measures to further develop renewable energy. "Over the years, we started expanding by allowing direct investments in solar power. In parallel, governments encouraged civilians to use renewable and solar energy," says Al Ta'ani, who also serves as Secretary General of the Arab Renewable Energy Commission (AREC).
According to Eng. Al Ta'ani, approximately 50,000 households and institutions in Jordan use renewable energy as a main source of power for their homes and cars.
In parallel, the Kingdom is diversifying its renewable energy sources. The Ministry of Energy recently announced that it is working on developing a green hydrogen strategy to establish a sustainable future in which the country's competitiveness and independence in the energy sector would be ensured.
"This strategic initiative holds immense potential for the country's sustainable future, and positions Jordan as a frontrunner in the global green hydrogen market," Director of Awraq Organization for Environmental Development, Zeina Hamdan, told The Jordan Times in June. Her comments were made during a workshop titled 'Discussing the Green Hydrogen Strategy in Jordan.'
Expanding grid
Another notable breakthrough poised to redefine Jordan's energy landscape is the imminent electrical interconnection between Jordan, Egypt and Iraq, as well as Jordan, Syria and Lebanon. Eng. Mohammed Al Ta'ani states, "Jordan plays a pivotal role in linking electricity between Arab countries in the region."
This collaboration will establish an interconnection facilitating the exchange of green energy between the concerned nations, further strengthening regional cooperation and positioning Jordan as a prominent player in the Middle East's energy market.
The Jordan-Iraq Electrical Interconnection is a major project for the country in this field. Its first phase aims to connect the two nations' power grids, to supply Iraq with nearly 400 megawatts of electricity. Work on a first phase 150 MW capacity is expected to be completed by end of 2024.
Jordan's initiative to serve as a hub that connects neighboring Arab countries stems from its energy surplus thanks to a sound national energy strategy. "Our smart grid helps us optimize surplus energy management, and how best to distribute this surplus to neighboring countries in need," explains Al Ta'ani.
Indeed, Jordan's smart grid initiative, driven by cutting-edge technologies, aims to revolutionize the nation's electricity grid into an intelligent and efficient system, supporting sustainable development.
Partnerships
Important support for the development of the country's initial solar park projects, developed in recent years, has come from the International Finance Corporation of the World Bank, which has programmatically supported the Jordanian government in this work.
Jordan has also captured the attention of leading international corporations that are actively involved in pioneering projects and deploying cutting-edge technologies within the country's burgeoning renewable energy market.
Eng. Mohammed Al Ta'ani also highlights that through these partnerships, Jordan firmly cements its position as a trailblazing hub for renewable energy in the region, showcasing its commitment to international collaboration and sustainable development.
Energy & Utilities has reported on Iraq's progress in overcoming power deficits, and on Lebanon's solar solutions.
Elie Wehbe contributed reporting
Energy & Utilities - Middle East and Africa Market, Outlook Report 2023.
This must-have report for industry players offers a thorough understanding of the latest developments, challenges, and opportunities in the region, supported by data, analysis, and expert insights.