IRENA report preview says electricity generation will triple by 2050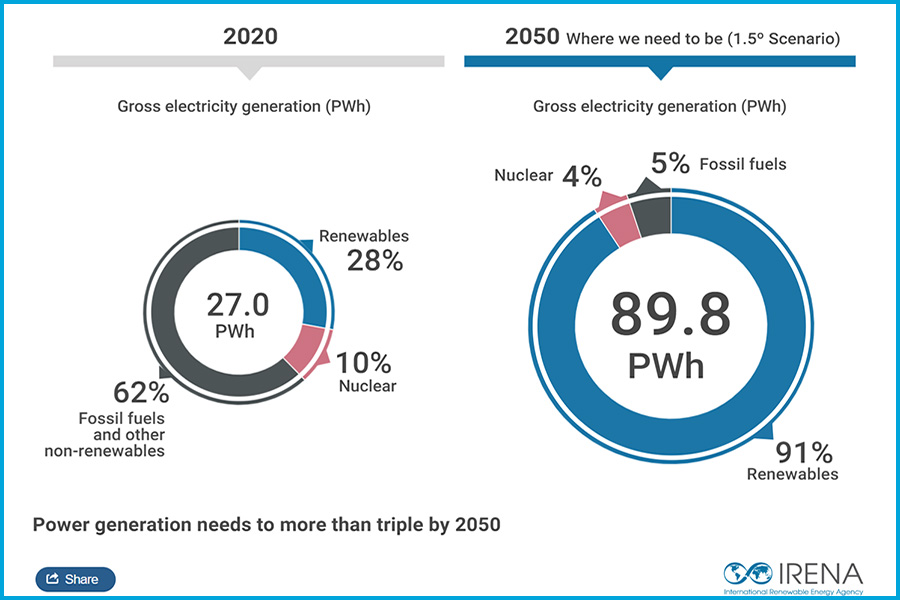 Renewable energy agency sees 91% of total electricity supply coming from renewable sources in 2050 according to 1.5°C scenario, requiring large increase in annual renewables growth rate; Africa needs larger share of renewables growth
The International Renewable Energy Agency's (IRENA) World Energy Transitions Outlook 2023 says that the world's energy transition is off-track and requires a course correction. A preview of the report, released last week, offers a view of what gross electricity generation (PWh) will look like in the year 2050, if the 1.5°C Scenario of the Paris climate accords is to be achieved.
According to IRENA's Outlook report, electricity generation will more than triple from 2020 to 2050, with 91% of the total electricity supply coming from renewable sources, compared to 28% in 2020. Coal-and oil-based power generation will experience a sharp decline over the decade before being phased out entirely by mid-century.
By 2050, natural gas will provide 5% of total electricity needs, with the remainder being met by nuclear power plants.
The share of renewable energy in the world's primary energy supply grows from 16% in 2020 to 77% in 2050 under the 1.5°C Scenario, requiring an annual growth rate thirteen times the current rate. This growth is expected to stabilize primary energy supply due to increased energy efficiency and the growth of renewables. The energy mix will change drastically in the process, with a net gain of 61 percentage points of renewable energy share, driven by a mix of end-use electrification, renewable fuels and direct use.
Synergy and shortfall
The transition features an important synergy between increasingly affordable renewable power technologies and the wider adoption of technologies for end-use applications, especially in transport and heat.
However the report preview says that public sector intervention is required to channel investments towards countries in a more equitable way. In 2022, 85 percent of global renewable energy investment benefitted less than 50 per cent of the world's population. Africa accounted for only one percent of additional capacity in 2022, according to IRENA.
"We must rewrite the way international cooperation works," said IRENA's Director-General Francesco La Camera, speaking about the Outlook report last week.
"Achieving the energy transition requires stronger international collaboration, including collective efforts to channel more funds to developing countries."
System-wide transformation
IRENA's call for a course correction ran parallel to the stark findings of an Intergovernmental Panel on Climate Change (IPCC) report, released last month, which said wholesale changes were needed in energy, agriculture, transport, industry, building and land-use to reduce carbon emissions.
Dr Sultan Al Jaber, President-designate of the Cop28 summit and Managing Director and CEO of Adnoc Group, referred to the UN report in remarks late last month. Al Jaber called for a "system-wide transformation" to be brought into force to allow the world to "course correct" in its mission to achieve crucial climate change goals.
IRENA's World Energy Transitions Outlook (WETO) provides an energy transition pathway in line with Paris Agreement goals, limiting global temperature rise to 1.5°C. The forthcoming 2023 edition will aticipate COP28 and will propose effective ways to accelerate progress over the next five years towards 2030.
The full WETO report will be released later this year.
Energy & Utilities reported this week on a new report by the Global Wind Energy Council, which sees modest growth in MEA wind power until 2026, reaching 5 GW in 2026-27 with large GW-scale projects expected to be built in North Africa and Saudi Arabia. Tahani Mohamad contributed reporting photo credit: IRENA
Tahani Mohamad contributed reporting
Image credit: IRENA
Energy & Utilities - Middle East and Africa Market, Outlook Report 2023.
This must-have report for industry players offers a thorough understanding of the latest developments, challenges, and opportunities in the region, supported by data, analysis, and expert insights.