Egypt expands agreement with Denmark to accelerate renewable energy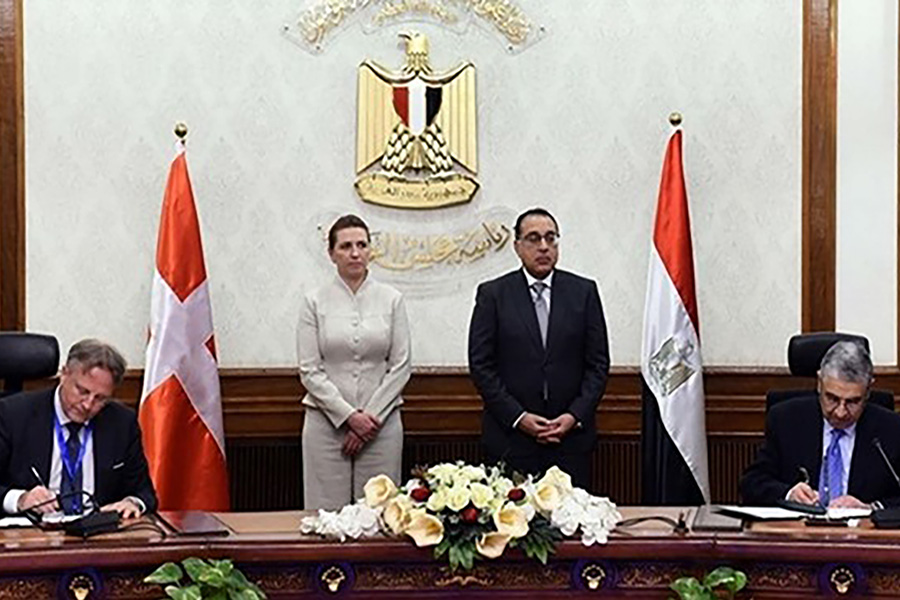 Egypt-Denmark agreement aims to accelerate pace of green transformation in Egypt through trade and knowledge exchange, builds on Denmark's wind power work in the country; seeking more Danish investors
Dr. Mostafa Madbouly, Prime Minister of Egypt, and Danish Prime Minister Mette Frederiksen agreed to an extension of the strategic energy sector cooperation and technical aid agreement between Egypt and Denmark. A signing ceremony occurred earlier this month.
According to an official statement, the renewed agreement was inked by Dr. Mohamed Shaker, Minister of Electricity and Renewable Energy, representing Egypt, and Danish Ambassador to Egypt Svend Olling.
According to the amendment that was signed, the agreement was extended from 3 years to a period of 5 years, in order to allow additional time for the signatory parties to conduct activities specified under an original Memorandum of Understanding signed in 2020.
"The purpose of the cooperation agreement, which was signed in July 2020, is to facilitate closer cooperation between Egyptian government institutions and their Danish counterparts through the strategic energy sector," said Dr. Mohamed Shaker.
"Within the framework of the agreement, a joint program will be developed to facilitate conducting a strategic dialogue between Egypt and Denmark with the aim of accelerating the pace of green transformation in Egypt, and supporting Egypt in its pursuit of achieving its ambitious national goal of reaching 42% of total energy supply from renewables by 2035," he said.
"The agreement aims to consolidate trade relations and exchange experiences in the field of clean energy technology between the two countries," he added.
Egypt gets Danish expertise+finance
"Egyptian-Danish Energy Partnership program aims to enhance cooperation between the two countries in the field of renewable energy," says Dr. Muhammad Al-Yamani, Chairman of the Arab Council for Sustainable Energy.
"Denmark was one of the first countries to support electricity sector and renewable energy projects in Egypt by providing finance for the wind farm projects at Zafarana," he adds.
"Danish experts will support the energy system's ability to integrate with renewable energies in a more economical and effective way, as well as review wind energy projects in Egypt, and transfer Danish experience through various training programs," Al-Yamani explains.
According to Eng. Mostafa Hasaneen, a sustainable energy expert at the Regional Center for Renewable Energy and Energy Efficiency (RCREEE), the cooperation agreement will help to attract more investment from Denmark.
"One of the aspects of the Egyptian-Danish cooperation will be in evaluating the National Energy Efficiency Action Plan (NEEAP)," he says.
"Denmark has investment in wind energy projects in the Zafarana and Gabal El Zeit regions, and the Ministry of Electricity is looking forward to cooperation with Denmark in the renewable energy sector through the entry of investors for development according to the new bidding systems."
"The ministry is currently working on a green hydrogen strategy and aims to attract a large number of investors from Denmark to implement projects, especially in East Port Said," Hasaneen affirms.
"Beside the capacity building, the Ministry sends annual training missions to specialized agencies in Denmark to exchange experiences in various fields, especially renewable energy and energy efficiency," he adds.
Energy & Utilities reported in 2020 that Denmark's Vestas received an engineering, procurement and construction (EPC) contract from Egypt's New & Renewable Energy Authority for the Gulf of Suez 1 wind farm. Vestas delivered its first projects in Egypt in 2004 when it installed 123 turbines in Hurghada and Zafarana.
Photo credit: State Information Service
Energy & Utilities - Middle East and Africa Market, Outlook Report 2023.
This must-have report for industry players offers a thorough understanding of the latest developments, challenges, and opportunities in the region, supported by data, analysis, and expert insights.