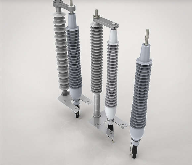 Product
Dry insulated outdoor cable terminations
Operational safety in power grids requires reliable cable terminations. Our dry terminations have proven their effectiveness in continuous use worldwide for decades, connecting high voltage cable systems with overhead lines and busbars. They provide a custom-fit, cost-effective solution for all requirements a...
Product
Large Latching Solenoid
Designed to help avoid equipment damage when power needs to be interrupted or switched in a high-voltage environment, this heavy-duty solenoid has high latching forces (100–300 lbs.) and is typically 2.75"–4.25" in diameter. Its size, stroke, and latching force can all be customized to meet application requir...
Product
Manual Reset Latching Solenoid
This manual reset latching solenoid is ideal for power interrupt switches and reclosers. It can remain in either of its two positions without a constant application of power. It has a high holding force, is temperature stable, and can release at -40°C in less than 12 msec. Its extremely robust design eliminat...