AMEA Power Reaches Financial Close on 120MW Tunisian Solar Power Plant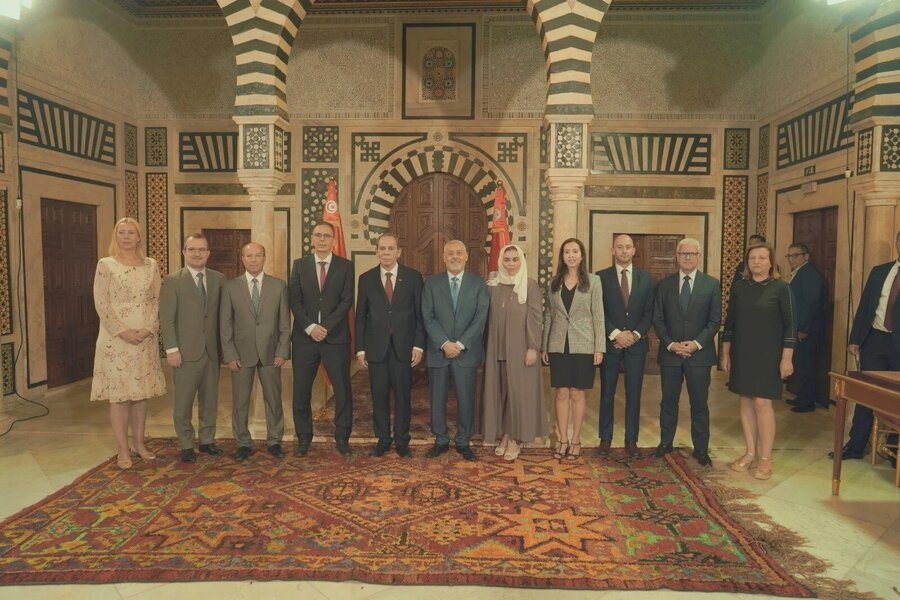 The 120-megawatt solar photovoltaic project is the first project under the Tunisian Concession Regime, reaching financial close. The project was awarded to AMEA Power in December 2019 further to an international tender program
AMEA Power announced yesterday that it has reached financial close on its 120MW solar PV project in Tunisia.
According to a company statement, the $86 million project, when commissioned, will be the company's first operational asset in the country. Various dignitaries attended a ceremony that took place at the government headquarters in Al Qasba and some present made statements.
This is the first solar project to reach financial close under the concession regime in Tunisia. The concession regime covers projects over 10MW for solar PV, awarded through a competitive bidding process. The solar project is being built under a Build-Own-Operate (BOO) model and will generate 222 GWh of clean energy per year, enough to power more than 43,000 households. The solar plant is expected to be commissioned by mid-2025.
Four years in the making
The solar plant is being implemented by Kairouan Solar Plant, a project company registered in Tunisia and fully owned by AMEA Power, and will be located in Metbassta, Kairouan governorate. The project is being financed by IFC, a member of the World Bank Group, and the African Development Bank (AfDB), according to the AMEA Power statement.
The project was awarded to AMEA Power in December 2019, further to an international tender program launched by the Ministry of Industry and SMEs in Tunisia. The Concession Agreement and the Power Purchase Agreement were signed in June 2021 and ratified by the government of Tunisia in May 2022.
Dignitary statements
"The Government is expressing its firm commitment to successfully develop the 120MW Kairouan PV Solar project, which represents a significant step forward in the country's energy transition," said Tunisia's Head of Government, Ahmed Hachani.
Following the ceremony, AMEA Power's Chairman, Hussain Al Nowais, said: "This is a significant milestone for AMEA Power and for Tunisia, as it represents the largest solar project fully developed in the country to date."
"This project represents a positive stride towards Tunisia's green transition. South-South investments such as this one underscore the essential role that private sector partners can play in the energy transition," said Hela Cheikhrouhou, IFC's Regional Vice President, Middle East, Central Asia, Türkiye, Afghanistan, and Pakistan.
"This ambitious, renewable energy project will not only bring more affordable, clean energy to the people of Tunisia, but it will help Tunisia achieve its energy goals and attract more private investments into future green projects," said Sérgio Pimenta, IFC's Vice President for Africa.
"We are delighted to reach this milestone, the signing of project agreements, making the first disbursement, and therefore commencement of construction of Tunisia's first solar Independent Power Producer (IPP) project imminent," said Dr Kevin Kariuki, Vice President of Power, Energy, Climate, and Green Growth at the African Development Bank.
Tunisian transition
The government of Tunisia aims to increase the share of renewable energy in its energy mix to 35% by 2030. This is a significant commitment in a country that is highly dependent on fossil fuel-based energy, mostly through imports.
According to an IRENA Energy Profile of Tunisia, renewable energy provided only 11% of Tunisia's Total Energy Supply (TES) in 2020. Bioenergy accounted for 90% of the renewable energy output of the North African country. Renewable energy's contribution to the TES, grew 17.2% from 2015 to 2020. In 2021, only 3% of the electricity generated in Tunisia came from renewable sources.
Energy & Utilities previously reported that AMEA Power will develop a 25 MW solar PV plant in Djibouti.
Another report from Energy & Utilities said that a UAE financial initiative that will provide $4.5 billion to help unlock Africa's clean energy potential.
David Haziri contributed reporting
Photo credit: AMEA Power
Energy & Utilities - Middle East and Africa Market, Outlook Report 2023.
This must-have report for industry players offers a thorough understanding of the latest developments, challenges, and opportunities in the region, supported by data, analysis, and expert insights.