United Transformers Electric Company - UTEC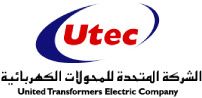 Company Description
United Transformers Electric Company (Utec) is one of the leading distribution transformer manufacturers in the region, producing from 50 KVA to 8000 KVA up to 36 KV (HV) & 1,100V(LV) for local and export market, serving utilities and private sector. Utec is certified for ISO 9001: 2008, OHSAS 18001:2007, SASO.
Categories
Address
P.O. Box 305, Street 141, 2nd Industrial Area
11383
Riyadh
Saudi Arabia
List your business
Create a business listing on the Energy & Utilities markeplace
Sign up for the FREE Energy newsletter
The latest news and analysis sent to your inbox.