Securing the bankability of renewable energy projects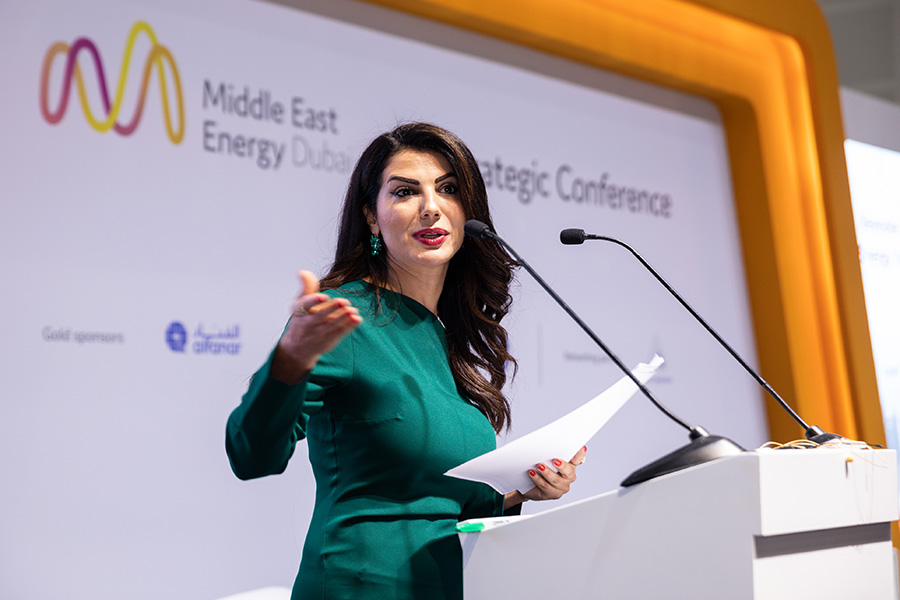 Strategic conference looks at financing a future based on renewable energy, considering lender protections for debt finance on non-recourse or limited recourse basis; taking an in-depth look at needs of Nigeria and rest of Africa
Three experts convened on stage yesterday at the Strategic Conference of Middle East Energy 2023, discussing the bankability of renewable energy projects. The audience participated in a dynamic evaluation of latest best practices in controlling project risk, securing revenue, and putting in place adequate lender protections to ensure that lenders can comfortably provide debt finance on a non-recourse or limited recourse basis.
Financing a positive future with renewables
Dr Mohsen Abou Bakr, General Manager - SMEs Corporate Banking Division, National Bank of Egypt NBE, highlighted the positive impact, in terms of financing, of reduced carbon emissions compared with traditional energy sources, as well as job creation on all levels of the renewable energy ecosystem.
Panellists also discussed the additional commercial benefits of renewable energy projects for landowners and end users. It was noted that renewable energy projects conserve and protect biodiversity and water resources, which adds to their bankability.
The conversation turned to the responsibilities of those financing renewable projects.
"International banks, development banks, and local banks, as a part of the financial system, have to provide financial contributions suitable for the financial needs of the renewable energy projects," Abou Bakr explained. "Renewable energy projects need soft finance, especially in developing countries."
Maher Al Kaabi, Advisor to Group Chairman, Al Serkal Group of Companies, UAE, highlighted that commercial banks could not afford to lend the amount needed for renewable energy projects globally.
"The true reality is that commercial banks are limited with what they can do. Big organisations should support these projects – development banks such as IFC, the World Bank, or financial agencies such as the IMF – if they believe climate challenge is a problem.
"They need to finance and support these projects with loans at comfortable rates," he said.
Kaabi also discussed the need for more VCs at the table when it comes to financing renewable energy projects. However, he noted that as VCs become equity partners, their requirement to generate profit is much higher than that of banks.
Powering Africa: A Balancing Act
The panel discussion continued with a perspective on Africa and support for renewable energy project financing. According to Dolapo Kukoyi, Managing Partner, Detail Commercial Solicitors, Nigeria, exciting things are happening in Nigeria regarding mini-grid sites and decentralised energy, attracting a mix of concessional and corporate financing.
Looking at Africa as a whole, Kukoyi explained that most African countries are foreign exchange dependent.
"This is an issue due to foreign exchange risks, and some countries have to try and manage oversupply," she said. "There is also an issue around the projects themselves and having these projects come to scale."
"We see a continual balancing act between governments needing to provide the supply and meet the demand and the requirements of lenders and investors.
"They need to see that governments meet their obligations and can guarantee bigger utility-scale projects," she added.
Kukoyi highlighted that, more recently, Nigeria is beginning to see the deepening of local currency financing. This is usually backed with foreign currency placed as a guarantee and backing up any foreign currency costs.
In addition, the country also enjoys soft financing or concessional financing mechanisms from its  Central Bank, she said.
"You also have concessional financial from DFIs, combined with some grants, providing a blend of financing that brings down the costs – a blend of commercial financing and philanthropy," she said.
"However, our Central Banks need to do much more than that, and it is important that we see projects that have revenue coming in and are scalable."
_____
The discussions continue today in three conference venues at Middle East Energy, Dubai World Trade Centre.
Energy & Utilities - Middle East and Africa Market, Outlook Report 2023.
This must-have report for industry players offers a thorough understanding of the latest developments, challenges, and opportunities in the region, supported by data, analysis, and expert insights.