Saudi Arabia's SPARK Utilities signs water contract with WTTCO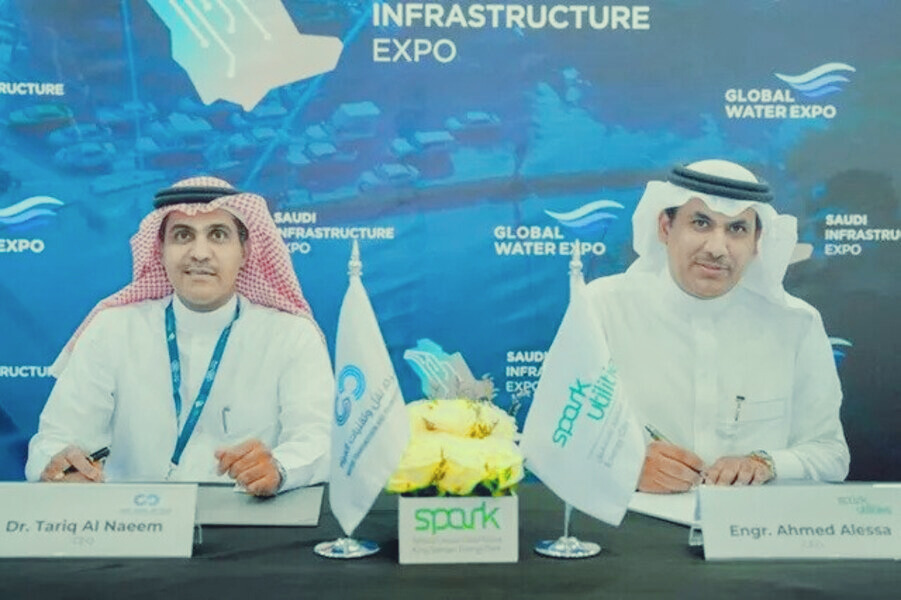 Agreement supports WTTCO's strategy to ensure a continuous supply through WTTCO water transmission networks, SPARK to supply fully integrated industrial park between Dhammam and Al-Ahsa
Last Tuesday, SPARK Utilities, Saudi Arabia's third licensed power company, and the Water Transmission and Technologies Company (WTTCO), signed a 25-year water supply agreement at the Saudi Infrastructure Expo. The agreement was signed by Eng. Ahmed Al Essa, CEO of SPARK Utilities and Dr. Tariq Al-Naeem, CEO of WTTCO.
The Saudi Infrastructure Expo in Riyadh took place last week from the 11th to 13th September.
SPARK of innovation
The agreement will enable SPARK Utilities to supply the city with potable water from its advanced Reverse Osmosis (RO) plant, a state-of-the-art, eco-friendly water facility. According to a statement published last week by Zawya news, the agreement will also deliver a seamless experience to tenants looking to localize and establish operations in the heart of the energy market by providing a one-stop shop for water, gas, and electricity needs.
"We are delighted to have entered a long-term partnership with WTTCO," said Eng. Ahmed Al Essa, CEO of SPARK Utilities.
"We are excited to enter this strategic partnership with SPARK Utilities and contribute to the development of a fully integrated ecosystem in the heart of the energy market" said Dr. Tariq Al-Naeem, CEO of WTTCO.
"This agreement underscores our commitment to providing continuous and reliable water supply."
Key players
SPARK Utilities, a wholly owned subsidiary of SPARK, is the third company in Saudi Arabia to have been awarded a license to distribute and sell power by the Water and Electricity Regulatory Authority (WERA).
The Water Transmission and Technologies Company (WTTCO) is wholly owned by the government of Saudi and its establishment is a result of the Kingdom's Privatization Program and contributes to the national water strategy to ultimately help realize Saudi Arabia's Vision 2030 ambitions.
WTTCO is responsible for managing, operating, and maintaining water transmission, storage, and dispatch systems across the Kingdom. The company operates according to a business model built on commercial principles to enhance asset efficiency and reduce costs.
King Salman Energy Park (SPARK)
King Salman Energy Park (SPARK) is a fully integrated industrial ecosystem in the heart of the energy market. Located in the eastern region of Saudi Arabia, between Dhammam and Al-Ahsa, SPARK spans an area of 50 square kilometres and is being developed with a vision to become the leading gateway to the regional energy sector, providing a complete spectrum of solutions to support business growth in the Kingdom. SPARK is also the first industrial city in the world to achieve silver LEED certification.
SPARK offers infrastructure at international standards for global investors in the oil and gas, refining, petrochemical, power and water production and treatment industries.
Execution is planned over three phases with the first phase being nearly complete, which consists of infrastructure, roads, utilities and real estate assets established across 14 square kilometres. This is in addition to a dedicated three-square kilometres dry port and logistics zone.
Energy & Utilities previously reported on TAQA and AMCO investing in King Salman Energy Park.
As reported by Energy & Utilities, the WTTCO was created to lead the programme to expand the Saudi Arabia's water pipeline infrastructure through investment from the private sector.
David Haziri contributed reporting
Energy & Utilities - Middle East and Africa Market, Outlook Report 2023.
This must-have report for industry players offers a thorough understanding of the latest developments, challenges, and opportunities in the region, supported by data, analysis, and expert insights.