Policy and bank support key for region's distributed solar ambitions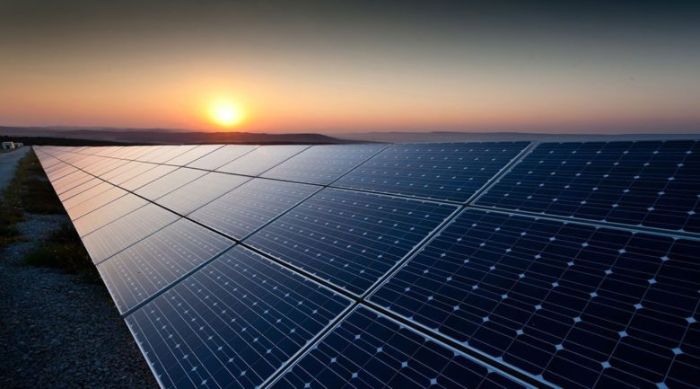 11 Oct 2020
Government regulation and support from local banks for distributed and rooftop solar projects are critical if the region is to meet its ambitious energy targets
The Middle East and North Africa (Mena) is rapidly evolving into one of the global hotspots for mega-scale solar projects. In July 2019, the world's largest single-site photovoltaic (PV) solar project, the 1.17MW Sweihan PV project, was fully commissioned in Abu Dhabi.
In March this year, Abu Dhabi selected a consortium led by France's EDF and China's Jinko Power to develop the even larger 2GW Al-Dhafra photovoltaic (PV) solar project for a word record-low solar tariff of $1.35cents/kWh. The Al-Dhafra project represented the latest of a line of utility-scale projects in the Mena region which have smashed world records for the lowest levelised cost of electricity (LCOE).
While the region is making progress with utility-scale projects, utilities and businesses are also turning their attention to distributed solar projects, much smaller sources of PV solar which can be connected to the grid through various feed-in-tariff mechanisms or established for industrial companies as part of their own micro-grids.
If the region is to ensure that each country meets their ambitious clean energy targets and also assist with the global efforts for reducing carbon emissions set out in the Paris Climate Accord, distributed solar will be required to play a key role in this.
Dubai progress
To date, Dubai has achieved the greatest success with distributed solar in the GCC, with the Shams Dubai scheme launched in 2015 to offer opportunities for the development of PV solar in residential, commercial and industrial buildings.
As of October 2019, 1,354 of PV distributed installations were connected to the grid, generating up to 125MW of capacity.
The Shams Dubai initiative is a net-metering structure, under which customers can generate their own electricity and receive reductions in their electricity bills in return for any excess power provided for the grid. The benefits for the customer can be felt immediately, with the cost of kWh of electricity from PV installations cheaper than electricity from the grid. Moreover, electricity credits for excess power are rolled out indefinitely.
Most of the initial distributed installations under the Shams Dubai scheme were made on government or quasi-government buildings. The first project to connect to the grid was in March 2015, when a 30kW project at Al-Maktoum airport was commissioned. Emirates airline installed a 1MW PV facility on the rooftop of its Emirates Engine Maintenance Centre in February 2016.
State utility Dubai Electricity & Water Authority (Dewa) instigated some of the largest early projects, when it connected a 1.5MW utilities plant in Jebel Ali to the grid.
The largest scheme under construction is being developed for the state-owned DP World. In 2016, the port operator appointed the local Phanes Energy to install 30MW of solar capacity, making it one of the largest rooftop solar schemes in the world.
Dewa has built up grid capacity to connect a total of 2,600MW of new capacity to the grid without requiring further development. With the grid infrastructure in place, raising capital for projects will present the primary challenge for businesses and residential consumers seeking to install their own PV panels.
Ethihad Esco was established in 2013 by Dewa to play the lead role in improving efficiency of the emirate's buildings. The group aims to provide assistance with financing options for rooftop solar projects and also provide an avenue for investors to join projects for government buildings.
Speaking at Energy & Utilities Global Digital Energy Week (GDEW) in August, H.E Ali al-Jassim, CEO of Etihad Esco, revealed that more than 5,000 of the 7,000 buildings that had been successfully retrofitted under Dubai's building retrofit programme since 2013 included some sort of PV solar installation.
"These include 16MW on one roof, the second largest rooftop project," said Al-Jassim. "Most of our projects to date have been for government clients and state entities, but it has also included private sector projects like the Anantara hotel on the Palm."
Al-Jassim also referenced other large projects, such as the 4MW PV installation on the roof of Dubai World Trade Centre (DWTC) and the cumulative 3MW of rooftop solar installed on 640 villas in Hatta.
In combination with other measures taken to improve the efficiency and reduce energy usage in buildings, the PV installations that have fallen under Etihad Esco's programme have resulted in significant monetary savings for both the government institutions and the private companies.
"In 2019, Dubai buildings under the programme saved more than AED30m for the year, up from the AED84m of savings in 2016," said Al-Jassim. "Dubai Airport alone saved AED30m in 2019."
Leasing model
For many of the distributed projects in Dubai, private companies are offering consumers and businesses the opportunity to lease solar equipment so that no upfront investment is required.
Speaking at Energy & Utilities recent webinar, 'A closer look at the potential for rooftop solar in the GCC', Ashok Ramakrishna, business development director, Siraj Power, spoke about the model that Siraj Power is using to provide businesses the opportunity to develop their own clean energy.
Siraj Power currently has distributed solar energy portfolio of over 50MW in the UAE, which covers 150 solar rooftops covering a total area of 400,000 square metres.
Under Siraj Power's standard leasing model, the developer manages the permits and is responsible for the design, EPC works and commissioning of the system. The firm is then in charge of the operations and maintenance (O&M) of the system to maximise electricity output.
Siraj Power finances the initial capital and operational expenditures, and then charges a rent for the use of the solar system which is derived from a kWh tariff cheaper than the available rate of electricity from the grid.
"At the end of the lease, which is typically 20 years, the installation is transferred to the customer automatically for zero cost," he explained. "There is still life in the project – in fact the panels have a warranty of 25 years – and we will offer maintenance for the remaining period under a contract or leave them to sort it out themselves."
Ramakrishna explained that customers can buy out of the leasing contract about halfway through the lease.
"There is a lock-in period, which normally in a 20-year contract is 8-10 years, but after that the client can buy out ownership of the system themselves."
In July, Siraj Power received a major funding boost when it secured a $50m long-term non-recourse credit facility for distributed generation from the Arab Petroleum Investments Corporation (Apicorp), creating the GCC's largest lease-funding platform for distributed solar energy.
The leasing model has remained the primary way for private businesses to install distributed solar systems, with banks not yet offering a service for customers to directly borrow funds required to installed PV systems.
Funding
"Two or three years ago, when 80MW or 90MW had been set up in Dubai, we spoke to banks who were setting up due diligence for funding distributed solar projects in Dubai, and asked us as consultants to run their numbers," Shyam Yadav, founder and managing director of solar energy consultancy Clenergize. "But we haven't seen any mainstream banks start offering it yet, but I am assuming it is on the cards for the future."
Ramakrishna agreed that he expected to see retail banks dip into the distributed solar market in the future.
"Retail lending is yet to take off in the region, but when awareness levels pick up and retail institutions will come in," Ramakrishna says. "Apicrop is assisting us, and I think other banks will follow in the same way in the future."
Ali al-Jassim says that Etihad Esco can provide financing for rooftop solar schemes in Dubai. "Ethihad Esco finance solar through inhouse funding or sometimes we use third party financing," he explained during the GDEW.
In other markets, financing is becoming available from some government entities to encourage businesses to develop solar systems. In late 2019, the $28bn Saudi Industrial Development Fund set up the Mutjadeda programme to offer loans for renewable energy projects to manufacturers to encourage them to install solar at manufacturing plants and business premises.
Regulation
Sufficient regulation and legislation is vital if the Middle East and North Africa is to allow distributed and rooftop solar schemes to flourish. While Dubai has made an impressive start, for example, the regulations are not yet ready in the rest of the UAE to facilitate the development of grid-connected distributed solar schemes.
In Abu Dhabi there is some still issues with net-metering regulations, and in the Norther Emirates regulations are not in place to we aren't legally able to connect to the grid," Ramakrishna explained during the recent webinar. "First step is to get the regulations in place and then we can deliver projects for customers in other emirates."
Ali Hamam, Head of Sales for Mena, Jinko Solar, revealed in the recent GCC rooftop solar webinar that Saudi Arabia's electricity regulator had already issued regulations for distributed solar in the kingdom.
"Ecra [Electricity & Cogeneration Regulatory Authority] has already published regulations for net billing for projects between 1kW and 2MW," he said. "While this may disappoint end users with very high demand as they may like the opportunity to produce more, it gives a fair chance to every business and home owner to implement systems as grids do have limitations."
Hamam says that the regulations will come into effect once SEC has released additional rules on the procedures for the rooftop schemes.
Jordan, Morocco and Oman have also established regulatory frameworks for distributed solar. Jordan was one of the region's trailblazers for setting regulations for distributed solar, with its 2012 Renewable Energy Law, which came into effect in 2015 laying out a comprehensive framework for net-metering and wheeling agreements.
In late 2019, Jordan's Ministry of Energy and Mineral Resources signed an agreement with the Jordan Islamic Bank to support the fourth phase of the rebate programme for residential PV systems. The funds, which will be provided by the Renewable Energy & Efficiency Fund (JREEEF), assists customers apply for grants for projects smaller than 3.5kW under the net metering programme. JREEEF has already provided funds of more than $70m for distributed solar schemes, which has included providing grants for household end users for 30 per cent of their costs.
In 2015, Morocco implemented an addition to the 2010 renewable energy law to introduce a net-metering scheme for solar PV and onshore wind. Morocco's impressive renewable energy regulatory framework also provides an opportunity for free installation of solar projects between 20kW and 2MW for the commercial and industrial sector, with four European banks creating a funding source, Morocco Sustainable Energy Financing Facility (MORSEEF) to cover up to 10 per cent of the capex costs.
According to the Middle East Solar Industry Alliance, this facility has led to many smaller projects between 50kWh and 100kWh and up to 2MW to be developed in the areas of Marrakech and Casablanca.
In 2017, Oman launched its Sahim initiative for rooftop solar through the Oman Authority for Electricity Regulation (AER), which was designed to be developed in two phases.
Sahim 1 was established to allow large households and businesses to install small-scale grid connected PV systems at their own cost, and receive a bulk supply tariff for any excess electricity they exported to the grid.
Sahim 2, which was launched in 2019, has been established to promote small-scale grid connected PV systems for between 10 and 30 per cent of residential premises in Oman, which would account for about 1GW of solar capacity located on up to 250,000 buildings. Sahim 2 has been designed for tender competitions for private developers to build, own and operate (BOO) PV systems at premises selected by AER instead of customers installing the PV projects at their own cost.
Private developers will recover their costs through contracts with licensed suppliers, not from the customers themselves. Customers will instead make contributions to participate in the scheme based on expected electricity bill savings.
Earlier this year, the Arab world's most populous country Egypt released updated regulations for rooftop and distributed solar projects in April 2020 following the successful development of 1.4GW of utility-scale PV solar projects through its feed-in-tariff (FIT) initiative.
On 28 April 2020, the Egyptian Electricity Utility & Consumer Protection Regulatory Agency (Egypt ERA) issued a decree with the new rules for net-metering, which came into effect in May. Under the new regulations, customers can install up to a total aggregate of 25MW of PV solar, with a maximum capacity of 20MW per project.
Egypt has set a limit for the net-metering scheme of 300MW for the entire country. When the decree was issued in April, 75MW of distributed solar schemes had already been licensed.
Subsidy reform
A key part of encouraging the development of distributed solar is the reduction of subsidies on electricity, with the schemes only emerging as competitive if citizens and businesses are paying the full cost of energy consumed.
In Dubai, the Shams Dubai programme has been facilitated by the emirate emerging as one of the first to increase electricity tariffs as far back as 2008 when a new tariff structure or slab system was introduced by Dewa to encourage consumers to conserve energy.
Saudi Arabia, Egypt and Jordan are all at different stages of reducing or removing government subsidies on the price of electricity.
In some countries, heavily subsidised electricity has so far prevented any real progress with a net-metering or feed-in-tariff programme for distributed solar. While a number of government entities have installed rooftop solar on their buildings in Kuwait, the low price of electricity will discourage the private sector investing in solar projects until it becomes economically attractive to do so.
In addition to reducing subsidies, setting the right tariffs for distributed solar producers is the best way to incentivise homeowners and business owners to install PV panels on their home or premises. While rebates for businesses choosing to produce their own energy is an example of another possible incentive, fair tariffs and adequate policies and regulations are key starting points for governments and utilities to enable distributed solar to flourish.
While governments are required to play a key role in setting the frameworks for stable and successful distributed solar markets, a commitment from banks across the region to provide lending services for solar installations would also stimulate increased appetite from businesses and homeowners to install their own solar panels.
Siraj Power's Ramakrishna says that there is one other key element required to ensure the uptake of distributed solar on a significant scale across the Middle East.
"Awareness is key – if the policy framework is in place, people need to be aware that solar is attractive and available and projects will proceed."