Nigeria Energy: REA's expanding role in Nigeria's clean energy sector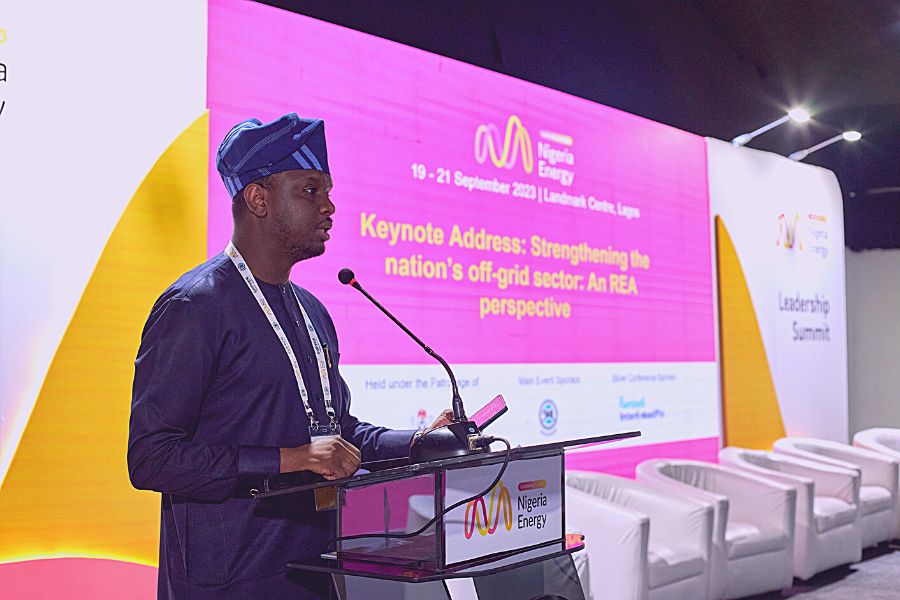 Managing Director of Rural Electrification Agency discusses achievements, describes deployment of mini-grid and solar home systems under Nigeria Electrification Project (NEP); working with many partners
Day 3 of the Nigeria Energy Conference focused on off-grid electrification and Nigeria's Energy transition efforts. Ahmad Salihijo, the Managing Director of the Rural Electrification Agency (REA) highlighted the agency's efforts to electrify rural communities and to improve regulations for off-grid electrification.
In his keynote address, Salihijo emphasized the role the REA has played to improve off-grid electrification and promote clean energy.
Salihijo noted that "over the years, the REA has spearheaded and continues to implement strategic innovative and impactful off-grid programs in a systematic way using data."
The REA has supported the deployment of mini-grid systems and solar home systems under the Nigeria Electrification Project (NEP) which is funded by the World Bank and the African Development Bank. Salihijo noted that the REA also executes projects through the Federal government capital projects budgetary allocations.
Many partners
The REA is also working with donors like GIZ and Power Africa-Nigeria Power Sector Program to deploy innovative business models.
For instance, REA is working with GIZ to deploy an Interconnected mini-grid. As part of this work, the REA is also working with the regulator, NERC, to update the current mini-grid regulations, increasing the thresholds for these mini-grids to 5MW, from the current 1MW. This, Salihijo notes, will facilitate more investments, especially from larger clean energy developers.
The REA is also working with multilateral institutions and donor organizations that provide technical assistance to strengthen its institutional capacity.
Rural achievements
Speaking on achievements, Salihijo noted that the REA has "deployed over 1.5 million solar home systems and over 500 mini-grids across rural communities in the country. We've also powered health care centers in federal universities and productive use equipment."
This, he highlighted, has translated into over 1 million off-grid electricity connections directly providing power for over 9 million Nigerians. He noted that the REA's work directly impacts the wealth, well-being, productivity and livelihood of rural dwellers.
Positioned for more growth
Salihijo noted that the REA is looking to increase investments in the sector. "There is no funding mechanism we have not looked at, and we feel that we are ready to bring in any investor to see the work we do on a daily basis."
Following the New Electricity Act, the REA is in a position to partner with state governments to replicate its off-grid energy access programs across the subnational level.
Salihijo also noted that the REA is in advanced discussions with the World Bank to secure $750 million in funding under its Distributed Access through Renewable Energy Scale-up (DARES) program as a follow-up to the NEP called NEP 2.0. While the first program utilized subsidies to build a market, Salihijo noted that the NEP 2.0 will be different. "Developers should improve their business models to move beyond needing subsidy," he added.
Leveraging private projects
What Salihijo says is one of the REA's chief successes has been the agency's demonstration of "their ability to scale up energy projects in the country and also that projects can be leveraged from the private sector under public service supervision."
This, he says, should enable the sector to catalyze much more private sector financing. Such private sector partnership has helped drive the electrification project.
Energy & Utilities provided further reporting on grid and off-grid solutions under discussion last week at Nigeria Energy in Lagos.
A new report on West Africa is now out from Informa Energy & Utilities. It combines a useful overview of each country combined with close looks at four key sectors across the region.
Energy & Utilities - Middle East and Africa Market, Outlook Report 2023.
This must-have report for industry players offers a thorough understanding of the latest developments, challenges, and opportunities in the region, supported by data, analysis, and expert insights.