Maximizing control of distributed solar – an interview with Leandro Bento, Yellow Door Energy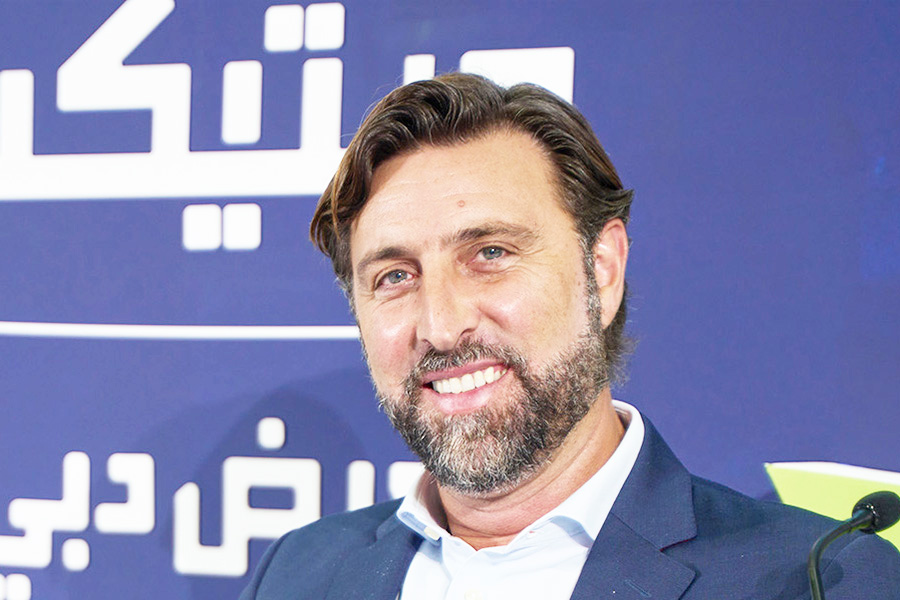 The Chief Technical Officer at Dubai-based Yellow Door Energy discusses his focus on operations and the company's current objectives in South Africa and elsewhere; highlighting technical success with wheeling and on-site projects in Jordan and Bahrain
Leandro Bento is Chief Technical Officer of Yellow Door Energy in Dubai, UAE. The company is a leading player in distributed solar power development in MEA commercial and industrial sectors.
I met with him at their offices on 32nd floor of JBC 1 Tower, where an impressive monitoring system, called Sustainable Energy Asset Management System ("SEAMS"), fills one wall.
Energy & Utilities  Your SEAMS control board has very sophisticated monitoring at a micro level. Since the company was founded eight years ago, did you always intend to have that kind of control over projects?
Leandro Bento  I joined Yellow Door Energy in 2019 and it has always been my intention to operate and have complete control over our solar power plants.  
If we want to improve the yield by cleaning more often, we can do it ourselves, rather than through an Operations & Maintenance (O&M) contractor. We realize if we can control the behavior of the solar power plant, then we can decide if we need to clean three times per month in summer or more. That degree of control helps us reduce costs and improve return on the projects.  
E&U  Your objective is to produce as much solar power as possible, as each project is custom-made for each customer and each site?
LB   Our purpose is to provide clean electricity to the customer whilst reducing their energy bills. This helps them become more competitive and achieve their sustainability goals.
Our interests are aligned with the customer's interests. This is because the more kilowatt-hours we produce, the more we can sell and the more money our customers save vs. what they would pay to the grid. That's why system reliability is so important, along with minimizing downtime. This is why we design systems to be as efficient and reliable as possible during their lifecycle.
E&U  Your role is Chief Technical Officer – not 'Technology' officer – why?
LB  I changed the title because I focus more on the operations side. I've been working in the solar industry since 2005, always linked to the EPC part of the business. I led a technical design team for six years, and then I managed a PV modules factory for another six years.
When I came to Yellow Door Energy, I took responsibility for the operations side, which included design, construction, procurement, O&M, health and safety, IT and cybersecurity. My role is to bring signed contracts into reality, maximizing the performance of the solar plants and extracting all the kilowatt-hours that we can.
In that sense, it is not a traditional CTO role as it covers engineering, procurement, construction and operations.
E&U  What's your educational background?
LB  Electrical engineering with a specialization in power and energy from Faculty of Engineering at Porto University, in Portugal. I've been working in renewable energy ever since.
E&U  Yellow Door Energy is based in the UAE, and you have operations in Jordan, Bahrain, KSA, Oman, South Africa, all very different places.
Which environment is easiest to work in, where you find the most flexibility?
LB  Each market has its challenges and opportunities regarding regulations and operations.
When we began in Dubai, there were no caps on capacity. For example, for Nestlé Middle East, we were able to develop a 5.5 MWp ground-mount project. Then caps were introduced and we had to pivot and be agile; we started introducing new products, such as battery energy storage, EV charging system, solar water treatment, and more.
Additionally, in the UAE, the main technical challenge for solar PV is dust, or what we call "soiling". To address this challenge, we clean the modules more often here compared to in Europe. Moreover, the hot weather reduces the voltage and power of the solar cells, which subsequently reduces the system's efficiency.
If we go to Jordan, the regulatory environment is different because wheeling is permitted. This means we are not restricted to installing only on the customer's premise. We can buy land to build solar parks and use the utility grid infrastructure to serve our customers. We pay a wheeling fee to the grid operator and sell electricity to our customers.
That enables us to build large solar power plants in Jordan. Our largest solar power plant there has a capacity of 24.3 MWp, which is our site for General Intelligence Department (GID) and Aqaba Special Economic Zone Authority (ASEZA).
Where can we replicate these two systems in the future? In South Africa.
South Africa is a new but essential market for Yellow Door Energy. We've built a strong team there to help businesses mitigate the effects of load shedding.
E&U  So in South Africa you can bring the two systems together, the on-site captive and the larger off-site or wheeling projects.
LB  Yes. We're building a local team there whilst leveraging our existing expertise in wheeling. We have developed over 80 MWp of solar wheeling in Jordan.
In South Africa, wheeling projects will be the ones bringing the volume. At the same time we can use the model of Dubai, through the on-site captive projects to balance the two systems.
E&U  So the same customer might buy both sources of power.
LB  Yes, if they have sufficient energy demands and meet our solar power purchase agreement requirements.
E&U  What about Saudi Arabia?
LB  I see Saudi Arabia as a huge potential market, especially with the Saudi Green Initiative and the Kingdom's commitment to become Net Zero by 2060. The regulation is there. We have a team in Riyadh and expect to see the market grow significantly this year. We can serve both on-grid and off-grid customers through solar, battery energy storage, and more.
For example, with a mining company, we can offset their diesel genset consumption through solar-powered batteries. This reduces costs and lowers carbon emissions, whilst still offering power reliability.
E&U  Where is the leading edge of technology now in the commercial/industrial sector, is it in the module, or in the inverter?
LB  Regarding the solar module, the improvement has been impressive. I remember modules in 2008 with 13-15% efficiency. In the last decade, this efficiency has increased greatly, not even taking into consideration bifacial modules. The price has also reduced enormously, to less than 10% of the cost of 2008.
Then, for utility scale projects, we only had central inverters. At that time, the string inverters were double the cost of a central inverter. This changed completely. 
Today, we can install 50-100 MWp projects with string inverters. String inverters are much easier to operate and replace, so downtime is almost zero. Moreover, they can be given different orientation PV arrays according to the land area. That way, we can have much more efficient performance with many string inverters compared to that of a central inverter.
But that's not all. Trackers have improved a lot as well. In the past, trackers used to be 2-axis trackers to get the best out of the PV modules because the cost of the tracker was nothing compared to the cost of the PV module. Then, with the cost of the PV module dropping, it made more economical sense to use single-axis trackers to get the same or better level of output from the whole system.
On top of this, tracker manufacturers have also developed a back-tracking solution to minimize interrow shading and optimize land efficiency. The most recent development is the combination of back-tracking technology with bifacial PV modules to minimize shading and optimize performance.
Overall, the key components of a solar power system have improved in ways that I think are amazing. In the near future, I anticipate these components will continue to evolve so that the whole system uses less space to produce the same amount of power, thus lowering the cost of electricity.
E&U  What is the place of AI now?
LB  I think AI will be in everything we do. We are using AI in some ways now. For example, in our SEAMS monitoring system, we're working with technology partners to integrate Digital Twin capability to analyze plant performance. With the existing meteorological data, we can have AI check for gaps of production and more importantly, identify opportunities for improvement. Then, the system triggers a work order that will be dispatched directly to the engineer on site.
E&U  So you can do this right here in your office?
LB  Yes. I remember 10-15 years ago, we needed a room full of people looking at screens, trying to pinpoint problems. Now, the system is getting the signals automatically to send the work orders. Just 1-2 people are needed to monitor and interpret the data. This is where technology is helping us to scale. We can operate 1-2 GWp with a more efficient workforce.
E&U  So your central control system is critical to gain the efficiencies.
LB  Yes. For example, in the past we managed several different monitoring systems as result of having different contractors. Our goal was to scale so we needed one system with all projects connected. We integrated our built projects into our SEAMS platform, and from that moment onwards, we use the same hardware and software on all new projects and monitor it in our web-based platform.
E&U  Is that a proprietary system?
LB  We're working with technology partners to customize this to our needs.
E&U  How many projects are now monitored in your control system?
LB  Over 40 projects in five countries.
E&U  Would you like to discuss any specific, interesting project?
LB  Our projects have different complexities.  
The Carrefour solar park in Jordan was a challenging project. It has a capacity of 17 MWp and required significant civil works. It was built in a valley and we had to smooth the inclinations and added a long interconnection line to the substation. The project was commissioned in December 2021 and today provides clean electricity to 35 Carrefour stores in Jordan.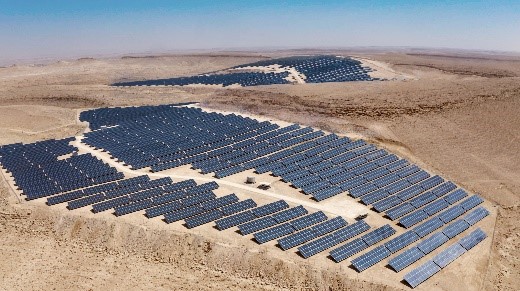 The Bahrain Mall project in Bahrain was challenging because the 40,000 square-meter roof was delicate. We had to carefully place the mountings while maintaining the waterproofed condition of the roof. Today, the project is the largest operating rooftop solar power plant in Bahrain at 6.2 MWp, and it recently won a renewable energy award at Bahrain Smart Cities Summit.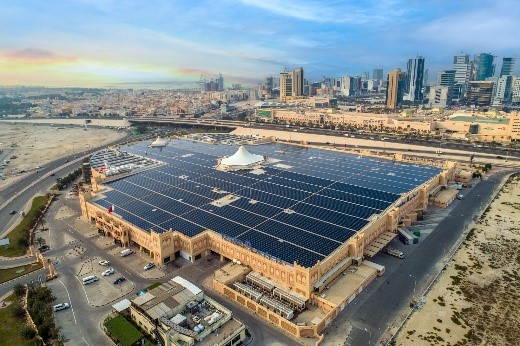 Our projects are complex and unique, and I like them all.  
E&U  What about South Africa?
LB  We're working on several projects there and you'll hear about them soon.
E&U  What is it about South Africa that makes it a good place for your business?
LB  South Africa has a problem of supply. There is a mobile application that tells people when electricity will shut down as a result of load shedding.
The country understands this needs immediate attention. Last year, they raised the cap for solar projects from 10 to 100 MWp and it was an encouraging sign for solar developers. Overall, it is a very diverse market, with demand for different types and sizes of projects. At the end of the day, our customers there need reliable, 24/7 electricity, and we're there to address that need through a combination of solar PV and battery energy storage.
E&U  How do you see your company's role in the energy transition?
LB  When I started working in solar, I saw the possibility of bringing power production closer to where it is needed and not wasting energy on the transmission lines. To give an idea, in the UAE, the losses on transmission lines are about 6%.
So the question is, why not generate the energy we need closer to where it is used. While this business model impacts utilities, it does not need to be a conflict. We should produce where usage occurs first, and if we don't have enough capacity to produce there, then we can bring in power from the big generation plants through transmission lines. We should build the power system this way, not the other way around.  
This is where distributed generation makes a lot of sense. We are saving energy whilst producing clean energy. We're helping our customers lower their cost of electricity and meet their sustainability goals at the same time. This is where I see our company's role in the just energy transition.
Energy & Utilities - Middle East and Africa Market, Outlook Report 2023.
This must-have report for industry players offers a thorough understanding of the latest developments, challenges, and opportunities in the region, supported by data, analysis, and expert insights.