Incom Egypt Company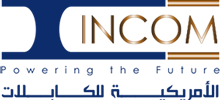 Company Description
INCOM Egypt Company - a subsidiary of INCOM (USA) Inc.- is a leading manufacturer of electric power supplies. Our company was established in 1994 and gradually grew to become a supplier serving both the local and international markets.​  We expanded our facilities to the Free Zone of Alexandria, Egypt in 2002. By 2004, we introduced our largest division for electrical wires & cables, then added our wire harness assemblies section, the power supply cords plant and plastic spools/injection molding division. Our latest developments include our in-house plug insert factory and our PVC division. ​  INCOM Egypt provides a wide range of products including electrical wires and cables, electrical conductors, electrical harnesses, power supply cords, plug inserts, PVC and plastic spools/special plastics projects. Our commitment to excellence shows in these products and through our honest and professional business practices. We continually direct our efforts towards pursuing the hig...
Categories
Address
P.O. Box 30, Road 14, Amreye Freezone
23512
Alexandria, Egypt
Egypt
List your business
Create a business listing on the Energy & Utilities markeplace
Sign up for the FREE Energy newsletter
The latest news and analysis sent to your inbox.