How much further can water tariffs fall?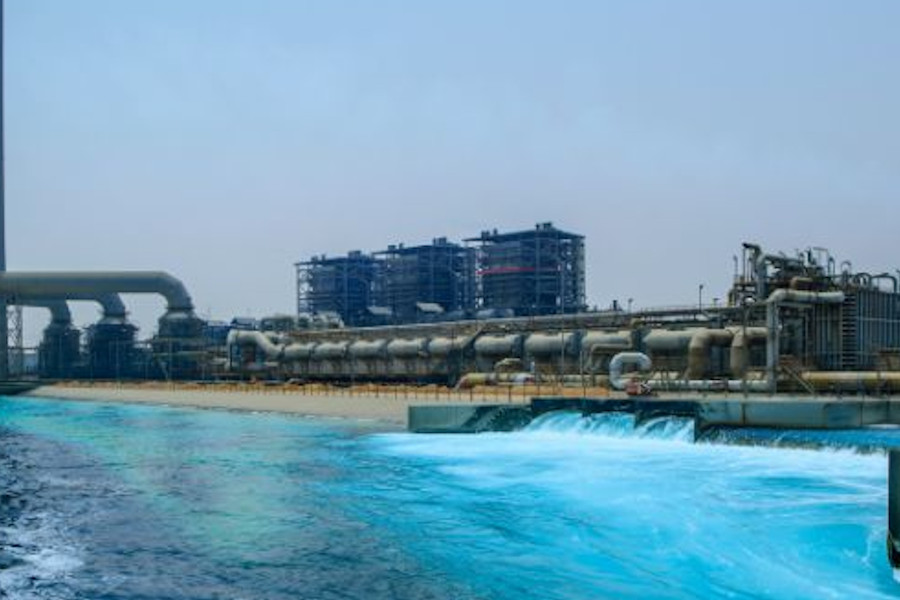 15 Nov 2020
The GCC continues to set global records for water desalination tariffs as it pushes ahead with some of the largest projects in the world. Dr Corrado Sommariva looks at whether prices can fall any further and whether this is sustainable for the market in the long term.
When in April 2019 GWI hosted a pre-conference workshop in London, titled "Delivering $0.40 Desalination", tariffs from IWPs were already down about 15 per cent from previous years. The Al-Taweelah independent water producer (IWP) project in Abu Dhabi broke the 0.5 US$/m3 threshold with a tariff that, at the time, was considered almost unbeatable.
The desalination industry was very proud of the achievements; the future was looking bright; and, the theme of the workshop was considered provocative and somewhat future looking rather than realistic.  Only a few eccentric desalters thought the $0.40 barrier was in reach.
Needless to say, we have been watching for months in awe as tariffs have been plummeting and we are pleased to see an undeniable trend towards even lower prices along with lower energy consumption achieved in Yanbu IWP and  then again in Jubail 3A IWP, both in Saudi Arabia.
A little more than a year after the workshop  was held, and in the midst of Covid-19 and a global recession, submitted tariffs for the Hassyan IWP in Dubai achieved  a new record-low tariff below $ 0.3/m3, smashing all previous records and demolishing the  0.4 US$/m3 defence line.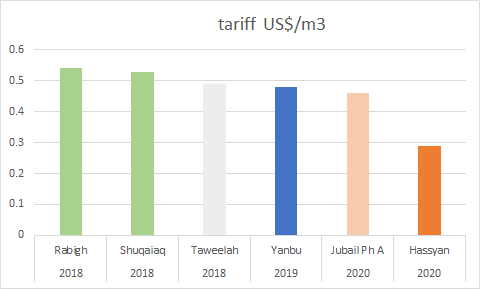 Surely, it is at this point that the industry needs to ask itself "how much further can the price fall?" Everybody in the water sector, not only engineering, procurement and construction (EPC) contractors but also public corporations, lenders and developers, should start looking at this phenomenon with concern rather than excitement, to the extent that some forecast potential pitfalls in the water utilities sector [1].
The power of consumption
Credit goes to Saudi Water Partnership company (SWPC) for driving the increase in electric power efficiency for major water projects.  The minimum threshold of 3.5 kWh/m3, set by SWPC in 2018 as a requirement for tenders, was t the time considered "on the edge" if not unachievable by the industry.
As electricity was given a more realistic price of 0.05 US$/kWh and power consumption became one of the most significant contributors in the water tariff, it turned out that optimizing energy was not only good for the environment but also brought lower tariffs.  Industry reacted; design was optimized; and, only one year after the specific energy consumption of 3.5 kWh/m3 was set, the target is now laughable.  Procurers are now witnessing bid submissions coming in with energy consumption less than 3 kWh/m3.
However, what is often not considered but it is more remarkable is that this reduction in energy consumption occurred not because of sophistication of the design and a CAPEX/Energy tradeoff but came about by a contemporary reduction of CAPEX and system simplification.
Built in PV versus PV powered grid
As energy from PV can be produced as low as 0.02 US$/kWh, developers covered their desalination plants with PV panels to self-generate energy for the desalination process at a lower cost than 0.05 US$/kWh imported from the grid.  This enhanced power tariffs and contributed to a further decrease in specific energy consumption of down to 0.2 kWh/m3.
Dubai's state utility Dubai Electricity & Water Authority (Dewa) came along with a new and somewhat innovative concept that may prelude a further major step in price reduction for the Hassyan IWP, its first IWP project.  Dubai's electric grid is increasingly powered by PV solar, which outstrips power demand during daytime.  As a result, Dewa set the electricity price at only 0.0245 US$/kWh for the Hassyan IWP.  In effect, SWRO desalination becomes an important element in the decoupling strategy aiming at creating an electric load for the renewable energy introduced in the grid.
In future,  if we start thinking about desalination plants in an opportunistic way, the plants can be powered  using excess electricity when it is available from the grid and even getting bonuses to shut down during peak time. In this case, electricity cost could be close to zero or even negative and the corresponding water tariff could be as low as 0.2 to 0.25 US$/m3.
Potential pitfalls around the corner
What has not been factored into the final equation is that if we took the same specific CAPEX,  FO&M and VO&M used in Jubail and Yanbu and plugged them in the Hassyan financial model, most probably a tariff in the range of 0.35-0.32  US$/m3 would result.  Certainly, we would not see a tariff below 0.3 US$/m3.
This means that EPC costs for Hassyan have gone further down. Technology is steadily developing, and projects have been gradually rationalized, removing tinsels that were unnecessary for a private sector.  This does not, however, justify such a drastic decrease in such a short time.
Now many are asking how much longer this trend will last and whether tariffs will ever rebound.   But there are other more fundamental questions that may be hiding: how much further can tariffs be lowered on a technical basis w/o entering into EPC subsidized mechanisms or  without taking unacceptable short term cuts on a  technical basis ?
With many more projects in the pipeline throughout the GCC, EPC contractor CAPEX prices would likely rise, suggesting higher tariffs.  However, EPC contractors may be driven by competition to cut corners in an effort to trim costs and remain competitive.
With Doosan abandoning Middle East - its traditional stronghold – it may be a sign that the rock bottom is close.
[1] Robert M. (Bob) Bryniak  Potential pitfalls of PPPs in the utilities sector  https://energy-utilities.com/potential-pitfalls-of-ppps-in-the-utilities-sector-news085204.html
The Author: Dr. Corrado Sommariva is the CEO and founder of SWPC (Sustainable Water and Power Consultants) a UAE-based Consulting firm  that operates in desalination,  waste water treatment, thermal power intake outfall design , renewable energy and sustainability throughout all segments of a project from inception and pre-bid engineering to post and de-commissioning.