Gulf states move on waste-to-energy projects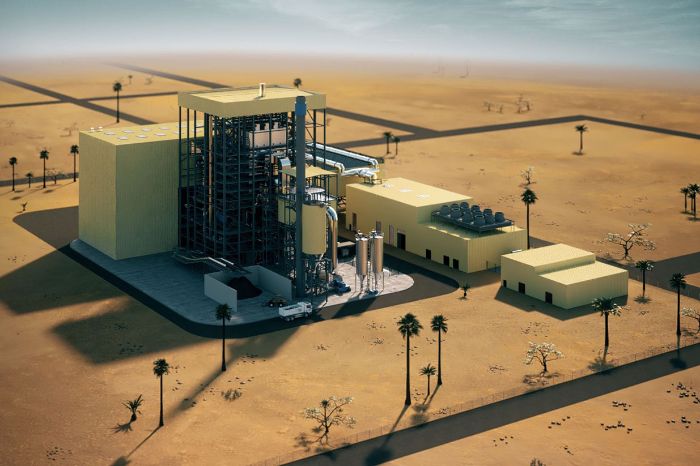 Waste-to-energy projects are providing GCC countries with a way to reduce landfill waste and produce power
As volumes of waste continue rise sharply in line with increasing populations – governments across the region are seeking to invest in waste-to-energy (WtE) projects to meet sustainability targets and reduce carbon emissions.
 From reducing landfill waste to curbing greenhouse gases and creating useful energy, turning waste to energy has proven to hold several benefits – one tonne of waste can yield between 550 to 700 kilowatt hours of electricity.
"With a goal to become carbon neutral by 2050, WtE schemes have emerged as an important pillar of the UAE's sustainability strategy ," says Professor Tadhg O'Donovan, Deputy Vice Principal and Head of the School of Engineering and Physical Sciences at Heriot-Watt University Dubai.
 Some of the major WtE projects in the Middle East today include the Emirates Waste to Energy Company (EWTE), the UAE's first WtE development company, launched in 2017 through a partnership between Sharjah's Bee'ah and Masdar. EWTE is currently building the UAE's first WtE plant in Sharjah, which will divert over 300,000 tonnes of non-recyclable waste away from landfills every year, and generate 30 megawatts of clean energy, while powering up to 28,000 homes.
 In Dubai, the municipality appointed a consortium including Itochu, Hitachi Zosen Inova and Besix, to develop a $1.1bn WtE plant in Warsan, a former landfill site. The facility will process 1.9 million tonnes of municipal waste per year and produce approximately 200MW of renewable electricity, making it one of the largest in the world.
 The consortium has signed an operations contact for a period of 35 years, with the plant scheduled to begin commercial operations in 2024.
 In the Northern Emirates, Ras Al-Khaimah is developing an ambitious Energy from Waste Programme, which focuses on being able to meet at least two percent of the primary energy demand of the emirate from waste by 2040. The goal is part of the RAK Energy Efficiency and Renewables Strategy 2040.
 In addition, the Abu Dhabi Department of Energy (DoE) launched its Policy for Energy Production from Waste (EFW) in the emirate this year to support the transition towards a more sustainable and circular economy, in an aim to support WtE projects. One of the UAE Government's 2021 goals is diverting 75 percent of solid waste from landfills.
 Abu Dhabi, itself, is also planning to develop significant WtE capacity. Energy & Utilities recently reported that Abu Dhabi-based Emirates Water & Electricity Company (Ewec), in partnership with Abu Dhabi Waste Management Centre (Tadweer), had invited firms to submit prequalification documents for a waste-to-energy (WTE) project, which will developed under the independent power producer (IPP) model.
 The planned WTE plant will be located near the existing Al-Dhafra landfill site in Abu Dhabi, and will have an expected processing capacity of between 600,000 and 900,000 tonnes of waste per year.
 In Saudi Arabia, an agreement was signed by Sadara Chemical Company with Veolia Middle East to develop a sustainable industrial WtE facility, as the Kingdom is starting to roll out its ambitious Vision 2030 energy diversification plan.
 In 2017, the kingdom established the Saudi Investment Recycling Company (SIRC) as a wholly owned subsidiary of state sovereign wealth vehicle the Public Investment Fund (PIF). At the recent Saudi Green Initiative event in October, CEO of SIRC announced that Saudi Arabia was aiming to achieve 94 per cent landfill diversion for the whole country by 2035.
 With the kingdom producing 50 million tonnes of waste per year, most of which currently ends up in landfills, there will be significant opportunities for developing WtE in the coming decade.
 The importance of WtE projects for the Gulf cannot be overstated, says O'Donovan, with large amounts of waste to contend with. "It is estimated that each person in the UAE produces two kilogrammes of municipal solid waste per day," he explains. "With a population of approximately 10 million, and a projected annual increase of 2.3 percent over the next six years, there is a lot of waste to be disposed of."
 According to the World Bank, two billion tonnes of waste is produced every year – around 0.74 kilogrammes per person per day – with at least 33 percent of it not managed in an environmentally safe manner. The figure is expected to increase by 19 percent by 2050 in high-income countries, and by about 40 percent or more in low- and middle-income countries.
 In many regions around the world, more than half of waste is currently openly dumped, and the trajectories of waste growth are expected to have implications for the environment and global health. But as recycling facilities and WtE plants become more cost-effective, cities are setting zero waste goals and consumers are working towards reducing their carbon footprint.
 O'Donovan said that GCC nations were among the top per capita carbon-releasers, owing to large-scale use of fossil fuels. Alternative energy technologies are key within that context to being able to supplement fossil fuels. "WtE could minimise landfill sites, which are a serious health hazard," he adds. "Landfill sites could be biologically or chemically contaminated, emit harmful greenhouse gases, and toxic waste could find its way into the water table by permeating through the ground."
Energy & Utilities - Middle East and Africa Market, Outlook Report 2023.
This must-have report for industry players offers a thorough understanding of the latest developments, challenges, and opportunities in the region, supported by data, analysis, and expert insights.